It's called the Emperor, and this is how you rock like a king, JDM style. If you're not innovating as a company, you might as...
It took five years to beat the Dodge Viper ACR Before year's end, around December 2020, professional race driver and instructor Billy Johnson set a...
In other words, he sent it too hard An absolutely gnarly jump turned from epic to nightmare earlier this weekend (Jan, 16,2021) when Sand Buggy...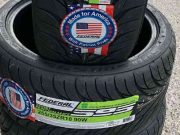 Tire makers hit hardest include Nankang, Hankook, Nexen, Federal, Sailun and many more. Countries that export cheap tires to the United States are left scrambling...
Not as expensive as Carroll Shelby's CSX2000 that sold for close to $14M, but still quite a sale. The arguable star of the Kissimmee 2021...
"The bid goes on" so that means you can work out a private deal with the seller. After months of hyping up, multiple articles, and...
There are a few things someone can do. So, you've lost your driver's license or you've come across a photo of someone's license on the...
And it's for sale For almost 14 years, it was widely believed Jeremy Clarkson's 1981 Lancia Beta Coupe was sent to a salvage yard...
He bought a decommissioned police car and made it his own If you find yourself in San Jose and see the familiar front end of...
"There's like 20 people (waiting) out here" A particularly frustrating and nerve-wracking video filmed earlier last month (Dec 13, 2020) is floating around social...