If you hear this weird noise coming from the back of your Toyota, even though it's been parked for hours, there's...
Out of all the memes to share in the entire history of memes, you had to post that one Mr. Borla.
Check these items before you drive off with a signed title, and it's too late. Affordable, sporty, easily modifiable,...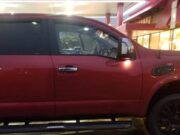 The owner of the other truck is just happy they can look back and laugh at this morning mixup.
If you have a mid-80s and early 90s BMW with this style HVAC panel and your AC compressor is not kicking on,...
Is a Walmart Oil change really all that good $19.88? Doing Oil Changes by yourself can be a...
While escaping, the suspect crashed into a BMW M2 and a whole R35 Nissan GT-R Shocking dashcam footage shared...
Before you blast down a leaf-lined street this Fall, check that there aren't any pedaling hobos within your line of sight.
Honda blueprinted and balanced all NSX-R engines and Science Of Speed's dyno proves how much power that adds.
Not only are the two dating, it's been Twitter official for over a month now. Earlier in the...