NASA's Mars Perseverance Rover does use zip ties and they're shockingly similar to the ones you buy at Lowes. NASA's Mars Rover is getting...
Is BART's Fremont station just a test location and will BART roll out Wifi at their other locations soon? If you want Wifi service at...
If you're modding your Honda Civic for a grand heist, these are the tires you want A humorous Twitter exchange went down earlier this week...
It's rare enough to see one pop up in decent condition, but at this price too? Finding a 6th Gen Honda Civic in decent condition,...
Toyota replied, "So, don't worry about replacing your vehicle – it would be an honor for us to get you a new one!" Toyota doesn't...
Several days is probably supply chain-speak for several weeks. A photo shared earlier today (Feb 18,2021) on a Toyota Mirai Facebook owner's group page showed...
Influencers messing it up for everyone else? Why am I not surprised A tear down of Daily Driven Exotics' heinous Acura Integra Type R build...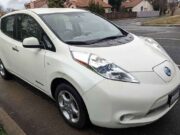 If you're looking for a cheap EV for city driving only, these Nissan Leafs with reduced range might be for you. Earlier last year I...
Tyler's since deleted the tweet, but screenshots are still floating around. Tyler Hoover of Hoovies Garage is probably regretting tweeting out a picture of his...
The arriving first responders mistook him as one of their own despite just crawling out of a wreck minutes earlier. Update 2/19/2021- Toyota is replacing...