Looters stole more than $280,000 worth of cars in a matter of minutes. Large, story-tall windows, literal brick face,...
Videos and photos show journalists and protestors returning to find their tires slashed. They say Minneapolis police is responsible.
This Oakland protestor literally drove a 2020 Honda CR-V off a showroom floor. Protests around the country kicked off...
Surely, Acura would, at least, give the top of the line Acura TLX Type S a proper manual? Don't get your...
When referring to Tesla's Autopilot, Cadillac's Super Cruise, Honda Safety Sense, etc. do not refer to those systems as driverless or semi-autonomous.
Instead of working it out cordially, she committed grand theft, grand larceny, and ruined her life. An unbelievably infuriating...
Key details and images leaked ahead of the 2021 Acura TLX's reveal including engine options. It's been six years...
J-Spec Auto Sports issued a statement and apology, recognizing many of their parts and cars on-sale might've been sourced from suppliers linked...
Almost all USPS Postal Fleets will recieve an allocation of Mercedes Metris vans through 2022, replacing aging Grumann LLVs.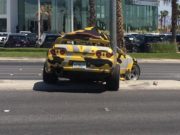 One could argue that this GT-R being RHD was a contributing factor for this driver being OK. If you're...