The officer was halfway outside of the Del Sol when the suspect sped away Footage released today (Sept. 23,2020)...
Thankfully, no one was seriously injured, and both drivers involved escaped with minor injuries. A Dodge Charger was...
A Nissan S14 owner already spent $1,300 on one incident, including fines and tows. Ocean City, MD's government...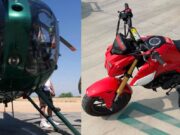 The McDonnell Douglas has a top speed of 175 MPH thanks to Rolls-Royce engines. The Grom? 56 MPH. The...
Getting a ticket days before the unofficial H2Oi 2020 event rolls into town is arguably valuable clout points, something to brag about.
Enthusiasts complained, and Ford listened. Literally hours after Ford dropped their game-changing, all-new 2021 Ford Bronco to the...
When you're hoping to make as much power a two Bugatti Chirons, you're going to break a couple of Cummins engines along...
Crazy thing is if this was an unmodified version, it would've sold for much more. A near milestone in...
Ever seen those cylinders wedged onto windows of classic cars? This Americana expert explains how they work. Americana...
Some say, the best 60" that raceway's ever seen. Sacramento Raceway will have to shell out a couple...