Priced upwards of $1,000+, these dealer add-ons are often unnecessary but unavoidable.
You've found the car you want in the right trim level, color, and an acceptable amount of optional factory accessories already added on. Better yet, there's no added dealer mark-up and, if there is one, it's a lot lower than expected. Then, you notice an "appearance package" or "appearance fee" for several hundred dollars.
Embed from Getty Images
What is an appearance package and can I avoid this fee?
An appearance package or appearance fee is a suite of third-party product add-ons installed at a dealership designed to improve on and protect the factory appearance of a car.
Although an appearance package may offer some real-world benefits, like protecting against paint chips, door dings, and adding a layer of protection against wheel theft, it's an often overpriced package meant to boost the overall profit of a deal.
As mentioned, these are not OEM upgrades.
Common add-ons to the package include,
Door edge paint protection
Scratch resistant door cups
Graphic pinstripes
Wheel well trim
Wheel locks
Window tinting
Vin etching
Paint sealant
Mudflaps
For example, here's an appearance package from a 2021 Hyundai Palisade.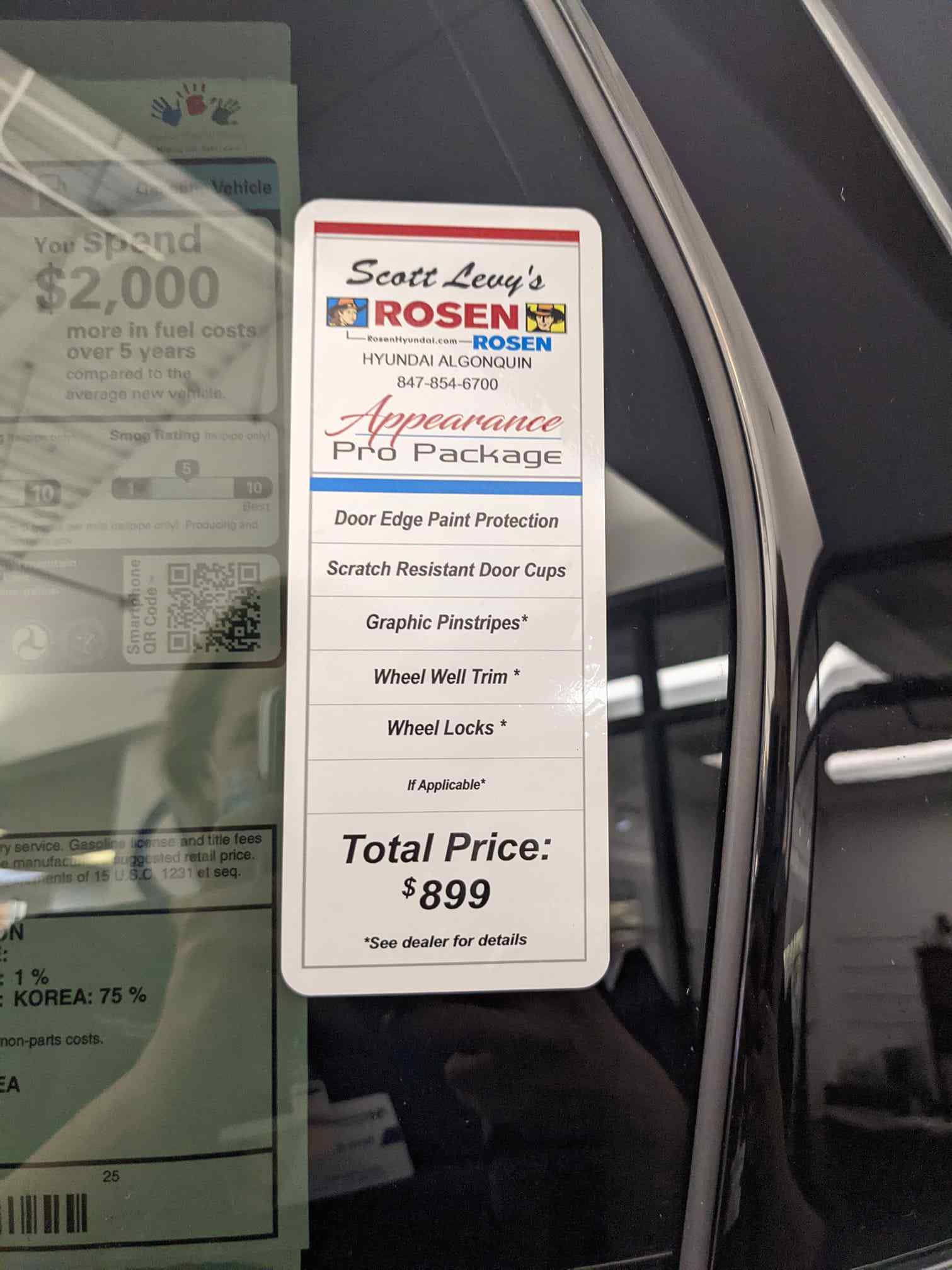 Let's price each item out if we were to buy the product ourselves.
If we bought each individual item and installed it ourselves, we would save, overall, $198.
More importantly, we would have the freedom to pick and choose which upgrades we want when we want them without paying for upgrades we don't like (I'm looking at you, pinstriping.)
If you take a look at the featured image, that appearance package, from a Honda Civic Type R, includes NitroFill, an add-on I've blogged about and concluded is not worth the cost. You're literally paying for air!
Can I avoid paying for an appearance package fee?
It depends. You can ask but expect dealerships to say no.
A lot of these dealer add-ons are already installed, making them hard to remove without destroying the protection or leaving holes behind.
Many dealerships may quickly try to install an appearance package if they know you're emotionally invested in a car, but you haven't seen it yet. Before walking onto a dealership lot, it would behoove you to confirm if there's an appearance package they're not telling you about.
If it's already on, dealers may be willing to drop the price to offset the difference but, in this seller's market, that's all you can expect.
This market craziness will cool some in time, but negotiating right now is risky if it's a car you really want.