"I'm sure I'll get backlash for posting this but whatever," Frye captioned her story.
Although it's been over five years since Adam Lizotte-Zeisler (better known as Adam LZ) and Nicole Frye parted ways, it doesn't mean Frye couldn't congratulate her ex-husband on his first Formula Drift podium and first place finish.
Check out her Instagram story from earlier this weekend below.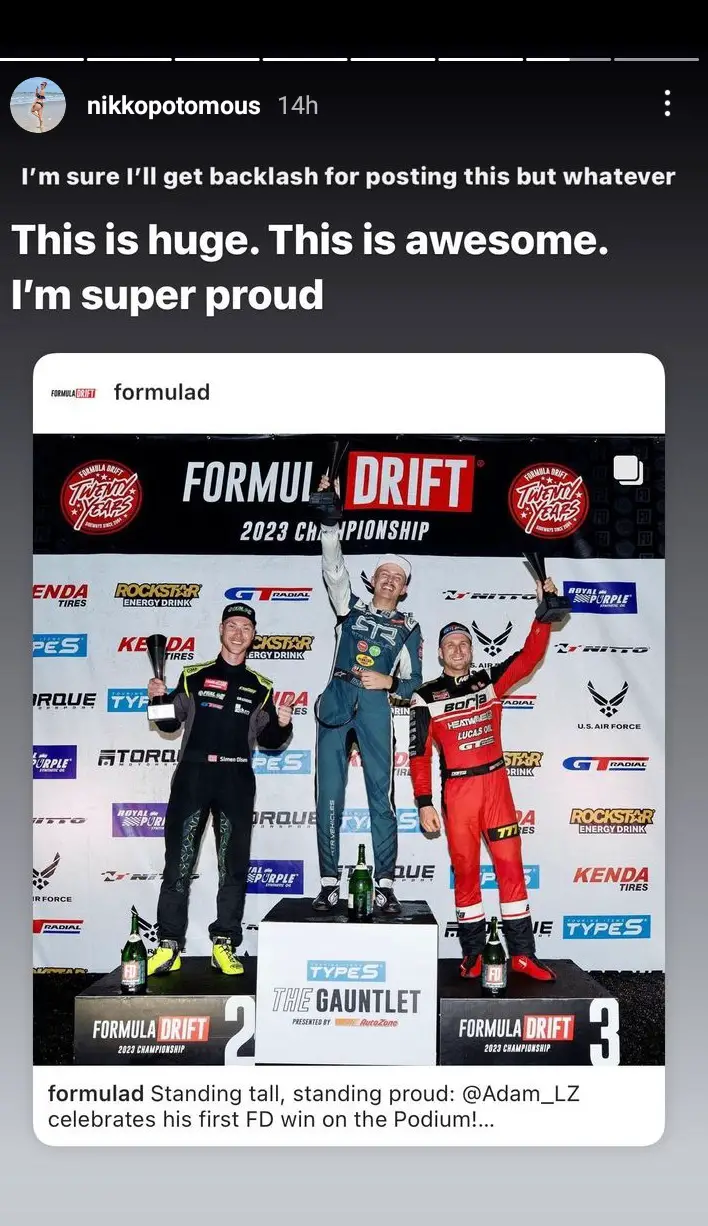 If you don't already know, 2023 marks the fourth year that LZ's been in Formula Drift and, despite grinding through 25+ rounds and even landing a spot on the RTR motorsports drift team last year, LZ had yet to see a podium.
The highest LZ ever made it was the last round of 2022 with a fourth place finish in Irwindale.
All that changed earlier this weekend when LZ pulled off his first ever podium, finishing first.
Standing tall, standing proud: @Adam_LZ celebrates his first FD win on the Podium!

Simen Olsen takes an impressive P2 & @MattField777 rounds out the podium.#FormulaD #FormulaDRIFT #FDNJ pic.twitter.com/QBfSCKYjev

— Formula DRIFT (@FormulaDrift) June 25, 2023
It's sort of a big deal for RTR vehicles because "RTR Motorsports has now won three rounds in a row this season, with LZ being the third of four RTR drivers to win."
This is big news for Nicole, because although they're no longer together, LZ first started drifting in earnest when they were still boyfriend and girlfriend.
Here's an Adam LZ video from seven years ago showing from LZ's second drift event with then girlfriend Nicole supporting him.
I mean, just look at them.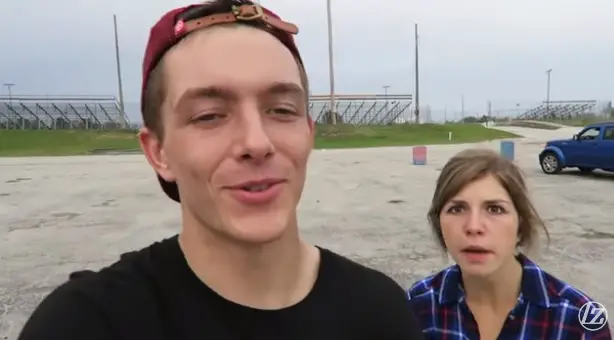 I'm sure Nicole more than recognized this was a major milestone for LZ, as she was literally there for LZ when he first started getting his feet wet in amateur and Pro-AM local drifting.
Nicole only shared that one Instagram story re Adam LZ since he won, and has since returned to posting about whatever else is happening in her life.
As for LZ, the show continues next month in St. Louis, MO for Round. 5.
Sources:
1) https://heightline.com/here-is-everything-we-know-about-adam-lz-and-his-wife/
2) https://news.formulad.com/2023/featured/competition-results-from-round-4-of-2023-formula-drift-pro-championship-in-new-jersey/