It's hard to beat an AWD turbocharged Civic once that giant snail under the hood spools up Orlando based street racer turned drag...
Why drivers with high-performance cars, trucks, and SUVs are surprised by Lionharts. Who makes Lionhart tires? Shopping for one or a whole set of replacement tires...
"It's always the second child," says the Mom If you've got young ones with easy access to spray paint, you might consider putting those cans...
A value oriented tire lineup that its owners can't get enough of. If you're shopping for your car's first replacement set of tires, you might...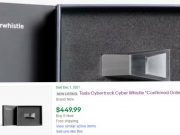 The limited edition Cybertruck Cyberwhistle originally sold for $50 Earlier last night Elon Musk dropped his latest piece of Tesla merchandise, a stainless steel whistle...
This Landsail tire outperforms premium UHP tires at half the price. Landsail Tires are part of the Sentury Tire Family Brand of tires. The Sentury...
Looking for a gift for a car enthusiast who likes Crocs that can take a joke? Scrolling through my friend's Instagram stories and I...
They thought they got away with fraud until the dashcam owner stepped out and told them the bad news. If you don't have a dashcam...
Not only is this mini-excavator extremely tiny and super cute, there's an EV version, too. Think excavator and large, earth moving machines that scoop tons...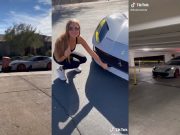 Real "Oops, sorry. I'm an asparagus" energy. You'd think insufferable car TikTok peaked with that one Maserati guy, but Arizona based TikToker Cassidy Campbell might...