It looks like the last social media manager forgot to change the website logins
Bristol Cars might be dead at the moment, but that hasn't stopped some former employee with the company's website login credentials to post one last news update for old time's sake. According to a now deleted "official" statement posted earlier this week (Aug 23, 2020) a pithy piece titled, "Non-apology" lambasted the previous owner of Bristol Cars, Kamal Siddiqi.
Embed from Getty Images
You can still see the statement on Google Cache, and, if that eventually gets updated, here's the piece verbatim below.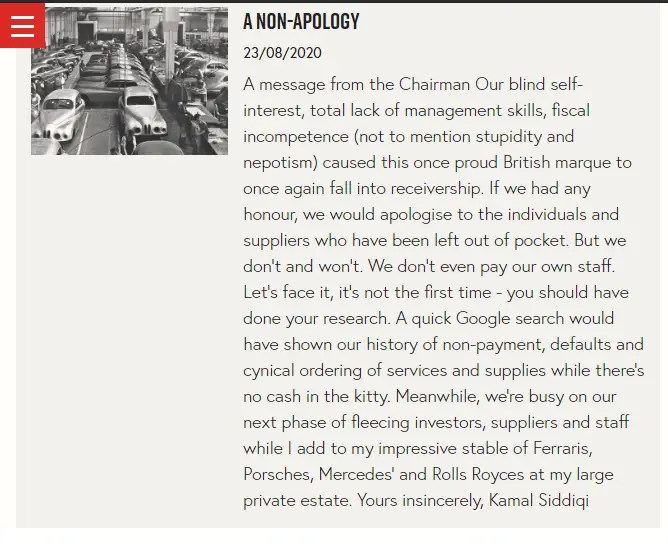 "A message from the Chairman Our blind self-interest, total lack of management skills, fiscal incompetence (not to mention stupidity and nepotism) caused this once proud British marque to once again fall into receivership. If we had any honour, we would apologise to the individuals and suppliers who have been left out of pocket. But we don't and won't. We don't even pay our own staff. Let's face it, it's not the first time – you should have done your research.
A quick Google search would have shown our history of non-payment, defaults and cynical ordering of services and supplies while there's no cash in the kitty. Meanwhile, we're busy on our next phase of fleecing investors, suppliers and staff while I add to my impressive stable of Ferraris, Porsches, Mercedes' and Rolls Royces at my large private estate. Yours insincerely, Kamal Siddiqi"
The statement's lead photo is a shot of Bristol in its heydey, its Flinton Aerodrone factory packed full of 401s in various stages of assembly.
Penned like Kamal Siddiqi himself, this non-apology bluntly points out Kamkorp Group's mismanagement of this historic British car brand.
Kamcorp bought the assets that were Bristol back in 2011. Since then, the only fresh developments under the Kamcorp era was the R&D and prototype work around their new Bristol Bullet, a two-seat roadster that debuted in 2016 but failed to make it into production.
After Kampcorp acquired electronic arm Frazer-Nash, plans to branch out into electrified models came to press but nothing was ever carried out.
Bristol Cars went from bad to worse when news of a court-ordered liquidation sale was made official earlier this year in March. Among the items sold off to the highest bidder was a lone Bristol Bullet Prototype.
The silver lining out of all these liquidations was there was plenty of interest to buy up the company's assets, presumably, to resurrect under new ownership sometime down the road.
A marquee that deserves a proper go
In the five minutes of Googling about Bristol, it's a car manufacturer with a lot of British history and a reputation for handmade quality that deserves proper management, bright minded engineers, a creative R&D team, and cars befitting of the name.
Looking up some of their later, more modern works, these Bristols have bold designs, power to back up the proportions, and a presence even driving around at under 5 mph.
Check out a handful of videos with some Bristol Fighters puttering around. Talk about standing out at a car show.
When Bristol eventually rises from the ashes, rest assured HR will have also know the site's logins with auto-notifications of any new site posts.
Source – @Yorkonafork