You can't randomly tag a well-known country singer in your political convo & expect them to be complicit with your hate.
While all of NASCAR, the sports world, and most of the entire country supports NASCAR driver Bubba Wallace and his efforts, using his platform to speak out against violence and injustice in the black community, there are always those trolls and haters who hold their own opinion, mainly that Bubba Wallace should just drive and not put his .02 into politics.
Twitter user Gwen Bayliss responded to a NASCAR on NBC video where Wallace clarifies the decision for NASCAR to continue to race this weekend. Other high-dollar sports like the NBA, WNBA, and the MLB postponed a handful of games to support the uptick in BLM protests following the shooting of Jacob Blake.
Basically, Bayliss was tired of hearing Wallace speak out on the topic, wanted him to "shut up and drive," and even had the nerve to tag Country singer Chely Wright, citing her song.
A screenshot of her tweet is below because, surely, she's going to delete it out of pure embarrassment.
"We still have a lot of work to do as a nation."@BubbaWallace on @NASCAR continuing on this weekend in the aftermath of the #JacobBlake shooting. pic.twitter.com/blU6GGylNd

— NASCAR on NBC (@NASCARonNBC) August 29, 2020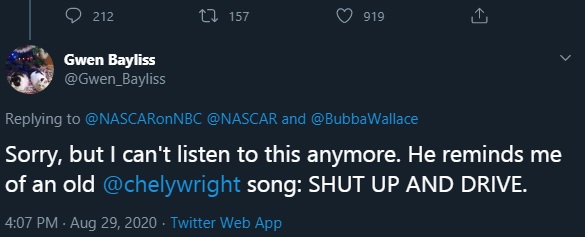 Here's the song she's talking about.
Without skipping a beat and literally 18 minutes later, Queen Chely Wright pipes in, quote tweets Bayliss's haterade, and reminds her (and the rest of her fans) she supports Wallace 100 percent.
Hi Gwen,

Since you name-checked me (tagged me too), it's my duty to weigh in on this thread to tell you that I'd love for @BubbaWallace to keep talking.

He's earned his platform (not easy to do) and if he wants to use his capital to effect change in the world, I applaud him. https://t.co/7umTvRQ2UX

— Chely Wright (@chelywright) August 29, 2020
Right now her Tweet's been RT'd over 150 times and liked 1,500 times.
One astute Twitter user pointed out the irony of her ways.
I'm sure she's missing the irony in the way she's mentioning "Shut Up and Drive." It's a song about taking the power back, believing in yourself and not looking back. I think that's exactly what @BubbaWallace is doing.

— DJ Jimmy Love (@jimmyintheroc) August 29, 2020
You're entitled to your wrong opinions, that's what the first amendment guarantees. But don't go around tagging other people, thinking they'll stand idly by in support. They can call you out, and when they do, it's egg on your face.
Also, a part of me thinks Bayliss confused Wright's song with Rihanna's take on that famous hook.