I'll give you a hint: It's a common car found in the United States, but it's the Euro version.
Back in July 2021, Allstate dropped an unusual commercial showing a woman jump roping her car for joy, while still in the driver's seat, after seeing she saved a ton of money switching her car insurance to Allstate.
It's an unusual commercial to say the least as it's set in a world where cars magically have powerful enough hydraulics to jump several feet in the air, no problem.
Wonders aside, I, probably a lot like you, wondered what kind of car is that woman driving?
With a custom no-name grille sans manufacturers badge, as per usual with commercials, it's not easily recognizable.
Yet, at the same time it looks strangely familiar.
And despite insurance commercials often opting to use generic cars to represent their average customer car, this one looks refined enough to be an actual car
So, what kind of car is it?
If you haven't seen the commercial yet, here it is below.
Still haven't figured it out?
Allstate used a 6th generation Honda Accord, the ones built between 1998-2003 specifically for the European market.
Here's an example of one not cut up by the props department.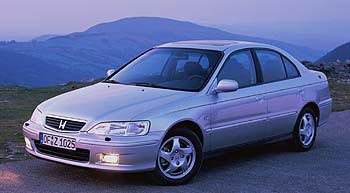 Clarkson even drove one on Top Gear.
Compared to the Honda Accord we got in the United States, this one benefited (or suffered…based on who you ask) from Rover Group engineering, had a slightly smaller wheelbase, received different styling but shared a handful of engines with its American (and JDM) counterpart.
This begs the question, what's a European Accord doing in an American commercial?
The likely answer is they actually filmed this commercial in Europe. Perhaps, because of Covid restrictions, this European production studio won the bid to shoot this 30-second ad.
A bit of Googling reveals 72andSunny produces Allstate's In-house ads, an ad agency HQ'd in Amsterdam.
So there you have it, thanks to a global economy where ads can be shot anywhere, cars like the European Honda Accord find their way on your television screen during a commercial break.