Had the driver been any quicker, he probably would've driven through the railroad crossing.
Trucker and TikToker @DaDon_frm757 shared smartphone footage earlier this year to his feed (June 29,2023) showing the hare brained moment when a driver in Suffolk, VA in a Mitsubishi Mirage tried and failed multiple times to sneak by lowered railroad crossing arms by lifting them up.
Check out @DaDon_frm757's video below (just in case that video's down, there's a copy linked here.)
This incident took place at the Moore Ave. railroad crossing near the intersection of E Pinner St. and Moore Ave (exact location linked here with a screenshot of the bird's eye view below.)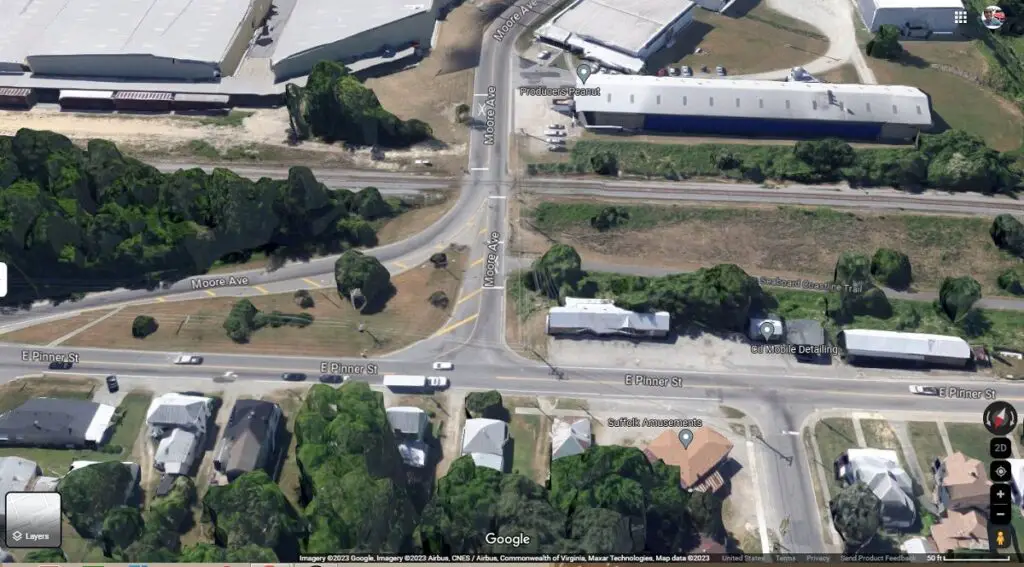 OP's captioned his video with, "The stuff you see in Suffolk, VA."
In OP's video, we can see a man in a silver Mitsubishi Mirage sedan trying to lift the railroad crossing arms lowered in front of him high and long enough so he can drive underneath them.
At first, I thought he was stalled on the tracks themselves, but on second glance, he's really just trying to sneak by.
After failing the first time, he does this two more times, at which point, it looks like he's tired himself out.
He tries to enlist the help of another driver watching him to no avail.
For some reason (delivery driver?) he's rushing somewhere and the train, like it does, is probably crawling along, too slow for his liking.
If I were a betting man, I guarantee you, the risk of getting smacked by a train is not worth savings a couple of minutes getting wherever he needs to go.
"Yooooo, the run back gets me," @Chelz.leee commented.
"Lol, why is he so slow to get the car in drive," @xgoldendawnx asked.
Failure to obey railroad crossing signs and improperly crossing railroad grade crossings both violates Virginia's Motor Vehicle Code, with separate $81 fines violating either.
I'm sure, after all the fees, it's probably double that.
If you ever find yourself in a similar situation, either make a U-turn and try to cross elsewhere, or just be a levelheaded person and wait it out.