A real deal 1991 Nissan GT-R Group A racecar driven by the drift king himself is headed for auction.
Earlier this week I updated y'all on an auction of epic proportions as BH auctions organized a lot of (10) cars and racecar parts from Team Taisan, a privateer racing team still racing today. Arguably, the gem of the bunch has to be this 1991 Nissan Skyline GT-R raced by Kenji Takahashi and Keiichi Tsuchiya himself in the 1991 season of the Japanese Touring Car race series.
I happened to find a video showing an STP Taisan GT-R in 1991. This GT-R looks to be the one going up for auction before they got sponsored by STP.
I also found a video of the 1993 Team Taisan GT-R that NISMO restored back in 2000. This restored GT-R was the one where Keiichi Tsuchiya and his teammate Kunimitsu Takahashi got a first place finish at Round 2 of the aforementioned 1993 season at Autopolis. This particular GT-R has a home in NISMO's headquarters and is not for sale.
Compared to a stock R32 Nissan GT-R, this Group A machine is a whole different beast altogether. Underneath the hood lies a twin turbo RB26 tuned to 550 HP for race duties but can be dialed up to 650 HP for qualifying. Gone is the stock intake manifold as the RB has six individual throttle bodies.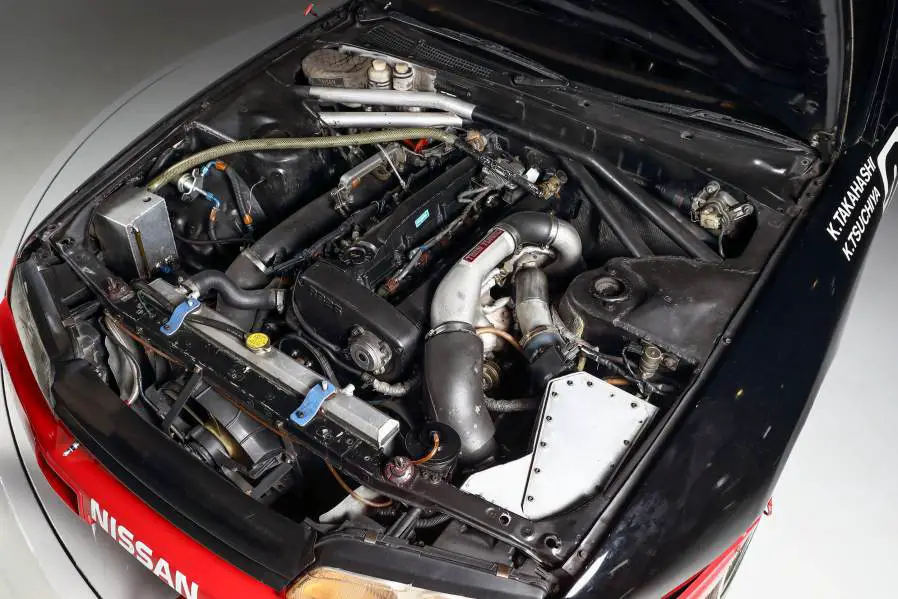 Small things make all the difference in Group A, for example, the axle shafts are made from a lightweight magnesium alloy, the same as Group C. The exhaust piping exits on both sides and is made from a titanium alloy for weight reduction. The transmission case is made from a lightweight magnesium alloy, half the weight from stock. The drive shaft, carbon fiber.
To further help cooling duties, there are heavy duty oil coolers for the transmission and rear differential box.
Around all four-corners, NISMO stuffed 265/ 65/ 18 tires, a square setup, to take advantage of all that power.
If you fast forward to 7:44 in the second video above, Keiichi recounts his most memorable story during the 1992 Japanese Touring Car Championship in what he calls the highlight of his racing career. On Round 3 at Sportsland Sugo, this was his third race with Kunimitsu Takahashi, a racecar driver everyone else was saying was already past his prime and washed up. Keiichi Tsuchiya was having none of that nonsense and literally manhandled that R32 when it was his turn at the wheel, pushing other GT-R's out of the way as safely as he could and gritting his way to a third-place finish putting himself and Kunimitsu on the podium. Keiichi's driving was so good that NISMO's president said that race would go in the history books.
While this GT-R for sale isn't the one Keiichi drove in anger to a podium at Sugo in 1992 nor is it his presumably restored GT-R from 1993, it's a Nissan GT-R that shaped Keiichi Tsuchiya's career and now it can be yours for the right price.