Matt realized he offended many of his fans, owned up to his mistake, clarifying it was not said in malice, and offered a sincere apology.
The Smoking Tire's Matt Farah took to Twitter two days after his latest podcast to apologize for and address a racially insensitive observation he had while driving around a Polestar press car, a remark said on his podcast that, in hindsight, shown a negative light on the African American community.
To be fair, Matt already apologized, almost immediately, after first being called out (presumably) on Youtube comments and felt it necessary to own up to it to the thousands of his fans on Twitter.
And to his credit in the spirit of transparency, the original podcast and video are still online, unedited. I've embedded the YouTube video around the time his remark starts and included his comment below.
Matt: "If you want to make friends with everybody, this is your car. And can I throw in? Uh, it seems it's a small sample group, but I only had the car for like four days. Black people…love it. Love it! They love it like imagine going back to 2005 and the Chrysler 300 just came out, and it was like that attitude of this is an Al Capone kind of car. It's like a gangster. It's like a gangster, like when the belt, when the shoulder lines got really high and the windows got really… remember that?"
Matt: "When the Chrysler 300 came out, and every rapper was like Boom! Get one. Rims? Do it! Like the whole thing! Like Black people react to this the same way. Rich black people, poor black people. I got so many head turns from late model Mercedes owners rolling windows going, "What is that?!" Going crazy"
Zack: "I wonder why, it's like, it's such a good looking coupe?"
Matt: "You want to know why? Because it looks good and who could describe what you're driving to the cops? Unidentifiable"
Zack: "…I'm not touching that."
Here's a screenshot of the comment calling out Matt and his initial replies.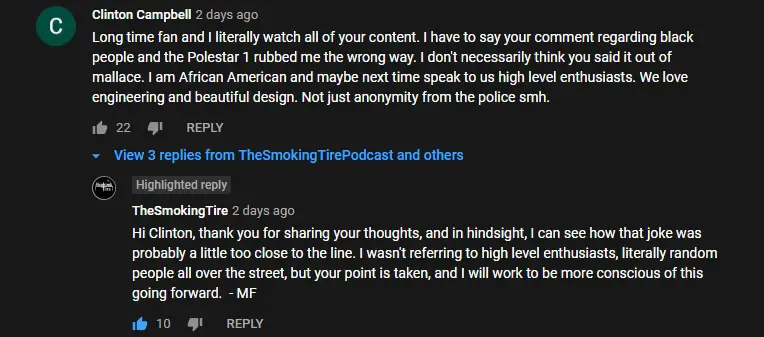 Here's the car in question
And here's Matt 314-word apology Twitter thread.
and will absolutely do better going forward. In my own head, the thing I was going to say was about myself, and I projected it onto an entire group of people. The very worst possible group of people to project such thoughts. Having come back from a road trip,

— Matt Farah (@TheSmokingTire) August 6, 2020
I have been called out, and rightly so, by several members of the car community, and by the black community. All those people are right.

— Matt Farah (@TheSmokingTire) August 6, 2020
Obviously I took a step backward here, and what came out of my mouth is actually the opposite of what I believe, and the opposite of what folks who know me have heard me say before about the history of our country.

— Matt Farah (@TheSmokingTire) August 6, 2020
So again, I publicly apologize for what I said, I deserve my beating, and if people are no longer fans because of it, well i deserve that too. I will make every effort to turn the tides the other way in my own life and on my show going forward.

— Matt Farah (@TheSmokingTire) August 6, 2020
Listening to TST's podcast earlier today and typing out his remark, it was, as Matt said, "a step backward here."
Several Retweets and replies thanked Matt for addressing the elephant in the room in regards to his latest podcast, pointing out how, while his observation was not the right thing to say, his quickness to apologize and make amends is a good first step.
@DigitalNeal commented, "Glad he addressed it. I was really bummed out yesterday when I heard it. Not the Matt and Zack characters I've listen to and thought I knew since the first bong smoke filled podcast a decade or so ago."
As Neal points hints at, this is Podcast #546, the first podcast uploaded in 2012.
@StatesOfMotion commented, "Yeah, Matt said something s***ty and totally deserves to get called on it, but this is an actual apology – none of that "to those who took offense" b***s***."
@Cheromcha was justifiably more upset, commenting, "…the fact that it got through the edit process and was heard by thousands of listeners this week, many of whom are in this business, without a major outcry shows how much work we still have to do as an industry."
.02
As a fellow listener to TST's podcast, Farah's comment deserved to be called out and I'm glad his fans were comfortable enough to do so in his comment thread and elsewhere online.
Someone in post-editing should've, as @Cheromcha points out, flagged the comment or left it on the cutting room floor.