A witness on Snapchat shared a photo handful of nails picked up on Highway 9 and reports oil poured on the highway's tight hairpin turns.
If you're headed out on a spirited drive on Highway 9 in and around the Saratoga, California area, specifically closer to San Jose/Santa Clara, take it easy and stay alert for any road hazards in your way.
According to Redditor and San Jose resident u/grasshooper510, large nails and spilled oil has reportedly been seen on stretches of Highway 9, specifically in the parking area of the Vista Point near the 9 and 35 intersection and on what's known locally as "the skid pad."
Check out the Reddit thread embedded below including two photos shared on Snapchat showing a handful of tire-puncturing nails found nearby.
Someone is dropping nails and pouring motor oil on highway 9. from r/SanJose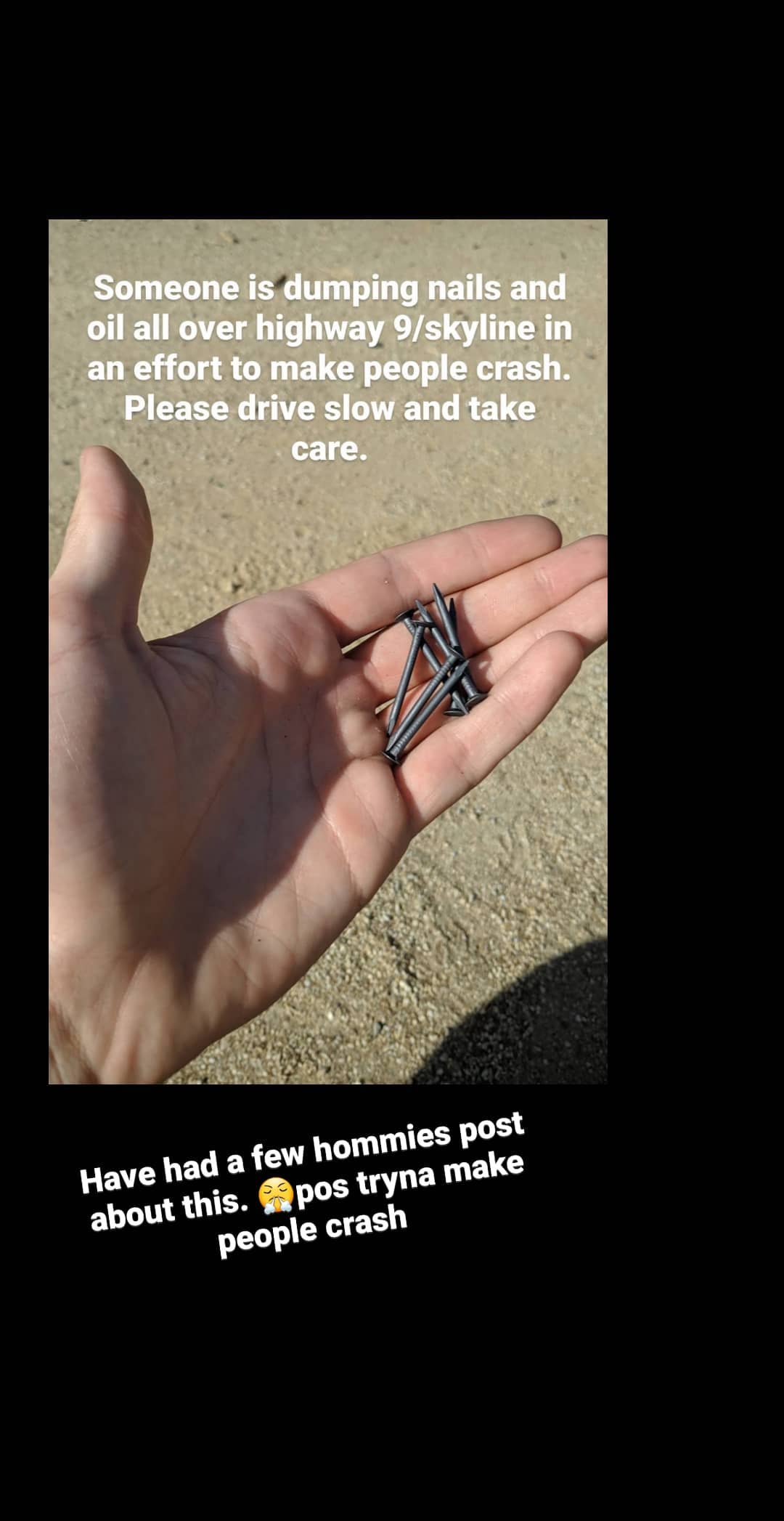 Here's where on the map these nails and oil where found, the first is Vista Point followed by the Skid Pad.
So far, the only evidence are those snapchat photos and his word.
Redditor u/popular_content mentions driving through that area recently and not encountering any oil or nails.
"I drove through 9 and Skyline. In Pescadero now. I didn't see any oil or nails and I passed the toll gate area of the overlook."
Another Redditor on a cross-posted thread mentions seeing nothing, too.
u/cjymiller says,
"I rode up and over 9 from Saratoga to Boulder Creek for coffee this AM. I was aware of this before I went as I saw the post on FB a day before. I stopped at the skid pad to take a look and see if I could see the nails and I couldn't see any, The road was clear the whole way over and back. Nothing outstanding like oil or debris.
I've been riding and driving that road enthusiastically for years and nothing looked out of the ordinary today. Someone must have carefully cleaned up all those nails."
Without further evidence, the most likely case is that someone's accidently dropped some nails, perhaps from their work truck, and forgot to clean their mess up.
/u/Formula_Mike's .02 says,
"Likely what has happened is one of the meth-addled sociopath general contractors spilled a box of finishing nails in the bed of their pickup and rather than clean up the mess is just letting them rain all over the road on their way home to SLV in a hurry to beat their wife and kick the dog."
"As far as the oil goes, make sure it's not diesel. The aforementioned blue collar tweakers love to forget their gas caps on their flatbeds / trucks and slosh fuel all over the road."
Locals allegedly did something similar before and there's history of revenge on out-of-towners using nails, oil, or, etc.
This instance aside, reading through the above Reddit thread, it looks like locals have used similar revenge tactics in the past.
West San Jose resident /u/ said,
"I saw this happening up at skid pad…b******* are trying to kill everyone who drives up there, not just people speeding. I unfortunately don't live in SJ or the area anymore, but I have friends who have been posting on social media about this. I have seen this happen throughout the years, angry locals trying to get revenge mostly from what I think."
Until further confirmation of nails and oil, stay alert if you're in the area.
As mentioned, if you're driving anywhere near that area, please be careful, pay attention, and look out for any road anomalies in front of you.
While both are not good, spilled oil is the worst. It doesn't matter what speed you're going, oil will make you lose traction resulting in damage to your car, or worse, injuries after a crash.
Familiarize yourself with what spilled oil looks like on a dry ground with the gallery of photos below.
Click left and right to cycle through the photos.
oil