Powered by powerful Cummins diesel engines, these tiny boats pack a mighty punch.
The internet's became enamored with what's possibly the smallest U.S. Navy boat, understandably so. They're called Barrier Boats and between 16-19 feet long, they are roughly the size of a Toyota Corolla.
The smallest active-duty vessel (mini tug) of the United States Navy. from r/interestingasfuck
A history of moving logs in the PNW for over 40 years.
Purpose-built for the logging industry to move 30,000 pound logs down rivers in the Pacific North West, most Naval Barrier Boats were destined for hard lives pushing logs.
A vessel like that is considered support craft. It would not be commissioned like a navy ship or coast guard cutter. The sailors that operate them are usually craftmasters, which carries its own badge
According to Marine Link, this specific mini-tug was built by Chuck's Boat and Drive out of Longview Washington. Starting in 2003, CBAD was commissioned by the U.S. Navy to build almost 40 of these small tugs to facilitate moving ships and submarines including other security duties at their busiest ports.
Built with a durable 1/4 inch steel hull out front increasing to 3/4 inch thickness in key areas opening a couple of security booms and pushing the occasional boat would be light work.
In the engine room of these mini-tugs is a North Carolina- built Cummins QSM 11 diesel engine, a 10.7L turbocharged inline 6-cylinder good enough for around 400 HP and 1,800 lb-ft of torque. That's more torque than any supercar sold today. With an operating RPM of around 1,800 RPM, these tugs have all the low-end grunt to push boats and submarines hundreds of times its weight.
Here's a mini-tug of similar size being showboated around for a TV Show.
And here's a dozer boat in its natural habitat.
Naval Duties
Found in Naval Ports from Portsmouth N.H and San Diego, California, these mini-tugs, being so small, are more cost effective than traditionally sized tugs since they require less crew and maintenance.
The mini-tug pictured below has its home at the Point Loma Sub Base in San Diego, California. According to Redditor NapKin41,
"It's a security tug. Those protective barriers surrounding the water portion of the navy base don't move themselves. It's the equivalent of opening the gate for cattle to go in and out. Unlock it, unlatch it, swing it open, and close it when the ship has passed."
Home to four Los Angeles Class Nuclear subs at about a billion apiece and capable of destroying small cities thanks to its Tomahawk missiles, securing these underwater attack vessels is a matter of national security.
In this photo courtesy of USWarShips.Jounin, we see a Navy Working boat, also in San Diego in action, coming home to port after pulling a pier guard fence into position.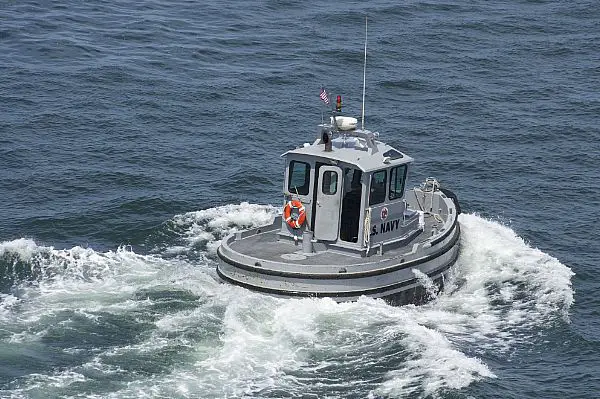 The mini-tug popularized on Reddit and Twitter has a lighter workload. Moored next to the USS Constitution in Boston's Charlestown Navy Yard, its job is to reposition Old Ironsides, a wooden-hulled, three-masted heavy frigate of the United States Navy.
And according to one person who works at the USS Constitution, it's aptly name, "The Beaver Boomer."
Embed from Getty Images
They sometimes pop up on Government auction
If you have a hankering to own one of these boats at a fraction of the price, you keep an eye out on government auctions.
The Naval Submarine Base at Kings Bay, Georgia put up one of their mini-tugs for sale for just $100,000 back in 2006. You can see that government auction here.