If there's a line, this OCPD officer crossed it
This is a developing story and we only have this video, a handful of comments, and second-hand accounts as of this writing.
A video shared by H2Oi 2020 attendee Jack Lear on an H2Oi Facebook group earlier today (Sept. 26,2020) shows the shocking moment an Ocean City Police Department officer wrestles a bystander to the ground, punching him multiple times. At least one punch connects with his face as the bystander does his best to defend himself against the onslaught of blows.
According to witnesses, the bystander said something to the OCPD police that ticked him off after he walked by them following a failed attempt at capturing another individual on foot.
Check out the video below. Mirror linked here.
A better angle via Tik Tok. mirror
Here's another angle from H2oi attendee Bryan Kelly.
The unofficial story told by Lear and corroborated by this video is the individual seen below was initially singled out by the two OCPD officers on bikes for "cheering cars on" as they drove by on the Coastal Highway.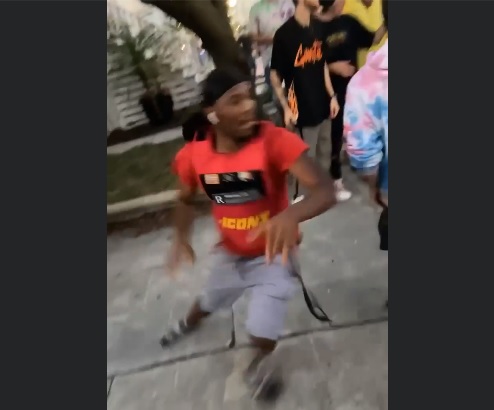 The above individual makes a break for it, and the two OCPD officers give chase on foot. The individual escapes among the crowded sidewalk.
Another individual, walking with his girlfriend, says out loud within earshot of the two police officers that, "he got away." His girlfriend drops her cellphone next to the police officer and asks if she could pick it up, to which the officer replies with, "shut the f*** up or I will f***ing kill you."
Supposedly this exchange was enough to trigger the cop.
We then see the police officer tackle the individual to the ground, break a fence, and use what looks like excessive force on the H2oi attendee. The individual looks like he does his best to escape, understandably so given a man twice your size is raining fists upon you. The police officer rips the man's shirt in the midst of the melee.
Whether the cop officially used excessive force is up to the criminal justice system to decide, but from what I saw, it's my opinion he did.
It's often hard to prove excessive force because of lack of evidence, but it looks like there was over one phone pointed at that officer and hopefully more video angles will pop up if criminal charges against that officer are filed.
Feel free to post those videos in the comments below.
H2oi 2020, as of this writing, has reached its peak between attendees and police officers, but that level of force in that instance was, in my opinion, uncalled for.