This was the largest and most unruly H2Oi event by far, one where drastic changes need to be made
Update 9/28/2020 – Official numbers came in, 277 arrests and 345 tows.
Earlier last year, almost to the date, I reported on how Ocean City Mayor Rick Meehan made an impassioned and action-oriented statement vowing that an H2Oi like what he saw in 2019 would NOT happen again.
Amidst circumstances he couldn't foresee (a global pandemic) and all the preparations he could legally make, not only did H2Oi repeat itself, this year's H2Oi 2020 was one of the largest and most unruly in Ocean City, Maryland history.
A slow buildup to a crescendo
The combination of record numbers in attendance, lack of car shows in their immediate towns, and, an overwhelmed police force was a dangerous cocktail for this oceanside town.
We got glimpses of how bad it was going to be after reports of record tickets+tow ordinances over $1,000 and dozens of cars being impounded started filtering in.
According to the Dispatch, over 252 cars, as of Saturday afternoon, were sitting in impounded lots scattered throughout the city. I'm assuming that number rose over 300 by week's end.
It got so bad at one point impounded cars were no longer being released because of a staff not having enough manpower to process releases.
And on Friday night, we saw Ocean Police unleash their strategy to quell their clogged streets and sidewalks filled with attendees.
Saturday night
More than 100 participants of the weekend pop-up H2Oi car rally were arrested and charged with various criminal and traffic offenses in the past 48 hours during the unsanctioned event in Ocean City.
Ocean City police said that despite experiencing minor issues during the daytime hours of Saturday, hundreds of participants became unruly and destructive in the evening hours.
To meet the onslaught of reports and first-hand incidents that would soon roll in, Ocean City Police department was at the ready with presumably fresh recruits from its seasonal pool of officers. Paid between $14-16 an hour and with little experience, H2Oi 2020 was a baptism of fire.
Here's a sample of videos collected online showing just how bad it was.
Several times and in different locations, fireworks were fired up into the air and, often, in the middle of OCPD officers.
Small skirmishes between Officers and alleys clogged with drunk attendees were caught on camera throughout the night.
10 minutes before midnight, OCPD's chief called in reinforcements from around Worcester County. H2Oi attendees confused these reinforcements as the National Guard.
Disgruntled locals and upset officials
Literally hours after the weekend whined down, statements from government officials and comments from upset locals packed social media posts from local news outlets.
Here's a statement from Delegate Wayne Hartman,
Some of the top comments from locals included,
Clyde Franklin, "Next year, shut OC down all week. Raise route 50 bridge. Block route 90 off at cape isle white. And Route 1 at Route 54. Only ones aloud in is local residents with ID.
Bridgett Burke, "Ocean City has become totally out of control. It used to be my happy place. After what I saw in June while I was there , I don't think I am going back. And this just makes those feelings correct. Still out of control. I feel bad for all the residents and business owners, and especially the officers that have to deal with any of this craziness."
Janet Mary, "National Guard next year…. It's gets worse every year.
Most commenting echoed those sentiments.
Even those "on the other side" of the mirror realized the level of unruliness and hooliganism raised this year crossed a line.
A Facebook group mod with over 80,000 H2Oi enthusiasts and attendees this year posted this update earlier today. That Facebook group has since been archived, no one can comment, post, or organize on there.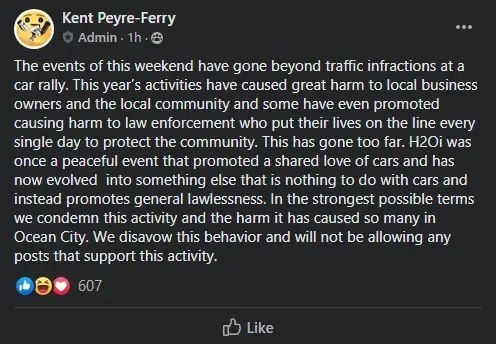 Ironically, like last year, we will most likely hear an update from the Mayor, Chief of police, and council members on next steps for next year. 2019 was bad enough. Armed with evidence, first-hand accounts, an overwhelmed police force, and the backing of its residents, Ocean City has enough to call in the big guns, whatever that may be.