After 13 years, Oppositelock, as we know it, shutdown for good. But this is not the end.
Earlier this month, G/O media informed personal Kinja blog owners, users of the subdomain Oppositelock, and others, that they'd be shutting down their personal blogs, citing liability reasons. G/O media reassured Oppositelock users they'd have until the end of the month to save their posts, but it looks like that's not even possible.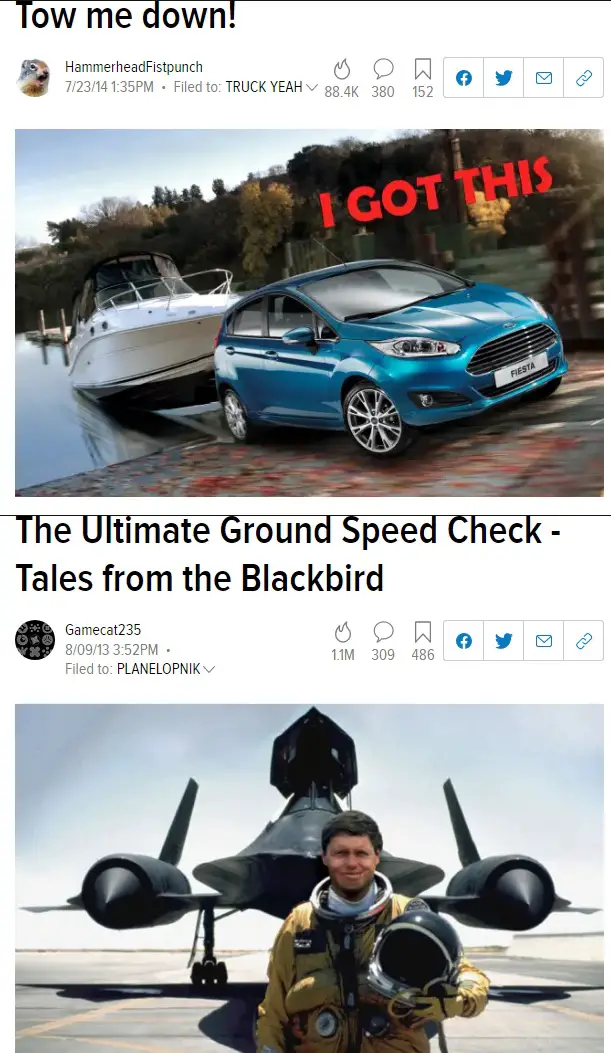 Just like that, thousands of posts were instantly lost. Users looking up such epic tales like "The Ultimate Ground Speed Check- Tales from the Blackbird" or "Tow me down!- why European countries can tow houses" were met with a 404 blog not found.
Conceived as a sister-site to Jalopnik.com back in 2013, Oppositelock.Jalopnik.com (changed to Oppositelock.Kinja.com,) is part of an older Oppositelock Sub-forum history where users could post and publish anything and everything car related (or not.) The site birthed legendary evergreen pieces and was the former stomping grounds of future Jalopnik staff writers.
According to a forward-thinking oppo-naut who already purchased Oppositelock.com, Oppositelock is already up and running under its own site at Opposite-lock.com. Hours into use, the are already have hundreds of topics and as many users posting, keeping alive a tradition of independent car blogging. While not as user-friendly as the Kinja layout, users posting new threads and replies filled with photos means the hosting is up to the task. Oppositelock's new site will only improve over time.
How can I view original Oppositelock posts?
If you did not backup all your posts off of Kinja, you're fighting an uphill battle to recover your posts. There are two ways, as far as I know, that you can view old Oppositelock posts.
First, for the time being, Google Cache probably has the most popular posts saved. You'll have to search for the post and click the black triangle next to the search results for the cached version. Here's the link to that Ground Speed Check story, still up on Google Cache. As Google's web crawlers re-crawl those urls, those cached posts will be lost.
More reliably, the old Oppositelock.kinja posts are probably on Archive.org. Here's a link to that same SR-71 story, archived on the web "forever."
Even one of Oppositelock's last posts, appropriatly titled, "Eat Sh**, Oppo." made its way to the archive.
If you're lucky, you might be lucky enough to find a list of all your posts, like user GameCat235's posts linked here.
How else can I participate as an Oppositelock user?
As mentioned on Oppositelock.com,
I, personally, am pretty active on the Oppositelock Facebook page.
So, while G/O media might've said sayonara to its stepchild, as former Jalopnik EIC Patrick George said on OppositeLock's last post, "If there's one thing I know, it's that car enthusiasts find a way. It's who we are."