While there's an official Hyundai TSB, some Palisade owners fixed it for less than $3 in minutes.
The Hyundai Palisade and Kia Telluride are hot sellers at the moment with bold styling, adequate power, and the most value of any three-row SUV on the market today. However, among the most annoying problems new Palisade owners come across are wind noise and whistling sounds coming from the drivers' and passengers' window areas at highways speeds but as low as 30 MPH.
Even Car and Driver had this problem on their 2021 Hyundai Palisade Test vehicle, loaner cars that most manufacturers make sure are 100 percent perfect. According to C&D,
Noise from the road is suppressed; however, a large amount of wind noise penetrates the doors. There's intrusive wind noise on the highway.
Apparently the inner and outer weather stripping around the doors and mirrors does not perform as engineered if they do not align the doors and mirrors just right. Gaps in this sealant allows air to seep in and, at highway speeds, is what causes noise. The TSB hopes to address this issue by supplementing this sub-par stripping with a new length of stripping, foam, a door alignment, or a combination of all three.
Search "wind noise" on PalisadeForum.com and you'll come across dozens of threads with this problem, and suddenly you'll realize you're among thousands of Palisade owners with this issue.
Here are the three most popular threads with hundreds of responses.
What it sounds like
Here are YouTube videos from other Palisade owners documenting the noise.
Hyundai TSB 19-BD-010H
Here's the link to the official Hyundai TSB pushed out to service departments Nov, 2019.
Here's an example of someone who brought their Palisade for wind noise and, per the TSB's process, could eliminate the wind noise.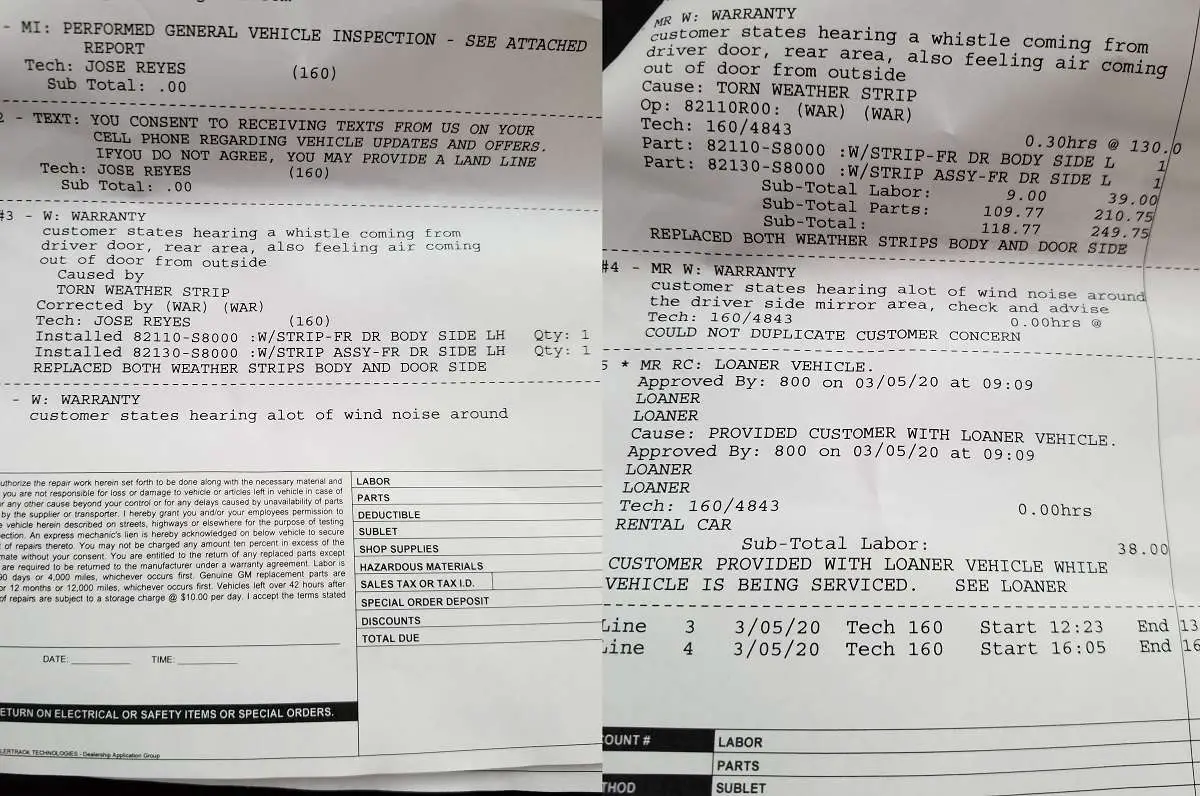 According to PalisadeForum.com members, although Hyundai recognizes there's a problem and tried to address it with this TSB, there are still a sizeable amount of owners with wind noise this TSB doesn't fix.
Even though it looks like Hyundai is not honoring this TSB you should absolutely bring in your Palisade so it addresses the problem. According to PF.com user, Davis_LSU,
"I talked to a tech at the dealership. Hyundai is working on a fix and they will repair the cars. Unfortunately, there is nothing we can do to make Hyundai figure out how to fix the cars faster. I would absolutely advise everyone with the problem to bring it in to the dealership and/or cal Hyundai; however, there really isn't a way to make engineers figure out a fix faster.
The reason you need to bring the car in is that wind noise falls under the 12 month, 12k adjustment period under the warranty. If there is no service ticket and you bring it in at 12,001 miles, they won't cover it unless Hyundai extends the warranty on this issue. I wouldn't make a special trip, but I suggest every owner mention it on the first oil change so there is a record."
Cheap fixes
There are two popular cheap fixes; hitting the recirc button and using $3 foam caulk saver.
According to Hyundai Palisade Owners Family member Randy Ritter, the free fix with circulation is as follows,
There might be a temporary fix by turning on the recirculated air option inside the vehicle when this happens (read that somewhere). It's weird though, almost like when the door seals get some play and flex in them the whistling starts I think it's a matter of when.
And the $3 3/8 inch caulk saver foam trick is linked here. Basically, it involves inserting a long piece of 3/8″ foam into the inner and outer tracks that run the length of the inner window and outside door. Palisade owners have had a lot of success with this method.
Here's the link to the Frost King Grey Poly Foam Caulk Saver they same to be using.
It's annoying, agreeing to finance over $30K (even in the upper $50K in some cases) over several years, and finding out your brand new toy makes an annoying whistling sound. Thankfully, all Palisades come with a warranty and, while under the warranty limits, you should, at the very least, let them fix it if they can.