Capable of hitting 112 MPH & with superior cold clime maneuverability, the CHP Camry could've been America's first foreign cop car
What do you do when you're the largest state police agency in the United States and Toyota offers to develop and sell you a fleet of police cars for $1 each? According to a throwback Thursday post from the California Highway Patrol earlier last week (Mar 11, 2021) that was exactly the case in 1989. Toyota, already popular among American consumers for their reliability, build quality, and fuel-sipping engines, wanted to gain a foothold as a police vehicle starting with the biggest one, the California's Highway Patrol.
When news leaked that an all-American police force was going to outsource its pursuit-rated vehicles to a car company from Japan, while forward-thinking, it was borderline controversial and arguably anti-American made.
Why drive police cars from Japan when we have so many proven American-made options?
In 1989, the CHP's bread-and-butter was Dodge Diplomats, Chevrolet Caprices, and the legendary high-speed only Ford Mustang SSP. Here's their tale of the tape below.
| | | | |
| --- | --- | --- | --- |
| | HP/Torque | Top Speed (MPH) | Weight (lbs) |
| Dodge Diplomat 4BBL | 185/275 | 112 | 3,580 |
| Ford Mustang 5.0 | 225/300 | 150-160 | 2,800 |
| Chevrolet Caprice | 200/290 | 120 | 3,900 |
| | | | |
Toyota came to the CHP with an offer to develop said pursuit-rated Toyota Camry and, after a trial period, would be open to a partnership to supply Camrys to replace the CHP's gas-guzzling, RWD-only options.
As a formality, Toyota would sell and buy-back each Camry for $1.
While we know California for its beaches and sunny weather, the CHP still has to enforce traffic in California's snowy climes in higher elevation, that includes all the touristy areas dotting the Sierra Nevadas, parts of Lake Tahoe, Big Bear, Mammoth Lakes etc.
To patrol these areas, CHP officers waste a lot of time swapping snow chains on and off their RWD cars. Toyota saw an opportunity to sell the CHP on front-wheel drive Camry's superior snow maneuverability. With most of the weight over the drive wheels, FWD cars have better traction in slippery conditions. With snow-tires, they're an easy decision.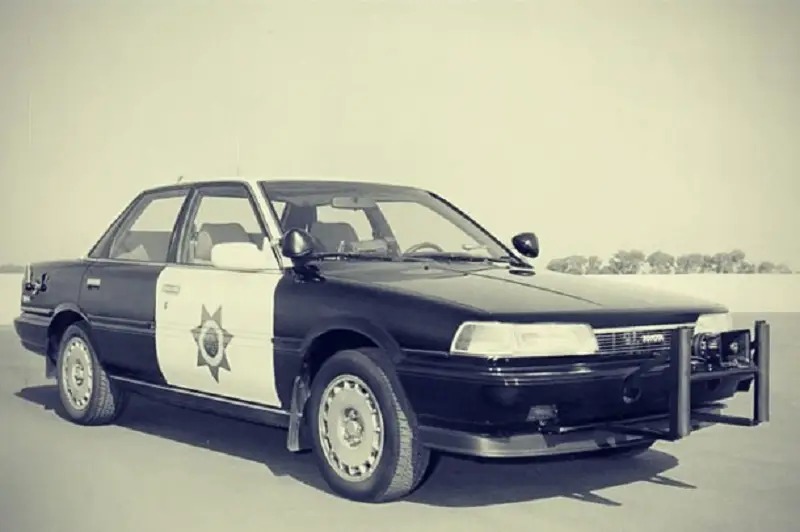 The CHP did not throw kid gloves Toyota's way, they had standards that must be met. According to a now deleted post from Toysport,
"The CHP also gave an 80+ list that the vehicle must be equipped with and modified to perform. The must list included: standards for acceleration, sustained top speed, an hour idle capability, slalom course agility, electrical reserve: stand-by (engine off) and full chase (siren/lights on), 250 lbs. seat standard w/ easy access (to accommodate side firearms!), tire specifications, among other things."

"The strangest requirement was that the vehicle must be able to jump 7-inch curbs at least 40 times without suspension or wheel damage! TRD USA coordinated the project build-up and Toysport was in charge of procuring most of the parts. There were two units to prepare- one was a Camry All-Trac (4 cylinder 5-speed) and the other was the (then) new V6 FWD. Gathering the parts was actually fun. No budget and access to any Toyota part! The units came from Toyota Denver Region- so they had the heavy-duty electricals, good for at least 10-12 items off the list."
To better equip the Camry for police work, Toyota sent a fleet of JDM (yes, these test Camrys were from Japan) Camrys to Toyota's race facilities in Torrance. Toysport goes over what they did to make these Camrys pursuit rated.

"Going over Toyota parts microfiche for overseas models yielded- a heavy-duty radiator, 15X6 steel wheels, HD wheel studs, heavy-duty suspension bushings, and another 17-20 pieces off the list. The TRD catalog added another 12-15 more parts- brake pads, suspension, clutch, etc. The TRD Rally springs and shocks from the Celica All-Trac fit with minor modifications. Lower arms and strut housings were reinforced (those curbs was a recurring nightmare). Sway-Away bent some hefty sway bars and push bars. Upper strut bars were Celica pieces. Recaro Police seats with low side bolsters were mounted on lowered seat rails (headroom for their CHP hats!). Police tires from Goodyear."

"A modified and programmable ECU from Nippon Denso 9we kept one!) and new exhaust were the only engine mods. We were not allowed to touch the engine. The 3SGTE was ready! It is so strange to see a black and white CHP Camry in complete police trim. Yes, we tried and tried the siren and intercom (to test electrical load…), and no, we could not drive it!"
Under the hood of the most powerful Camry was a decent 2.5L V6 that put out a generous 160 HP and 160 lb-ft. Fully loaded with two people, the pursuit-rated Camry could hit 112 MPH in just two miles.
While both Toyota and the CHP were serious about this test, nothing ever came of it. The CHP admitted it's always good to have a back-up plan for its American-made fleet just in case gas prices shoot up or most of the big three stop supplying cop cars but gas prices stayed constant, dipping even cheaper over the next decade and CHP officers ultimately preferred good ol' Detroit steel .
If Toyota struck a deal, Pursuit-rated Camrys would come from Toyota's relatively new Manufacturing facility in Georgetown, Kentucky instead of Japan.
What became of these seven JDM Camrys is unknown. More than likely they were crushed, but a part of me hopes at least one survived. Only one photo on the internet says otherwise.
A real CHP Camry would steal the show at a Radwood.
And even if they scrapped all those CHP Camrys, someone should reproduce one, with permission from the CHP, of course.