Affordable, lightweight & able to hold between 3,000-4,000 pounds each ramp, RhinoRamps are popular vehicle supports for the DIY garage.
Properly lifting a vehicle the traditional way for an oil change can be a tedious, multi-step process. By the time you've jacked up your car, have both jack stands strategically placed, and safely chocked your wheels, you're already too tired to actually do an oil change. Not to mention, the reverse is just as taxing.
Enter vehicle ramps. Instead of all that setting up, you just drive on, set your parking brake, and you're done. RhinoRamps by RhinoGear is a popular choice. But, made of a hard plastic and lightweight, are they safe enough to crawl underneath to work on? They are if you follow your RhinoRamps instructions exactly.
What are RhinoRamps
RhinoRamps by RhinoGear are a subbrand of FloTool, a tool brand owned by Hopkins Manufacturing based out of Peoria, Kansas. Advertised as "Lifting oil changes to the highest standard" these ramps are targeted at light-duty maintenance jobs that do not require a lot of wrenching resulting in major parts removed, throwing off the balance of a car. So, if you're thinking of doing a transmission swap with these, forget it.
While they feel like plastic, their catalog says they're made of resin, which is just an unprocessed plastic. So yeah, they're made from plastic.
Reassuringly, RhinoRamps are the only vehicle ramps made out of Resin that pass the ASME PASE (Portable Automotive Service equipment) standard for service ramps. RhinoRamps credits their patented structural design. But if you think about it, if there aren't a bunch of other resin ramps with PASE standards, resin probably isn't the most ideal material to hold up vehicles.
Are they safe?
You'll want to familiarize yourself with the warning label that comes with all RhinoRamps.
First, just because RhinoRamps and RhinoRamps Max say they'll hold 12,000 lbs and 16,000 lbs GVW Capacity respectively does not mean both ramps might hold that amount.
A GVW (gross vehicle weight) rating does not mean that the ramps will hold all that weight. It means that the ramps are designed to lift and hold up to one half of a vehicle that weighs up to that much. A 12,000 pound GVW rating means the ramps will hold up to 6,000 pounds for the pair. 
Like jack stands, ramp placement on level, dry surfaces as crucial to overall ramp operation.
Next, as mentioned, you shouldn't do heavy repairs if you crawl underneath. The warning sticker says,
"Do not disconnect brakes, engine, transmission components, drive train, drive shaft, universal joints, or wheels while the vehicle is on the ramps."
Finally, setup and maintenance are key for maximum safety. Like jack stands, use Rhino Ramps on clean, non-slick, and level surfaces. Inspection prior to use, during, afterwards, and after any shock-type event from unintended braking and accelerating when driving on is almost mandatory.
Keeping all that in mind, if you follow RhinoRamps directions, heed their warnings, and only intend to do light-duty maintenance like oil changes, RhinoRamps are safe to crawl under.
However….
Worrying Amazon reviews and a handful of customer experiences gone bad.
The top review comes from Matt who experienced a RhinoRamp failure after his third use. The 2015 Buick LaCrosse, at most, weighs up to 4,100 pounds. Placed on two RhinoRamps, that's well within the Ramps rating.
The next top review shows a catastrophic failure of another ramp, the RhinoRamp splitting in half.
This third top review mentions his Rhino Ramps buckled after driving his Nissan Altima on top of a pair. Even new Altimas don't weigh more than 3,500 pounds. Worrying!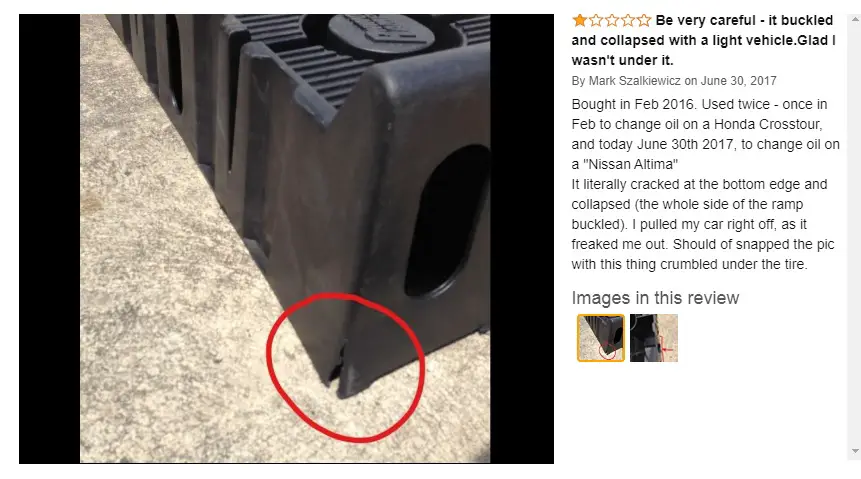 There are half a dozen other reviews mentioning some kind of failure on the front page of their Amazon listing alone.
But check out this RhinoRamps failure, brought to my attention earlier this week and is the whole reason I wrote this blog. Look at that massive crack! Full post linked here.
While statistically, these failures only represent a tiny percentage of RhinoRamp users, that's a partial percentage too much for my liking.
If you still use RhinoRamps, I recommend you inspect them throughly before each use.
When driving on them, creeping forward by applying gas, then brakes, and using brakes to modulate your speed precisely is recommended.
And, after you're done using them, I'd store them in a cool and dry place away from plastic damaging UV rays from the sun.