If you need another reason not to use these scratch o'matics
Photos circulating social media early this week show an automatic car wash anomaly that will have you peeking up at the rollers the next time you use one. As per the gallery of photos below, a bail of barbed wire somehow got stuck on one of the main wash rollers, the one that scrubs your car from hood to trunk.
Check out the gallery of photos courtesy of Blake Down Car Company below,
Information on specifics was scarce, so we're left to throw out educated guesses on what exactly happened. But, it's easy to piece together a plausible story.
Although Blakedown Car Co. is a UK page, by the looks of the gas station, it looks like it's somewhere in the United States. Someone in the comments mentioned how it looks an awful lot like an H-E-B, a popular gas station in Texas (that would explain the truck carrying barbed wire.)
Embed from Getty Images
At first glance, the main wash roller looks like it exploded, but upon closer inspection it's got barbed wire all coiled up around it. The most likely explanation was someone in a truck, with barbed wire in the bed, used the wash before this unlucky person. The barbed wire got caught up in the roller, perhaps without the truck driver noticing, and was left up there to wreak havoc.
I can only imagine the sounds of barbed wire spikes on delicate paint, scratching that car's clear and base coats down to bare primer.
Yeah, a bit of Turtle Wax rubbing compound won't fill in the scratches on this one.
Commenters pointed out that automatic car washes usually have one of these signs right before you enter, washing the owner's hands of any responsibility in case of damage.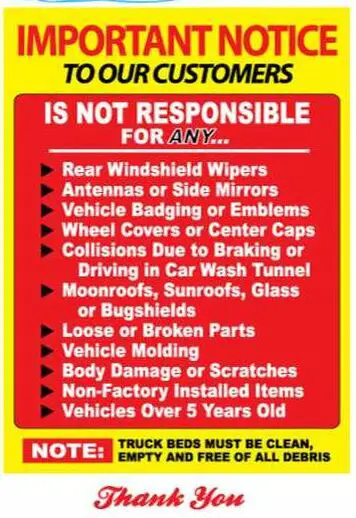 If this happened to me, I'd still seek compensation towards a new paint job. No one reasonably expects a car wash machine to have barbed wire on its wash roller. It should be the car wash owner's responsibility to ensure their car wash is as safe to use as humanly possible.
If that means some sort of sensors or cameras to make sure their rollers are barbed-wire free, so be it.
As for this automatic car wash victim, at least he didn't drive into it in a convertible, top down!#