While the names are questionable, the performance and value you get from Cosmo tires is anything but.
*This post contains an Amazon link which, if you make a purchase, I get a commission.
If you're a car enthusiast on social media, chances are you've heard Cosmo tires and their model names, like MuchoMacho and El Jefe, being advertised or shown as a sponsor. Cosmo tires, although around since the mid-90s, is a newcomer to the passenger car market that's been putting a concerted, guerilla-style marketing effort, as of late (I heard them being promoted by the DWA car podcast!)
Here's why Cosmo tires should be on your radar if you're looking for tires that have all the performance and style of premium brands at a fraction of the price.
According to Tire Business, Cosmo Tires is a private label brand owned and operated by Tire Group International LLC, a tire importer based out of Miami, FL. Although they've been in the Semi truck and trailer tire business since 1994, Cosmo finally expanded to the passenger and light truck market first in Europe in 2018 and in the United States in 2019.
Cosmo tires are made in Thailand by Zhongce Rubber (Thailand) Co. LTD.
If you didn't already know there are four tiers of tires. TireReview.com has a good breakdown of what brands are in what tiers linked here. Basically, Tier 1 is the best with brands like Michelin and Bridgestone and Tier 4 is entry-level cheap (read only made in China and East Asia.)
Cosmo markets and prices their tires as a premium Tier 3 entry-level product.
Cosmo's US Tire lineup is as follows. The names are no coincidence. According to TGI, "We've conducted in-depth market research to identify model names that would resonate with today's millennial, female and Hispanic consumers."
Passenger
Performance
Crossover and SUV

TigerTail
El Jefe HT
El Tigre AT
Mudkicker

Light Truck and Van

El Jefe HT2
El Tigre AT
El Jefe Van
Mudkicker
Kat Energy
Let's look at two of their more popular models.
MuchoMacho
Cosmo's most popular tire is the MuchoMacho AKA "The Performance Kat." Offered in over 36 sizes, width from 195 to 315 mm's wide and 16-20 inches in diameter, these MuchoMachos fit a lot of applications.
The MuchoMacho is a UHP summer tire that has all-season capabilities. According to Cosmo, MuchoMachos are known for performance and control, stability at high speeds, sport driving characteristics and superior control in both wet and dry conditions.
Design features that achieve this include a stiff center rib, rigid shoulder blocks, shoulder sipes to reduce noise and irregular wear, a bead reinforcement system and 4 channel grooves to deal with water and harsh noises.
Consider the 2021 Dodge Charger shod with OEM Firestone Firehawks in 245/45/20s. If you go for OEM Replacements from Wal-Mart, you'll spend $840 before taxes. Some popular options for (4) tires in the same size (TireRack.com) before tax include,
Kumho Ecsta PS91s- $604
Goodyear Eagle RSA- $680
Pirelli P Zero All-Seasons- $832
Michelin Pilot Sport- $1,200
How much do (4) Cosmo MuchoMachos in 245/45/20 cost? On Amazon (and similarly priced elsewhere) you'll only spend about $105 per or $420. Plus tax, that comes out to about $455(free shipping included.)
The reviews speak for themself. One review from eBay says,
"I was a little hesitant at first to purchase these tires, as I was not familiar with the name. However, once I had them installed on my vehicle, I was very impressed. The grip is great and there is little road noise that you get from other brands. I would most certainly purchase these again."
Another on Amazon says,
Installed these on my Challenger 2009 which has the 21″ wheels. They hung on the road, even grip for the turns, and tested the car at 120MPH no noise.
A review from AutomotiveThinker.com called MuchoMachos an "Unbelievable bargain" and was impressed by how well they did in damp conditions.
Another independent review from a FietsaForum.com member, who snagged a set of MuchoMachos for $55 apiece, concluded these tires are "quiet and definitely sticky."
Check out this review left as a comment on a TheDrive.com post from an owner who ACTUALLY installed 3 sets of MuchoMachos on their 2016 Nissan GT-R. They were that good he bought them again and again for his bonafide supercar.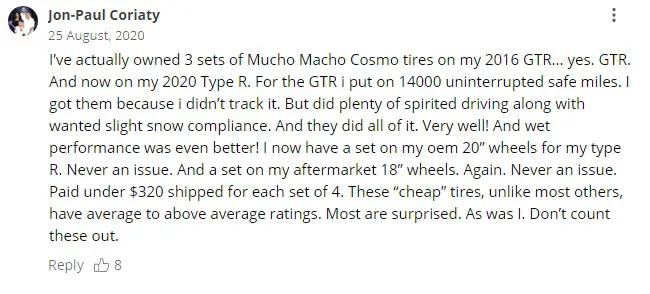 Cosmo was also proud to display this little endorsement from Hot Shoe Randy Pobst. If you don't know who Pobst is, google his credentials.
MuchoMachos also have a dedicated fanbase in the grassroots drifting community. If you're a drifter on a budget or just starting out, MuchoMachos provide ample amounts of grip and last a long time doing it, lasting several drift sessions before you need to swap them out.
I can go on and on but the consensus is buyers are impressed with how much grip and everyday performance they get for the price.
RealCat 17 AKA RC-17
Another popular Cosmo tire is their RC-17. Offered in over 20 sizes with widths ranging from 185 to 245 mm and from 15 to 17 inches, this all-season has its sights aimed squarely at compact cars and some small crossovers (Civics, Corollas, Mazda 3s etc.)
Cosmo says their RC-17 is a luxury tire without the luxury price with good dry and wet performance along with a quiet ride. Key technologies that deliver this is their Diamond Grove design for grip and control, multi sipe shoulders to reduce road noise and irregular wear, Anti-hydroplaning design thanks to grooves that provide increased water evacuation, and a 3D block design that contributes to an asymmetrical tread pattern for better wet and dry control.
Consider a newer 12th gen Toyota Corolla that come with 205 55 16 Hankook Kinergy GT tires from the factory. (4) Kinergy GTs from Walmart will run you $395.
Popular replacements for (4) 205 55 16s include
Michelin Defender T+H- $520
Bravarius 5HM- $324
Continental Control Contact Tour A/S Plus- $460
Falken PRO G5 A/S- $432
(4) Cosmo RC-17s from Walmart will cost you $296 before tax and shipping.
"I bought RC-17 tires bc I was tired of getting those cheap $40 tires and it really makes a difference. I like to drive long distances and they are definitely worth the money. The treading is thick and deep I Would definitely buy again but hopefully no time soon. Lol"
Another reads,
"Excellent value, compare well to previous Michelin Pilot tires. It has only been a few weeks but so far, these tires are excellent. They are quiet on the road and track well. They look good on my Mitsubishi 3000GT VR4."
Cosmo limited warranty, road hazard warranty and mileage warranty.
Linked here is Cosmo's Tire warranty info but basically Cosmo will cover your tires if you damage them hitting anything on the road (see details for limitations.) Most Cosmo tires also have a basic limited warranty and the gist of their mileage warranty is below.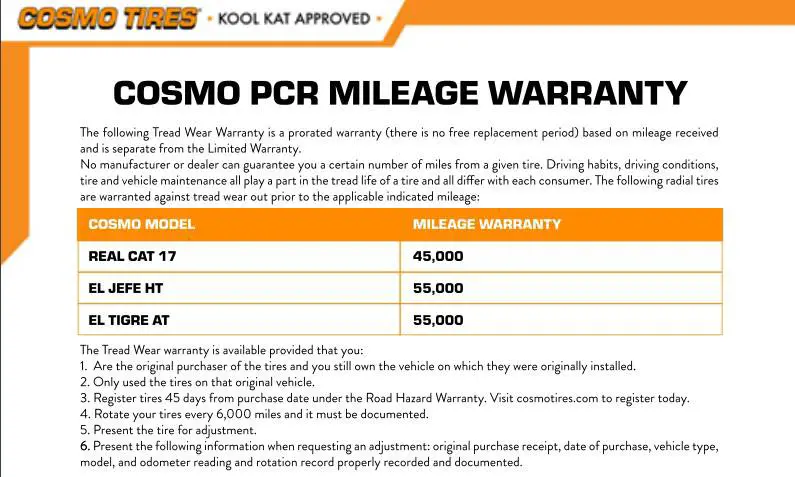 Feel confident buying Cosmo tires.
The old way of thinking of "off-brand" tires is "you get what you pay for." That's no longer the case, it's more like "You get more than you pay for."Tire technology and manufacturing from China and South East Asia, perfected over decades, is on par, if not better than a lot of "premium" tire offerings made in "more developed" countries. You can lump Cosmo tires in with that mix.
Anyone dismissing Cosmo tires just because they've never heard of them or citing they're made in Thailand as a demerit does not know what they're talking about.
Delivering more grip than you'll need, wet weather performance when you need it, with all the comfort and lack of noise you expect from a more expensive tire and, at a price that won't break the bank, pulling the trigger on a set of Cosmo tires is an easy decision.