This is why Jerry Seinfeld likes older Porsches, in particular.
On Jerry Seinfeld's latest appearance (Sept 22,2021) on Spike Feresten's "Spike's car radio podcast" towards the end of the show Feresten pinpointed a handful of Porsches that were the genesis for Seinfeld's love of the brand, particularly models that were at least over 20 years old.
Embed from Getty Images
In describing his experiences, Seinfeld touches on what makes these older Porsches so special and, from there, we get a glimpse at why Seinfeld became a fan of the brand.
Feresten starts off his recollection of Seinfeld's love of the brand by bringing up one of his first car encounters as one of Seinfeld's writers on his show back in the mid-90s.
Feresten: "I got there around Season 7 (1995-1996) and you immediately zeroed in my '74 and said "Right car, wrong example" and told me to buy another one…I was so confused by the directive."
F:"You had those two matching Meissen Blue Speedsters and then the RS, the ('73) Tangerine RS. That's the beginning of this (collecting Porsches) right?"
Seinfeld: "Yes, the (1973 Porsche Carrera) Tangerine RS is what twerked my brain, and I realized there's gold in these older cars that these people…I didn't even think about people, I just thought there are experiences in these older cars that are incredible. And that's why I started buying everything 15 years before everybody realized it."
The RS, if you didn't already know, was a special homologation 911 built between '73 and '74. It differed from standard 911S's thanks to a larger engine (210 HP,) stiffer suspension, different aero, larger brakes, wider wheels and rear fenders.
Keen eyes will notice that 1973 911 Tangerine RS makes a cameo on Season 7 Episodes 11 titled "The Rye" aka the Marble Rye.
And here's the same year, make and model of that Tangerine RS owned by Seinfeld's good friend Paul Zuckerman.
Feresten then touches on how Porsche fanatics bought and sold Porsches back before the internet which was through Hemmings Catalogs and knowing the right people (Sam Cabiglio.)
Seinfeld: "I saw an ad for a 1959 Porsche Carrera GT Speedster, $325,000, 8,000 original miles, original paint, original car, 4-cam engine in pieces but it was complete.
S:"Sam went there and put all the pieces in a box, spent an entire day and we sent the box to Germany and Dieter Wurster who built the 4 cams in the '50s and was still there, put it together for me and they sent it back. We put the engine in. I still have that car. That's really the best Porsche Speedster."
Petrolicious spotted that Carrera GT Speedster parked in Malibu and did a nice blog about it a few years back.
Feresten then returns to that 1973 911 Tangerine RS and Seinfeld remembers how it was the first car that ever made him not want to go home, choosing to continue driving instead.
Seinfeld: "I was coming home from the show, which was in the Valley and I would drive over Coldwater and I would get to Sunset. That was the first time, and I would get to Sunset and I went left to go home.
S:"And I was in that car and I went right. I went, "I don't want to go home." And that was the first time I ever did that with a car."
Below is what I think was Seinfeld's commute home from CBS's Studio Center, where they filmed the bulk of Seinfeld, to that intersection off Coldwater Canyon onto Sunset in Beverly Hills.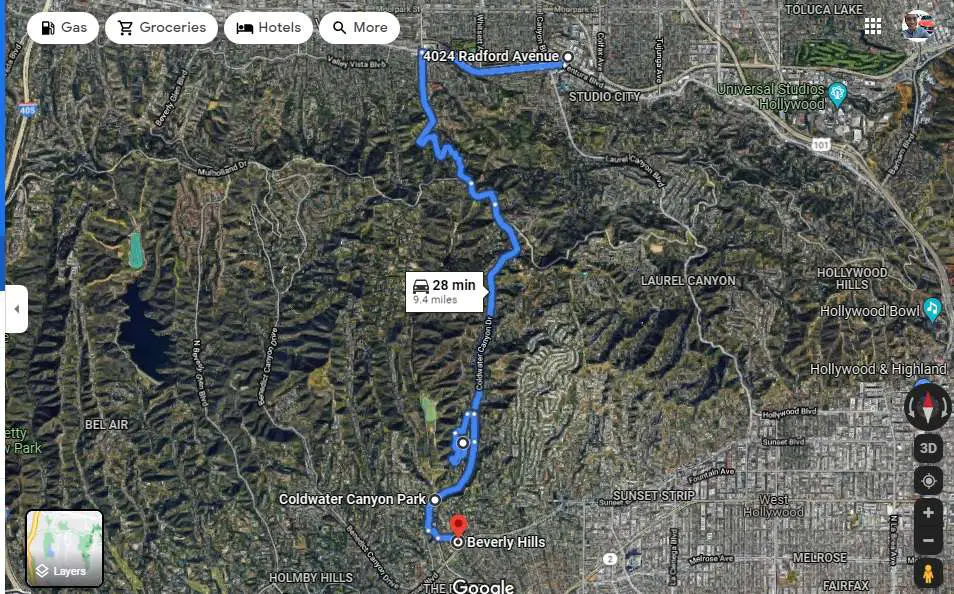 Seinfeld once described older Porsches as "the essence of sports-car perfection" and, with that bar set so high combined with the sense of occasion these older Porsches provide, it's the one-two combo that explains why Seinfeld likes and collects this particular make.