Governor DeSantis said this when asked "Why Brandon, FL?" during the Q&A session.
A media advisory from Florida's office of the Governor went out earlier this week announcing Governor Ron DeSantis's plan to hold a press conference in Brandon, Florida at a Brandon Honda dealership.
NEW: Gov. DeSantis trolls President Biden, will sign bills limiting vaccine mandates in Brandon, Fla. at Brandon Honda today. pic.twitter.com/pBn2BIj1l3

— Election Wizard (@ElectionWiz) November 18, 2021
We later found out DeSantis signed a bill essentially restricting private employers, government entities, and schools from imposing a vaccine mandate on its employees and students.
If it isn't already painfully obvious, almost everyone caught on the double meaning why specifically Gov. DeSantis chose a Brandon Honda dealership in Brandon, FL.
But, just in case, a reporter asked the obvious question, that portion of the press conference cued up for you below.
"It's obvious to a lot of the people in the crowd that believe you chose Brandon because of that thing that goes around certain websites, "he asked.
"Is this why you came to Brandon, because of the trolling of the Biden administration?"
"So I think Brandon Florida is a great American city, " DeSantis answered
*At this point shouts of "Let's go Brandon" are heard from the audience.*
I think the people here are fantastic. And, I can tell you my only negative on Brandon is that when I was growing up playing baseball they used to beat us every year but now I'm really proud they were able to do it.
I want to thank Brandon Honda for hosting us here today and we're proud to take a stand for freedom at Brandon Florida."
"Let's go Brandon," is a catchphrase popularized earlier this year during a NASCAR post-race interview with racer Brandon Brown.
Encouraged by a chance to get heard on TV, many in the crowd started chanting "F*** Joe Biden" which was spun into "I think they're trying to say Let's go Brandon." by the interviewer.
It's become a phrase with a double meaning and adopted by Biden detractors ever since.
Just two weeks ago, the White House rolled out Biden's COVID-19 plan with six major areas to combat COVID-19 and its variants. The most concerning requirement was requiring All Employers with 100+ employees to ensure their workers are vaccinated or tested weekly.
Florida's Governor and his administration did not agree with that mandate, resulting in the aforementioned bill to be signed.
Choosing Brandon Honda in Brandon, FL is a location rich in symbolism.
In writing, whenever you want to get a point across, you use repetition. Making sure Brandon was repeated twice in the media advisory as the location is not a coincidence.
Catchphrase aside, a Honda dealership isn't the most logical place to hold a press conference to sign an important piece of legislation.
Brandon Honda (marked by the yellow star below) isn't even technically in the unincorporated community of Brandon, FL (in red), it's in Tampa.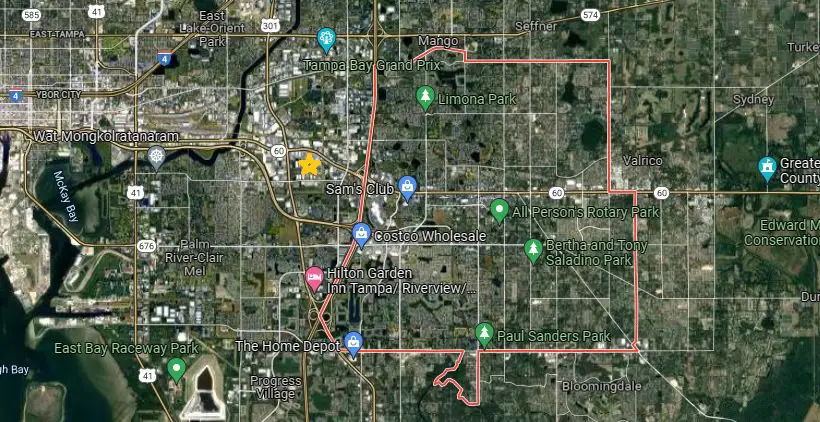 Many people online were upset that Brandon Honda politicized their own Honda dealership. Here are a few of the most recent comments from Google Reviews.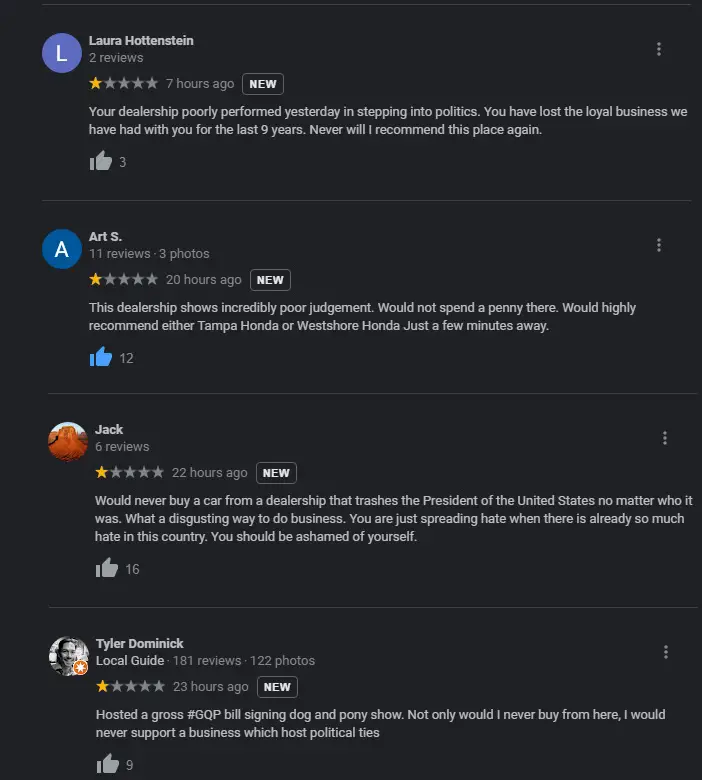 It's worth noting dealerships are private franchises, American Honda having no official say how their dealerships handle their showroom floors for media purposes.
Although DeSantis will never say he did it on purpose, his wry grin and smiling eyes answering that reporter's question is all the answer anyone needs.