Balenciaga steps into the garage to turn this ordinary clamp into certified fashion
102-year-old fashion house Balenciaga is taking a step out of the house and into the garage, specifically the tool box, for design inspiration for one of its latest pieces in women's jewelry.
For $950 you can buy their Italian-made Tool Bracelet, a brass bracelet in silver or gold made to look like a functional hose clamp .
As of this blog post, Tool Bracelet is on sale, marked down from $950 to $659.
Check out some photos of this faux hose clamp below.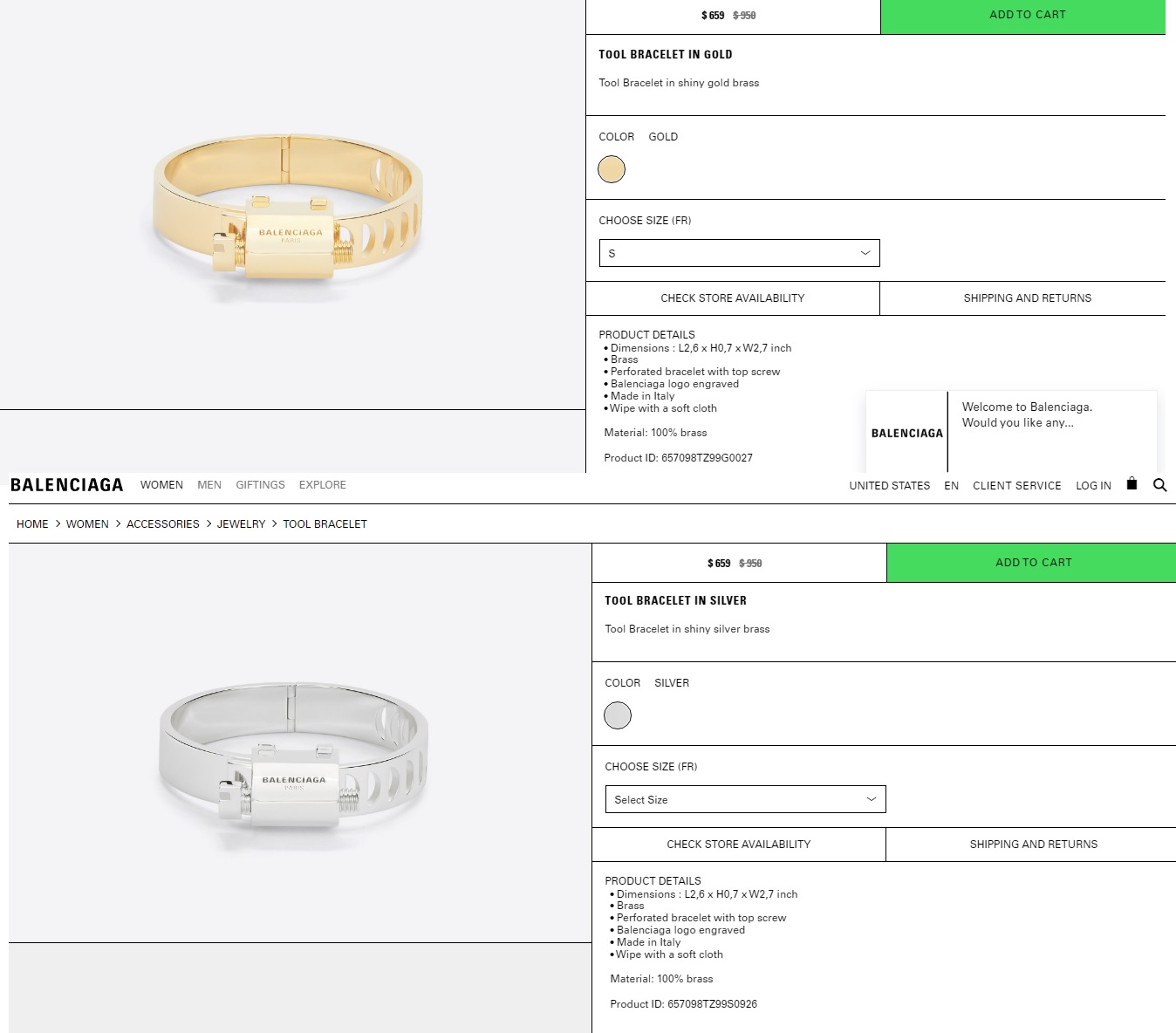 If you haven't already figured out, this tool bracelet isn't an actual hose clamp, it's is just a piece of jewelry.
Balenciaga's 'Tool Bracelet' is styled after a common screw clamp consisting of a band, screw, and thread pattern. With a decorative screw, there are no screw threads to mesh with the threads of the band.
You can, of course, shop for an actual hose clamp, even one that fits around your wrist, at any home improvement store and pay considerably less than $659.
But, that isn't the point of fashion now, is it?
Fashion house Cartier famously re-released their Juste un Clou bangle fashioned to look like a nail.
Made from various soft metals including white gold, these beautifully bent nails cost upwards of $8,000 or more. They're really one of the world's most expensive fasteners.
NEW IN THIS WEEK | Inspired by nails, the @Cartier Juste un Clou bracelet is imagined in white gold and designed for men and women alike. Fine Jewellery, Ground Floor. https://t.co/vzH4H9jTl2 #Harrods pic.twitter.com/qHZKWyTFgj

— Harrods (@Harrods) November 26, 2019
Unlike Cartier, making the ordinary into fashion can backfire, like when Balenciaga made their own version of a high-vis construction jacket for nearly $4,000 and were subsequently roasted online shortly after dropping this construction chic.
Balenciaga selling high-vis binman-style jacket for a staggering £2,890https://t.co/HWhUBRBaP8 pic.twitter.com/o6p36D7G23

— Daily Star (@dailystar) July 5, 2021
Seeing how no one's making a fuss about this glorified faux hose clamp (except my blog) and how it's now 26 percent off, my guess is it's not avant-garde or thought-provoking as they thought it would be.
If it was an actual and functional hose clamp, it'd be closer as a minimalist style piece and ironically might sell better.