O'Reilly Auto Parts has a new selection of affordably priced car cleaning products.
Browsing the latest O'Reilly Auto Parts online ad and I came across a lineup of car cleaning products called Power X One. After a quick Google, it turns out Power X One is O'Reilly Auto Part's new, house brand of car care cleaners we'll probably see expand as time goes on.
The current lineup of Power X One includes,
Snow Foam Car Wash
Glass Cleaner
High Gloss Tire Shine
Ceramic Spray Wax
All Wheel and Tire Cleaner
and a Ceramic Detailer
If Pro X One's abandoned 'word mark' will forecast what else Pro X one will entail, it will be a full lineup including clay bars, additional waxes, brushes, clothes, sponges, drying clothes, etc.

According to the ingredients disclosure for their Ceramic Spray Wax,
…the current lineup of Pro X One car care products is made by the Aiken Chemical Company under their Purple Power Clean-Rite brand of car care cleaners.
Aiken Chemical has headquarters and manufacturing facilities in Greenville, South Carolina.
Pro X One car care cleaners are made in the USA, although, that may change for Pro X One on a product by product basis as new cleaners and car care accessories are introduced.
It's worth noting that Purple Power already has a lineup of car care cleaning products under the Purple Power Prime-Shine brand name.
Here's a bottle of Power X One Ceramic Spray wax next to a bottle of Prime-Shine Ceramic Spray Wax. Notice anything? In fact, every bottle of Pro X One cleaner can be matched up with its Prime-Shine equivalent.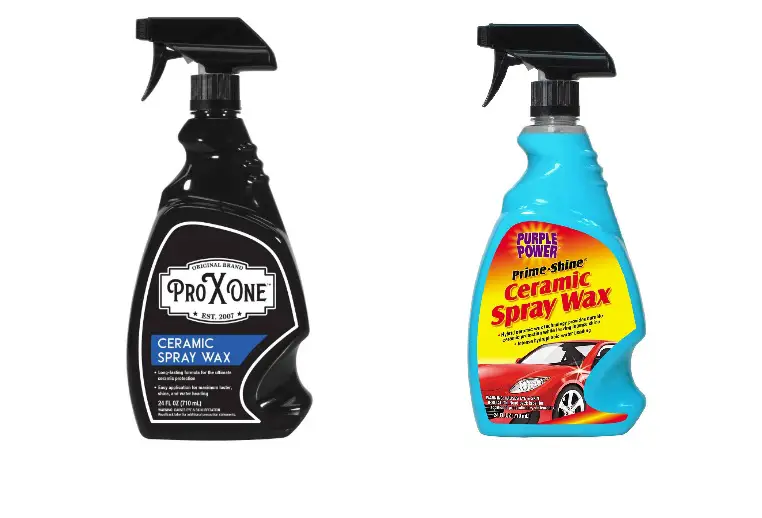 Per Pro X One's Ceramic Spray Wax ingredients disclosure, they even list Turquoise Blue as a Colorant, the same color as their Prime Shine Ceramic Spray Wax.
Although Prime-Shine's Ceramic Spray Wax does not have an ingredients disclosure, if you compared Prime Shine's and Pro X One's…I'll let you draw your own conclusion.
At O'Reilly's, the Pro X One Ceramic Spray Wax is $13 while Prime-Shine Ceramic Spray Wax at Blain's is only $7.
Both are still several dollars cheaper than Meguiars $18 Hybrid Ceramic Wax which, keeping the turquoise blue colorant in mind, seems to be the product O'Reilly is competing against.
It's too early to tell if Pro X One car care products are any good. Thankfully for you (the consumer) O'Reilly does not filter reviews and there are a handful of new reviews under a few Pro X One products.
If you've used Purple Power cleaning products and are happy with your experience and are shopping around for car care cleaners, this Pro X One lineup of products might be worth a shot.
Affordably priced, you've got little to lose.