So well executed, it almost looks like an official Honda concept car.
Setting my Facebook Marketplace location to San Bernardino, California, I came across a 1996 Honda Civic EX Coupe pickup truck conversion for $7,350.
Probably armed with a Sawzall and a Rockstar energy drink, this Civic owner artfully finessed and cut off the roof and rear windows from the front seats backward. He also sourced and managed to fit a back window that almost looks OEM from 10 feet away.
Here's a link to the ad and a photo gallery of this trucklet below.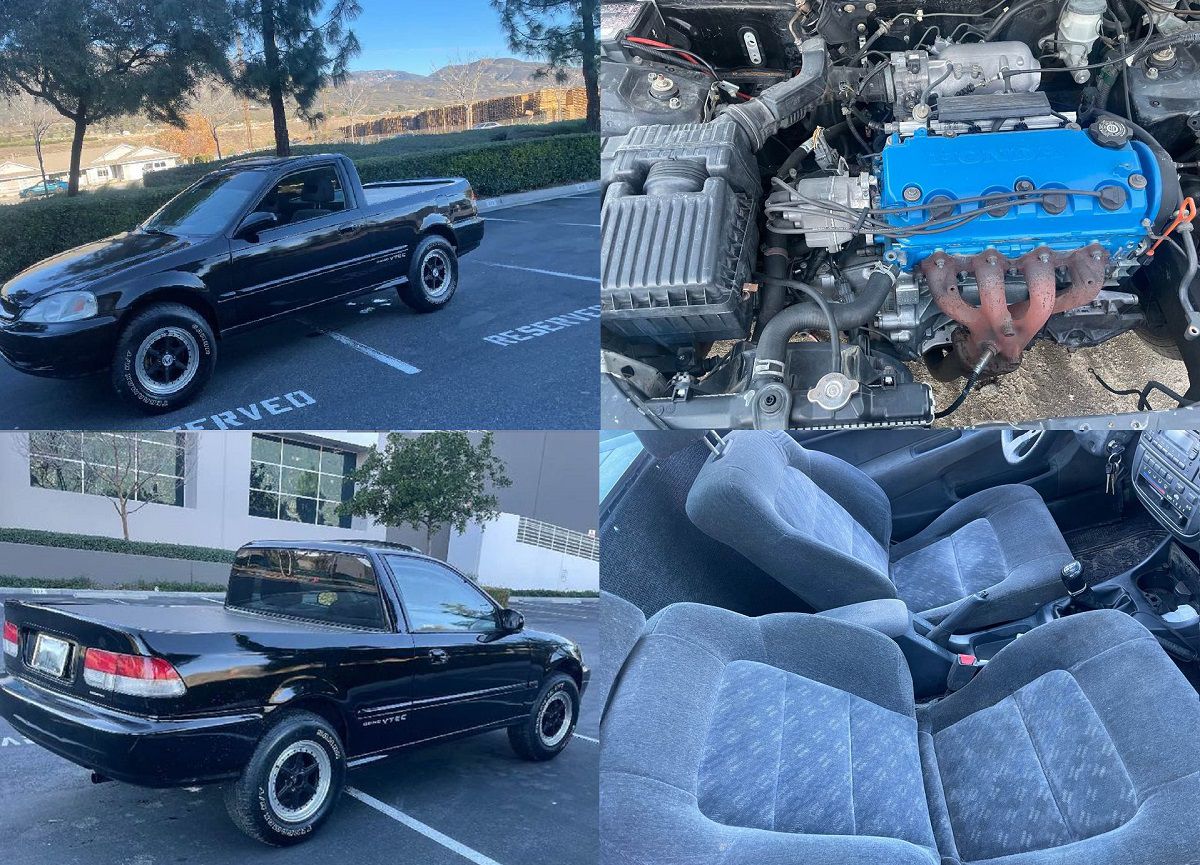 "Excellent condition," the ad reads. "Clean pink slip in hand. Send me a message if interested."
This is an EX. That means, as the engine bay shows, a slightly more powerful 1.6L engine with VTEC good for 127 HP and 107 lb-ft.come
Slap an intake, header, and a more free flowing exhaust and hard VTEC cracks in your Civic truck are definitely in the cards.
I wonder how well it cruises on the freeway and if the factory 36 MPG highway is even possible thanks to the aerodynamics that comes from chopping off half a roof.
Keen eyes will notice a 99-00 front and rear conversion.
The pièce de résistance is that bed conversion. For something so custom, it's a shame the owner didn't detail how he did it or at least provide photos of the "truck" bed.
Without that extra body work and rear seats, this Civic certainly has more "payload" capacity. GVWR (3737 lbs.) – Curb weight (2,238 lbs.) – rear seats, windows and roof structure (200 lbs.) -the average American (180 lbs.) and you can technically haul an extra 1,119 pounds out back.
That's potentially a lot of drywall and sheetrock.
You'll probably haul something anyway considering the already front biased weight distribution is even more so, not to mention the wonky aerodynamics that come from messing with OEM bodywork.
Since there's no tailgate, lifting heavy items into and out of the bed the bed might be a chore.
The slightly bigger AT-like tires add some off-road capability, the lifted height probably making oil changes a breeze.
Honestly, for $7,350, it's a little too much for what amounts to a fun, around town car.
For half that, and with gas as expensive as it is, if you need to haul stuff short distances, this Civic pickup might make sense.