He supposedly had a cat in the car, too!
Youtuber Alex Choi recently shared footage and what happened after a Tesla Meet and Drive he organized earlier yesterday (Mar 19, 2022.) In his video, we see a random driver jumping and wrecking a 2018 Tesla Model S off Baxter Street in Echo Park.
LAPD confirmed hours later that the Tesla Model S involved was a rental
Check out the video for yourself below, including shocking details Choi told his followers.
Choi starts off his video with a warning that what you're about to see is dangerous and shouldn't be attempted, which is hypocritical, but, we'll get into that later.
Choi then transitions to the start of the Tesla Meet and Drive he organized at a Target parking lot somewhere in Los Angeles.
"So the drive was over without any incident, "Choi explains. "This random dude wanted to show me the place David Dobrik jumped his Tesla, so I was curious. And then, without any warning, this happened."
Youtuber David Dobrik earned some clout two years ago by jumping his Tesla Model X off Baxter Street, a street in L.A. infamous for its 32 percent grade.
His video is below.
We then see a 2018 Tesla Model S (not Plaid) launch off Baxter Street, jumping off the steep hill way too fast. The Model S sails through the air, veers to the right into trash bins before nose diving and wrecking into the street. The Model S ends up crashing into a Subaru Forester.
By the time Choi gets to the scene of the crash, we can see no plates on the Model S, all the airbags are deployed, and the driver and its passengers are nowhere to be seen.
Supposedly no one was seriously hurt or injured.
Here's a screenshot of the Subaru Forester he ran into.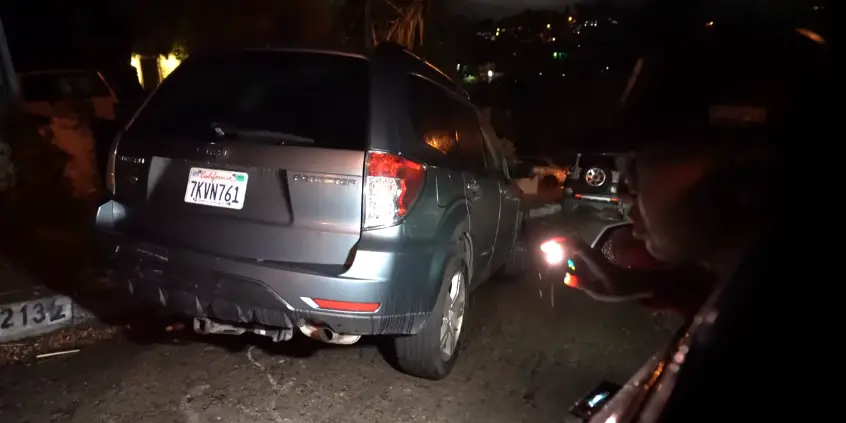 "He didn't do any test run, "Choi explains after he returns to the scene of the jump. "He just shows up, immediately turned down this way, turned around and, oh wow, he really is doing this. Not even a test run."
Choi then explains what else was in the Model S.
"This dude found a stray cat on the street and brought it to the Tesla Meet," Choi explains to a friend on the phone. "He had a cat in the car the whole time. The cat is fine and nobody is injured."
We also find out why the Tesla Model S driver went so fast.
"I was like, bro, how fast were you going?" Choi recounts. "He's like, well, he (a passenger) told me to hit 57 MPH, but I went to 57 MPH and gave it a little extra gas because I was with a car full of people."
Choi reveals he doesn't know who these people were or who owns the Tesla.
"I see all them walking and then I see the cat…then they all just run. I don't know the story behind the car, I don't know whose car it is," Choi says.
After Choi shows another angle of the Tesla Model S sailing through the air from a video off his Tesla's dashcam, that's pretty much where the video ends.
We see Choi return home to debrief his fans and to take it all in.
"Think twice before you do anything stupid, "Choi warns his viewers. "Let none of us, none of the YouTube clout chasing and influencers like me become any motivation for you guys (to do something stupid."
"As part of the Los Angeles Police Department's Hit and Run Reward Program Trust Fund, a $1,000 reward is available for anyone in the community who is able to provide information that leads to the identification of the driver."
Stop making stu**d people famous
Although Choi warns us in the beginning and end not to copy what he shares, that's easier said than done.
Choi did say the driver admitted to him, he only wanted to go to Baxter St. because David Dobrik's video influenced him to.
I first saw Choi's now viral Tesla jump videos on Instagram shared by other accounts, copied from Choi's Instagram. Most people watching aren't going to know those viral vids came from an Alex Choi video and will never hear his warnings.
If Choi truly wants his fans and viewers not to copy what he shares, why did you upload the video in the first place? (That's a rhetorical question. He did it for the views, obviously.)
Choi's video clearly shows content that's "harmful or dangerous" which is against YouTube's content policy.
Viral videos, like Choi's, only perpetuate the street's notoriety, inadvertently encouraging others with a car, too much time on their hands, and no regard for their own safety or the safety of others to try the jump for themselves.
I encourage anyone with a YouTube account to report the video as such, harmful and dangerous content.
That goes for Dobrik's video, too.