Dream Exotics has one heck of a headache on their hands
*Updated 7/3/2022 – A previous version of this blog post went into how the driver ran away and suggested a DUI was involved. Since then, a commenter familiar with the situation informed me this was factually false. The blog post is updated accordingly.
Las Vegas local Rey Paulino shared photos to local gossip account Las Vegas Locally showing a rental Acura NSX ($170,000 new) wrecked and left on the side of the road off the Red Rock Canyon Scenic loop in Las Vegas.
Check out the off-roaded exotic left for dead below.
@LasVegasLocally some guys just can't handle Vegas!!! Someone drove an NSX off the road at red rock reservation scenic loop &just left it there pic.twitter.com/os4e7Vzkck

— Rey Paulino (@reinauris) July 2, 2022
Before Dream Exotics confirmed to their Instagram followers this NSX was indeed theirs, keen eyes noticed the plates the NSX listed on their NSX page listing (linked here.)
Commenters on Las Vegas Locally's Facebook page shared how they recently rented this exact same Formula Red NSX.
Las Vegas Local AJ Mesalic even drove down to the scene of the accident and posted this update.
"Saw it and checked," AJ commented. "Airbags both deployed; no one inside. Hell of a ride to get here. Jumped a curb."
And, as mentioned, Dream Exotics shared this update with their followers.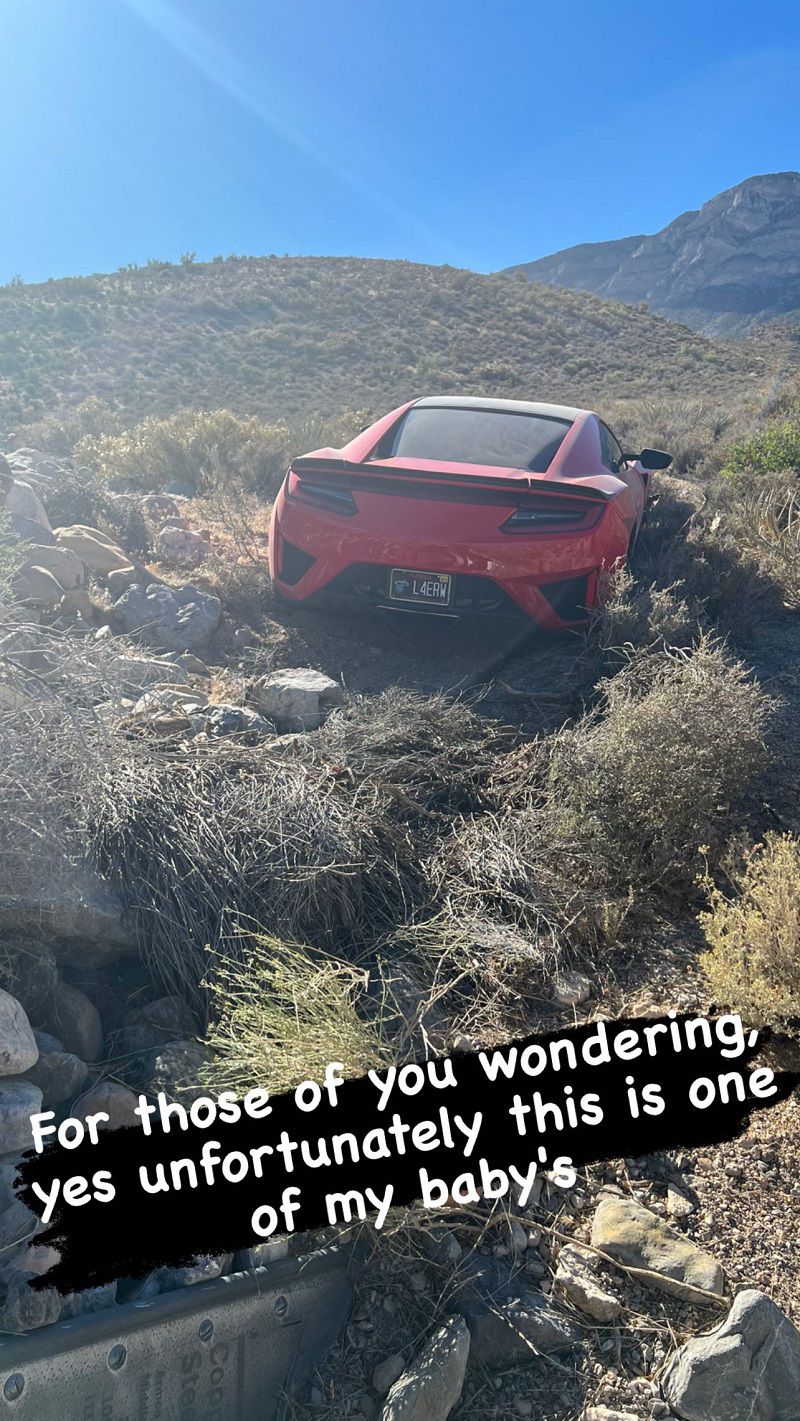 A commenter familiar with this situation left a comment on my blog post with what sounds like the actual story.
"There were no duis involved in the accident," anonymous comments. "The customer was very professional and quickly informed the company (Dream Exotics) around 5pm on the 1st of July it was left in the park over night as it required special off-road equipped tow vehicles to be removed from its position. It was not abandoned, park rangers and BLM (Bureau of Land Management) were notified of its location for its overnight stay while waiting for an off road recovery."
Presumably anyone with a valid license can rent this AWD Acura supercar for as little as $399.
Red Rock Canyon, just 17 miles away from the Las Vegas strip, is a popular place for rental car owners to unleash all their rented horsepowers in the shortest amount of time.
Embed from Getty Images
And leaving wrecked rentals on the side of the road is nothing new. Earlier in 2020, Las Vegas-based Royalty Exotics vlogged about how they found a rented and much more expensive Lamborghini Huracan wrecked in the desert.
As I blogged about, it was later revealed this Huracan was rented from exotic car rental company based out of Tulsa, Oklahoma. However, since the Huracan was actually owned by a private party, neither the rental company's nor the renter's insurance wanted anything to do with its tow and costly repair.
So, if you're looking to rent an NSX in Las Vegas anytime soon, your choices just got a little slimmer.