If you're looking for the cheapest gas in all the Golden State, look no further
M&A Market address: 3198 Santa Fe Rd, Merced, California
Despite, as of this blog post, the national average for gas being $4.71, it's still considerably more expensive in California. According to AAA, Californians are still paying about $6.14.
To ease some of that pain at the pump and drum up some business, one Merced County Gas station is selling gas at a considerable discount. Merced's M&A Market announced earlier today (July 8, 2022) that they're selling regular grade fuel for $4.79 for the entire day.
If the prices on Gas Buddy are up to date, that would make M&A Market the cheapest place for a gallon of gas in all of California.
Here's their announcement.
And, here's a screenshot of the cheapest places for gas today.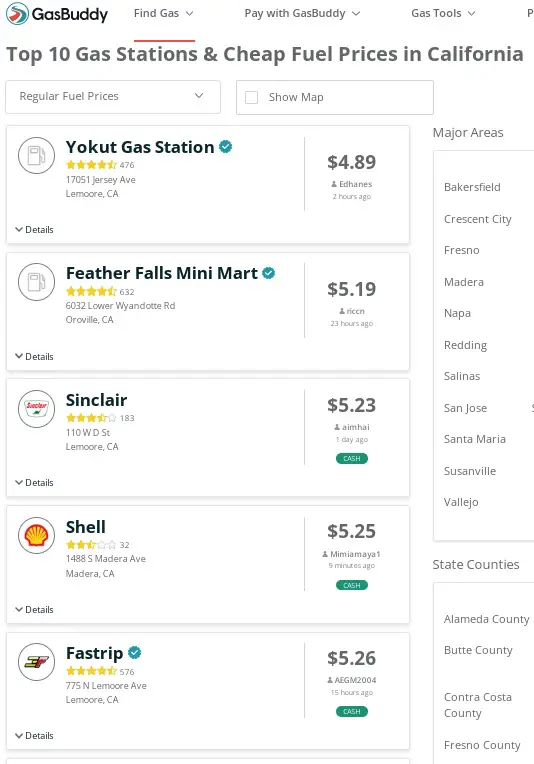 Here's a video of M&A Market lowering their gas prices in real time courtesy of their Instagram stories.
M&A Market prices falling
M&A did not clarify if their other grades were discounted so it's safe to assume those are at normal prices.
As mentioned in their post, M&A started selling gas at this lowered price at 5 A.M.
Their Instagram stories showed drivers lining up well before they opened for business.
And, according to their updates, demand remained high throughout the day as word got around town.
"I am about to drive from San Jose to go get gas lol," @devoted_2u sarcastically commented on Instagram
"This is why you're awesome," Facebook user Becky Lynn said.
So, if you live in Merced or are driving by Merced County off Highway 99, you know where to go for gas (address listed at the top of this post.)
And if your tanks are already full, follow them on Facebook and Instagram so you're in the know when the next sale drops.