Why Forceland tires are probably an OK tire if you can live with this one thing.
website: www.forcelandtyre.com
catalog: www.forcelandtyre.com/_files
Shopping for new but affordable tires online or at your local tire shop and you may come across Forceland Tires, a tire company with a strong sounding name but a company you know nothing about.
Here's everything I found out about Forceland Tires, who makes them, what people are saying about Forceland tires and, ultimately, if you should spend your hard earned cash on a set of Forcelands.
Let's get into it.
About Forceland Tires.
According to Forceland Tires trademark information, the trademark (and logically the company) is owned by the Guangzhou Winrun Tyre Co. LTD.
As per Forceland Tires catalog and main website, Forceland is a…
"Singapore company with factories in Germany and Thailand with offices located in Los Angeles, USA."
At the bottom of their website is the address of their U.S. office at 680 E. Colorado Blvd. in Pasadena, CA.
Their number 626-466-6016, is associated with the Hixih Rubber Industry Group Co, a rubber and tire wholesaler based in China.
The way I read this is Foreland tires are probably a Singapore company that's owned by a Chinese rubber conglomerate with its main tire factory in Thailand that imports tires into the United States.
Forceland Tires are Made in Thailand.
A closeup of any Forceland Tire Sticker makes this clear.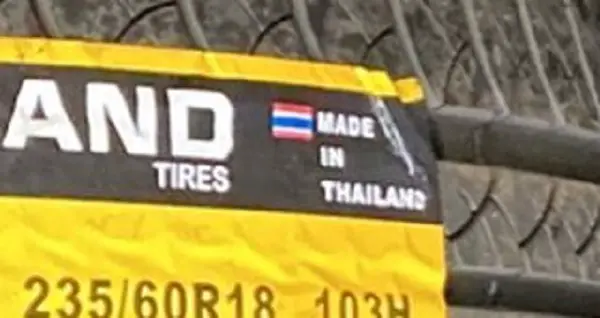 Pros
Affordable
As with any value tier tire, the biggest pro Forceland tires has going for it is its price.
To cater to an American customer, Forceland has a diverse and comprehensive lineup of tires including all-seasons and Ultra-High performance tires for cars, trucks, SUVs, and crossovers, not to mention AT, RT, and MT tires for drivers who would like to go off the beaten path.
Here's a screenshot of their tire lineup for 2022, you've got their terrain Rebel Hawk sub-line and their Kunimoto 20s and 30s sub-line for cars, trucks, SUVs, and crossovers.
Heading over to Walmart and sorting their Forcelands by Best Seller, their Forceland Kunimoto F22, a luxury and comfort tire with an asymmetric UHP pattern, in 245/40/R20 is listed #1.
Priced at $99.64 per tire or $398.56 for a full set, that's super affordable for a 20″ tire with such a thin sidewall.
Compare that to the cheapest comparable all-season UHP-type tire in 245/40/R20 on Tirerack.com, a Kumho Majesty 9 Solus TA91 at $185.47 per tire or $741.88, you can practically buy two sets of Forcelands for the price of one set of Kumhos.
Delivers on performance
As mentioned in several of my reviews of value-tier tire brands, a cheap price is no good if they don't deliver on tire basics; good grip in dry weather, acceptable grip when it gets wet, a tire that doesn't fall on its face in the snow, and lasts for an acceptable amount of mileage.
Forceland tires aren't very popular so, reviews are hard to come by.
Regardless, from the reviews of the best-selling Forcelands I've read, purchasers are mostly satisfied with what they got for the price.
"Overall, Forceland Tires seem good, pretty quiet in comparison to our winter tires, although I expected them to be quieter," says Witalis007, a 2016 Ford C-Max owner reviewing the Kunimoto F22 on Simple Tire. "The dry traction is a little less than I expected."
"For the price, you can't beat these tires," says Julia, a 2018 Dodge Durango R/T owner reviewing the Kunimoto F28 also on Simple Tire. "I'm using them on a 2018 Dodge Durango R/T. They're quiet, provide a smooth ride, and I think they look fine. They are not as low profile as the tires I removed and replaced with them, so it took me a couple of drives to get used to the less sporty feel they had. I haven't used them in snow yet, but they provide a comfortable, safe feel on wet roads."
"I have no problem with them," says Heath, a five star reviewer leaving a comment about Forceland's Rebel Hawk M/T on Priority Tire. "They are great, not to loud, and ride good. Looks mean."
Cons
The biggest con I have with Forceland tires is the specifics about its supposed warranty.
Their main website mentions, "Forceland Tire offers prestige warranty to ensure satisfaction and experience each time with us" yet their catalog nor any other part of their site mentions any kind of warranty, limited or otherwise.
That's the "one thing" I mentioned you'll have to live with in my headline above.
Expect to be on your own with Forcelands, you'll have to be on top of your tire maintenince game making sure all four Forcelands are inflated properly, inspected regularly, and rotated per your car's recommended rotation schedule.
Relevant video
Where can I read my own reviews about Forceland tires?
I found all of my customer reviews about Forceland tires on the websites below.
Would I recommend Forceland tires to you?
Based on what I learned about the Forceland tire company and the handful of reviews I've read, I'm apprehensive recommending Forcelands to you.
If you're absolutely on a budget, need tires yesterday, and can live with the fact that their's no warranty, by all means, go with whatever Forceland tires fit your application.
But, if you can spare an extra $100 on a set, I'd recommend going for a value tire that, at the very least, has some kind of warranty.
Either way, I believe you'll have a good experience with Forceland tires, if they don't work out (which I doubt they won't,) you're only out a couple hundred.
Did you buy Forceland tires?
Let me know how they went in the comments below.