"I'll toss you the keys to whatever car," LZ commented
Formula Drift Pro driver and Youtuber Adam LZ didn't stoop to this hater's level when he responded after a random member of the "Maximum Driftcast: The Discussion Board" Facebook group called him the Jake Paul of drifting. Instead of going on a diatribe how this rando knows nothing about drifting on his level, he flipped the script, inviting him over to put his own drift skills to the test.
First, here's this guy's comment.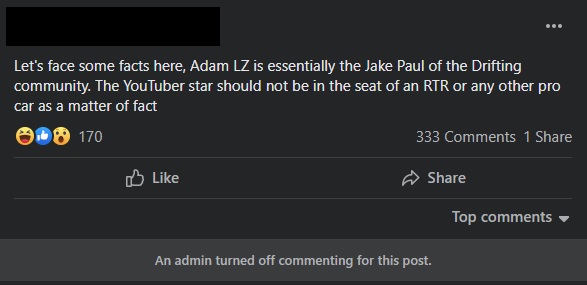 And, here's what Adam LZ had to say (comment now deleted.)
The thread got so heated and unproductive, a mod eventually shut it down.
Jake Paul, if you don't already know, is considered an overhyped boxer with above average skills who many boxing pundits agree is not on the same level as traditional, tenured boxers who didn't start as social media influencers.
Embed from Getty Images
What these short-sighted comments hint at is they just see a young twenty something in a factory backed Formula drift car not delivering podium finishes and immediately criticize LZ after every round.
This comparison to Jake Paul quickly falls apart when you find out that Adam LZ did not just skip to being a professional but proved himself by rising through the ranks, albeit a lot faster than most.
In 2019, Formula Drift determined that, thanks to his extensive documenting of his seat time via his Youtube channel, coupled with a handful of successes drifting at the Pro Am level, he was eligible for a Pro 2 license.
After finishing within the Top 8 in the Pro2 standings, LZ earned his Formula D license.
For the 2020 Formula Drift season Adam LZ finished 12th overall.
Most notably, in Round 6 in Texas, LZ made it into the Top 4 after out-tandeming 2013 Formula Drift champion Micheal Essa.
LZ slipped in rankings for the 2021 season, finishing 21st in points.
It's a long way to say that not only can Adam LZ drift with the best in the United States, he can compete and out-tandem actual former FD champs.
After his 2021 season, Adam LZ joined the Ford-supported RTR race team, effectively replacing Vaughn Gitten Jr.
In his new RTR Mustang, LZ has failed to advance past Top 32, which, on its own, is probably why random comments like this one pop up.
It's worth mentioning, because how Top 32 tandems are set up, Adam LZ, often qualifying in the bottom half, faced off and lost against top qualifiers including FD champ Chris Forseberg twice and 2021 FD Champ Fredric Aasbo once.
A quick Google reveals that a round trip flight from Northern Ireland, where this commenter lives, and an airport near Drift HQ in Florida, is about $700.
So, if this video did ever materialize, it'd be a win-win, this guy gets a free trip to the states and this video would probably be profitable.
Maximum Driftcast member Matthew Steele summed it up best when he commented,
"Honestly, who cares? He drives good and brings a ton of viewers to the grid with him. Why is it so hard for drifting to embrace it's own and celebrate their success?"