Your time will probably self-correct, but your date may be forever broken
Earlier in January, Honda and Acura owners reported their date and time on their navigation and clock units were all wrong.
It was later revealed, Honda confirming themselves through a clock repair procedure, that due to a GPS issue (because of short-sighted programming,) if you could not reset your time manually per their repair procedure, your clocks, at least, would self-correct on August 17, 2022.
That day is here (or has already past depending on when you're reading this) and according to Honda and Acura owners on social media and elsewhere, their clocks are self-correcting to the correct time.
Here are a handful on Twitter and from a Honda Ridgeline owner's group.
The digital clock on my Honda reset to 2002 time on January 1st. As did many Honda clocks. Today it automatically reset to 2022. Someone do with binary computer models apparently. I'm sure other people know more. @HondaUKPR @YeomansHondaLit @itvmeridian #honda

— John Cawdell (@JohnCawdell) August 17, 2022
MrsD's @Honda car clock has been wrong for ages. Today it reset itself to almost correct GMT/UTC. Software using signed when unsigned was needed. ?

I have a clock-radio that thinks Sat&Sun are working days and Mon&Tue are the weekend for part of the year!

I just use the radio.

— Norman Dunbar ??? (Don't think, find out!) (@NormanDunbar) August 17, 2022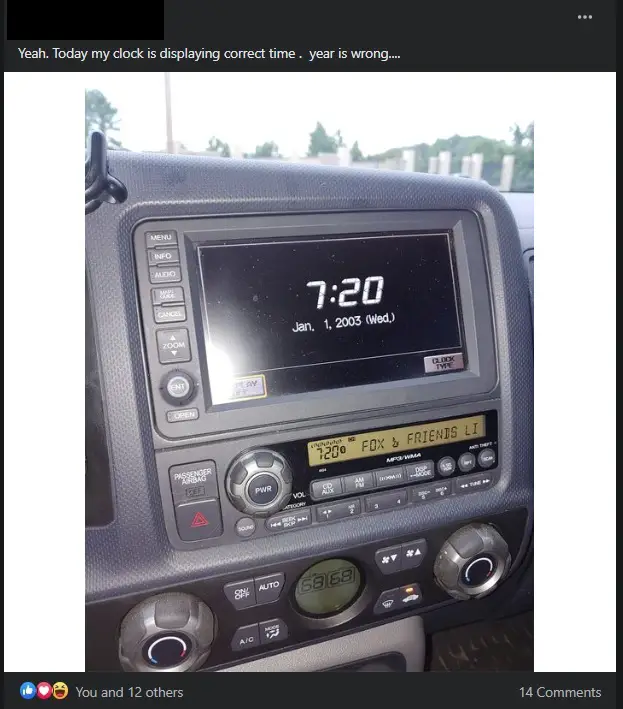 If your Honda clock has changed but is showing the wrong time, you should be able to go into your clock settings to change the time manually.
The clock will show the correct GPS time but most likely be off by 1 hour because the system's internal calendar interprets the daylight saving time (DST) change incorrectly," The clock repair procedure says. "Now, the customer can adjust the time correctly, and it won't be affected every time the vehicle's power is cycled off and then on. The correct time will stay on through the next DST change based on the system internal calendar."
As mentioned, there are several owners, like this Honda owner on Twitter, reporting that their date is stuck in 2002 or 2003, often on January 1. You might be out of luck for as long as you own your Honda/Acura.
It took @Honda 8+ months to finally fix the clock in my car (it's built into the GPS system)

But the date still defaults to Jan 1st 2003.

I guess it'll take another 8 months to fix that error.#Honda

— MaDWaSTeD (@MaDWaSTeD) August 17, 2022
In reference to, "Can the date be adjusted to the correct value manually?" the repair procedure states,
"After January 1, 2022, when the system internal calendar is reset to May 19,2022, the date will always be incorrect and stay incorrect. There is no solution to correct it."
I have come across an advanced level permanent fix for the date and time that requires programming, cutting and soldering so, if you're comfortable attempting that, this post (linked here) from RidgelineOwnersClub.com might be worth your while.
So, if both your date and time is now fixed, count yourself as lucky.
If your date is not correct, you might have to live with that.
As for future Hondas and Acuras moving forward, hopefully this is a painful reminder to their suppliers to future-proof any programming.