Another reminder to just say no to drugs.
*If you're here from Reddit or Twitter, this blog post honestly doesn't add anything beyond what's in the video.
Presumed SoCal resident and Twitter user @MannyFargo shared smartphone footage from Van Nuys, California of a Dodge Ram driver who, moments after being involved in a crash, crawls out of his wrecked truck completely naked.
Check out the equal parts weird and disturbing footage below.
Meanwhile in Van Nuys… pic.twitter.com/ugKWRd3jaz

— Manziel. (@mannyfargo) August 14, 2022
The crash happened at the intersection of Victory Blvd. and Kester in Van Nuys.
Here's a link to the exact place on Google Maps.
In the beginning of the video you can see the other car involved in the crash.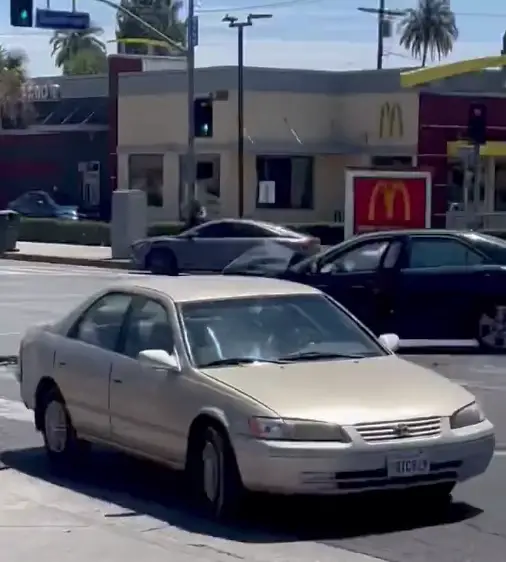 You can see the Dodge Ram 1500 is immobilized, unable to drive as it looks like his suspension, not to mention the wheel, is badly damaged.
"This dumb*** mother****** right here.," Fargo comments. "This foo's b*** a*** naked."
A bystander, a good Samaritan, assesses the situation and determines this Dodge Ram driver needs no help, observing the driver moving around injury-free (physically, at least.)
The Ram driver has the wherewithal to grab a pair of grey sweat pants and a black T so, I assume he knows he's naked.
Escorted by a man in a staff shirt, this disturbed individual skips the sidewalk and, still in the buff, walks down Victory Blvd.
He later ditches the clothes he's clutching further evidence that my suspicions are probably correct, this man's on something.
"That Foo's got five stars right now" Fargo keenly points out. "That foo's the Terminator, bro,"
Five Stars refers to the Wanted Level in the popular video game Grand Theft Auto, five stars being the highest.
And, the Terminator, is of course in reference to the 1984 American Sci-Fi classic where said Terminator, played by Arnold Schwarzenegger, arrives in Los Angeles from the future without clothes.
According to ABC7's coverage and follow-up,
"Police tell us nobody was injured, and the naked man was taken to a hospital to be treated for an unknown medical condition."