You're not going to find many '90s Integras with under 100,000 miles for this low-low price.
Ad url: https://newyork.craigslist.org/que/cto/d/bayside-1996-acura-integra-special/7526866912.html
Browsing Craigslist for cool, used cars to share on Twitter and I came across a real barn find as far as online car ads are concerned, this 1996 Acura Integra special edition sedan in Cypress Green Pearl with 99,000 miles and some change for just $4,000.
OK, it's a four-speed automatic, but, come on, for 4K, it doesn't get any better than this.
Check out screenshots of the ad and a collage of the photos below.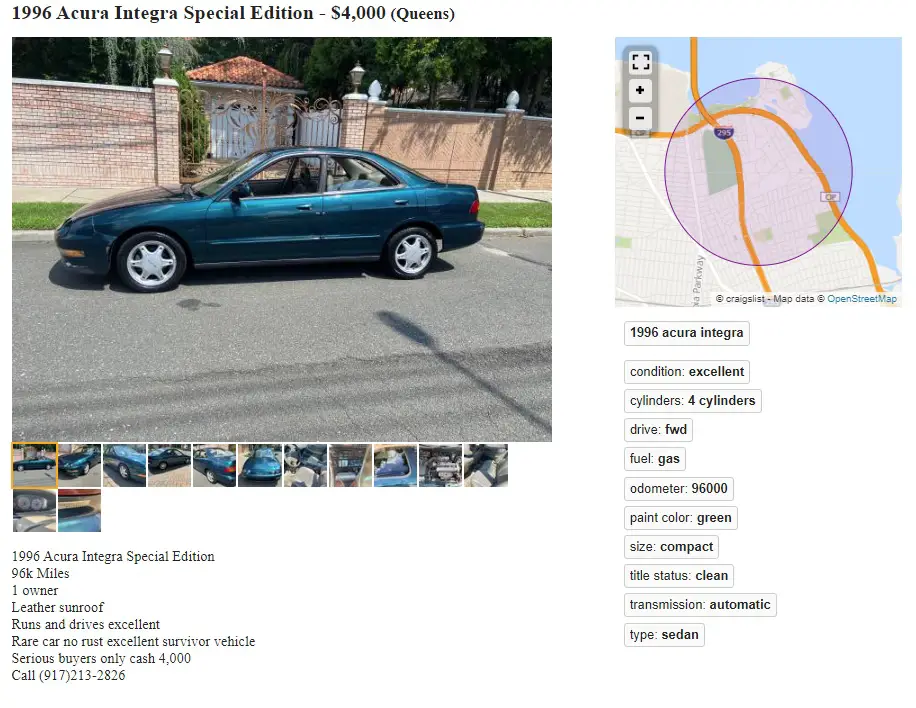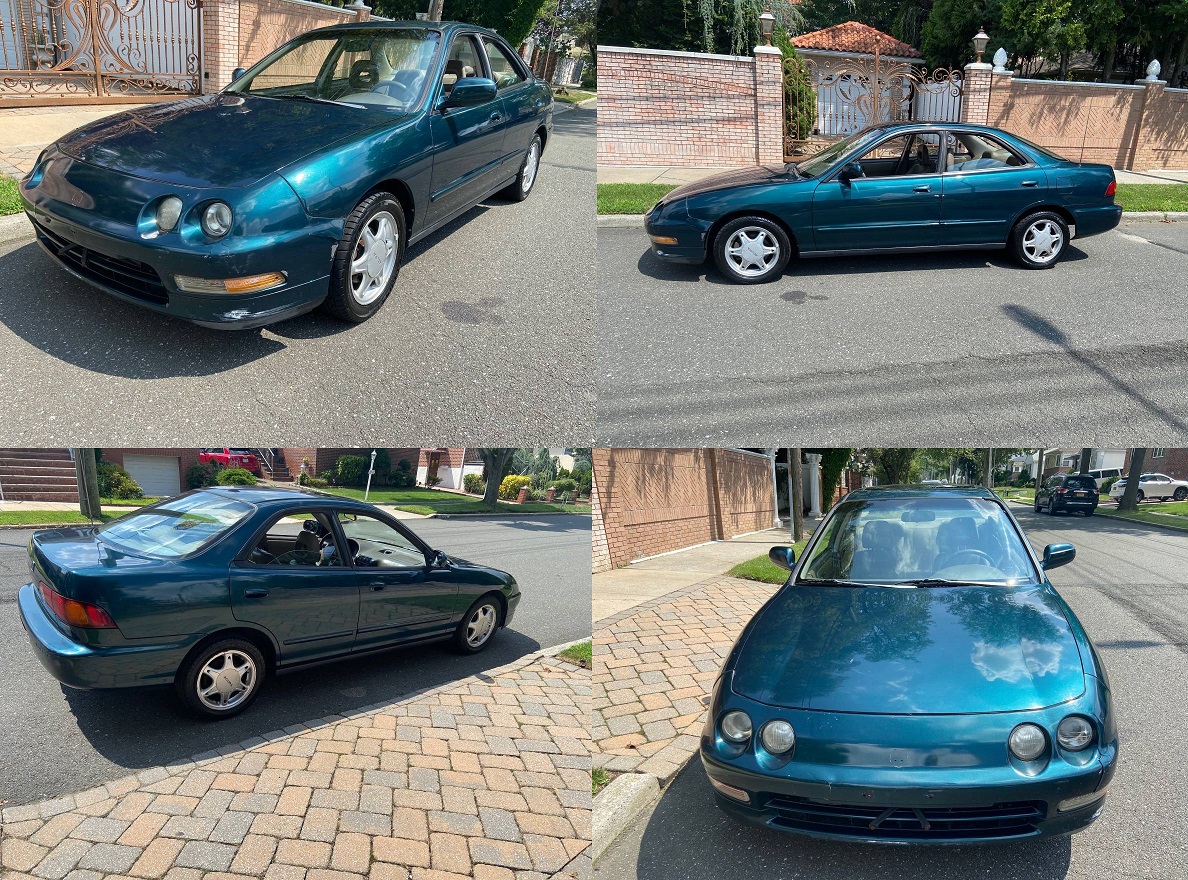 As mentioned, this is a Special Edition. Only offered on model years '95-'96, S.E. meant special alloys, badging, and an all-leather interior standard.
A rear wing was optional.
Sure, LS and SE trim levels came with the base, 1.8L engine, the non-VTEC B18B1 with just 140 HP and 127 lb-ft, but, I'll let Acura's copy editors take it from here.
"The Integra is powered by a racing-inspired, 142 horsepower, DOHC, 4-valve-per-cylinder, all-aluminum engine."
Doesn't that get your pulse racing, even 26-years later?
Despite knocking on the door of three-decades old, this Integra looks…like what a well-kept 100,000 mile Acura looks like.
A four-speed automatic might not be your transmission of choice (for me it is,) but that just means the B-series under the hood wasn't over-revved, the ECU stopping the owner from going past its 7,500 RPM rev limiter.
It's got a couple of dings, dents, and scratches, but, as far as I can tell, there's no major damage, and all the paint and panels look to be original.
Inside, the all-leather interior is holding up fairly well, the driver's seat, at least, showing no major splits, although give it a year of use and you'll be googling "leather seat bolster repair" soon.
The seller was keen to point out the now defunct, but optional for the time, in-dash cellular phone, which, for 1996, would've blown my mind that you could talk to someone while you're driving.
I would've loved to see what those buttons look like at night.
An odometer with spinning numbers lends to the possibility of mileage fraud but a quick once over of the car (no split bolsters on the drivers seat for one,) and honestly, it's vibes, lends me to believe the mileage is what it claims to be.
Any competent used car shopper would do all the Car Faxes and do some kind of pre-purchase inspection, too.
Knowing how finicky those Honda/Acura transmissions are, smooth and consistent shifts, especially when the engine's warm, is a must.
If you're someone looking for an honest-to-goodness daily or just a comfortable cruiser with some of that '90s Honda magic for not a lot of money, this '96 Integra's got your name written all over it.
If this Integra was closer my bank account would be quivering.
One-way California to New York flights are around $120….hmmm…
Would make quite a road trip. (if you know me and got this far, this is the point where you're thinking, "Paulo, I know your a** wouldn't do that."
Bet….but you're probably right. 😛