Here's why that photo and caption showing a Tesla being charged by a gas generator is just a troll tweet.
Earlier this week a photo of a Tesla Model Y with California plates being charged by a gas generator went viral on social media. Above the photo is the caption, "California: You need a gas generator to charge your $120K electric super car because the grid is overloaded. You gotta love the irony."
This is probably the oldest and most viral instance of that photo.
California: You need a gas generator to charge your $120K electric super car because the grid is overloaded ?

You gotta love the irony. pic.twitter.com/55aVYoNXwt

— New World Odor™ (@hugh_mankind) September 6, 2022
California, like most of the Southwest, is going through a historic heat wave with multiple days of temps well above 100F.
As such, California's energy grid, especially during the hours of peak heat, is being put to the test as literally millions of California households (14M houses, 75 percent of them with ACs) ramp up their air conditioning units at the same time.
What this photo is trying to do is elicit an Anti-California, anti-renewable energy, and anti-electric car emotional response out of whoever comes across it?
But, is any of the photo and caption actually true?
Here's what I found out.
First, I could not locate the photo origin or why this owner decided to charge his Tesla Model Y with a generator. It's possible their Tesla is indeed dead and he needed a portable generator to power it up and charge it.
So yes, point taken whoever wrote the caption.
When your electric car runs out of charge, even in the liberal state of California with a bunch of renewable energy, you still have to rely on dirty dino juice to power up a gas generator to charge your so-called environmentally friendly electric car.
Checkmate Commiefornia.
But, did the grid overload this week? Even as temps in some California cities touched 116F?
While California's grid was absolutely put to the test, with California ISO resorting to ramping up back-up generators built specifically for weeks like this one, California's electrical grid held strong, narrowly avoiding resorting to rolling blackouts.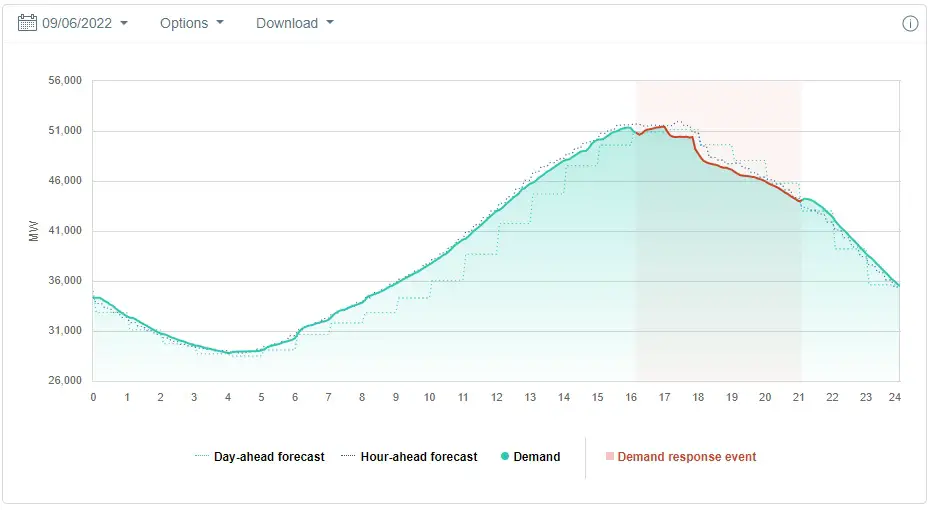 California ISO pulled out every trick in the book with several demand response events including the aforementioned back-up generators, texting out an emergency flex alerts, and remotely powering down end users who volunteered to have devices and facilities powered down during peak demand periods.
In fact, on Tuesday, California broke a electricity demand record.
California had to use emergency power generators for the 1st time ever on Tuesday to meet the energy demand — which was a record-setting 52,061 megawatts. So far, 225 temperature records have been broken amid the #heatwave https://t.co/oH0QnFc1Vi

— Brian Lada (@wxlada) September 7, 2022
To make clear, the grid did not overload.
While it's true that thousands of Californians did suffer from power outages that day, according to USA Today,
"Residents across Northern California were in the dark Tuesday and into Wednesday morning, according to Pacific Gas & Electric. The incident was spurred due to a miscommunication and led to power being cut by mistake to customers in several cities."
But, by and large, even if you were cautioned not to set thermostats past 78F or use major appliances between 4-9 P.M., if you wanted to charge your EV, you technically could.
No one would stop you.
But, what about $120,000? Are Californians really paying that much for their Teslas?
Whoever made that caption probably confused what's shown, a Tesla Model Y, with the much larger, more expensive Tesla Model X.
Yes, Model X's are around $120,000 before fees and markups.
Tesla Model Y's are much cheaper at around $60,000.
The more popular Model 3's are even cheaper at around $50,000.
And by no means are most Teslas supercars.
Except for the top of the line Tesla Model S's and the yet to be released Tesla Roadster 2.0, most Teslas are just regular cars, crossovers, and SUVs that happen to be extremely fast…and electric.
Conclusion
This tweet was supposed to be a slam dunk that, despite California's push towards renewables, you'll never become detached from dirty oil.
For the moment, that's true, most of California's grid relies on natural gas. That's especially true when the sun goes down.
If the United States is to become energy independent we have to try, where we can, to focus more on renewables, and that's what California is doing.
When the solar is strongest, even I'm surprised with how much renewables adds to our grid, supplying almost a third of electricity.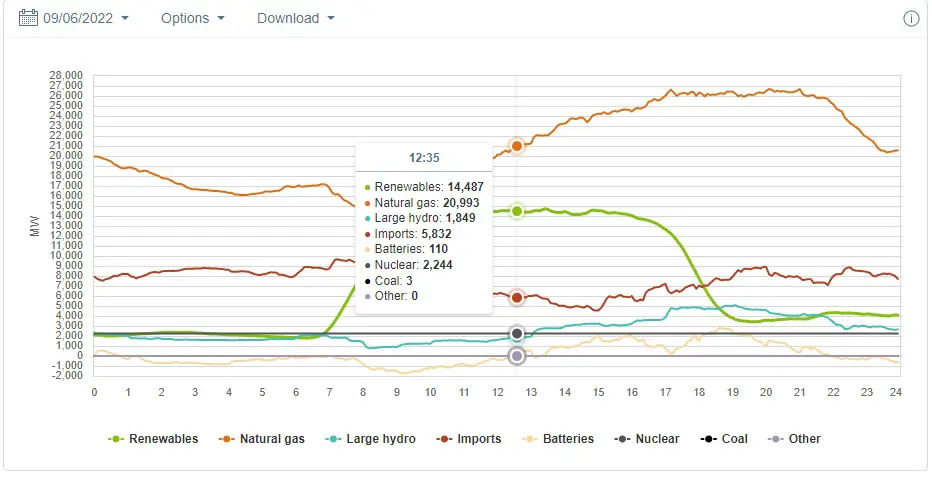 Even when pushed to its limits earlier this week, our grid survived with room (however small) to spare.
Even in this arguably beginning stage, in the grand scheme of renewables + natural gas period of energy production, California's grid reliably supplied power to 40M Californians.
It's worth noting California's grid is only truly strained like this a handful of days a year when temps soar past 100 for several days in a row.
As more renewables are added and the grid improves, our electric supply will become less reliant on natural gas, the grid ever more resilient.
10 years from now (or less) that "meme" tweet of sorts will be shown as it truly is, short sighted.