Who knew owning a $90,000 electric truck could be such a nightmare.
While electric car ownership can be a game changer for with perks like waking up with a full tank every morning and instant around-town torque, certain aspects of EV ownership, like weekend and multi-day trip, can't be approached like regular gas car ownership and come with a steep learning curve.
Embed from Getty Images
A member of a Ford Lightning Truck Facebook group who we'll call Joe (as to remain anonymous) and new owner of a Ford Lightning Platinum, the range-topping trim level that starts out at $92,000 with the bigger battery standard, shared how his two-day road trip through California went and, by the sound of Day 1, it was an EV nightmare.
It's worth noting the Lightning Platinum is EPA rated at 300 miles range and supposedly comes with two years worth of charging at qualifying Blue Oval stations free.
Joe does not share exactly how many miles his trip was, but he does mention in the comments he mostly took the 99 and Interstate 5.
Like most Ford Lightning owners, the preferred charging network is Electrify America. With chargers advertised as delivering up to 150 kw.
According to Ford, "The extended-range 131kWh pack can charge from 15-80% in 41 minutes."
A two-day trip is usually between 900-1200 miles of driving and, in a gas car, means at least two stops a day.
In an EV like the Lightning, 3-4 stops a day is expected.
At 41 minutes a stop, that honestly doesn't sound too bad, but that's best-case scenario with fast charging chargers, trouble-free operation, and availability, three things Joe did not find.
Here's a screenshot of how Day 1 went, below.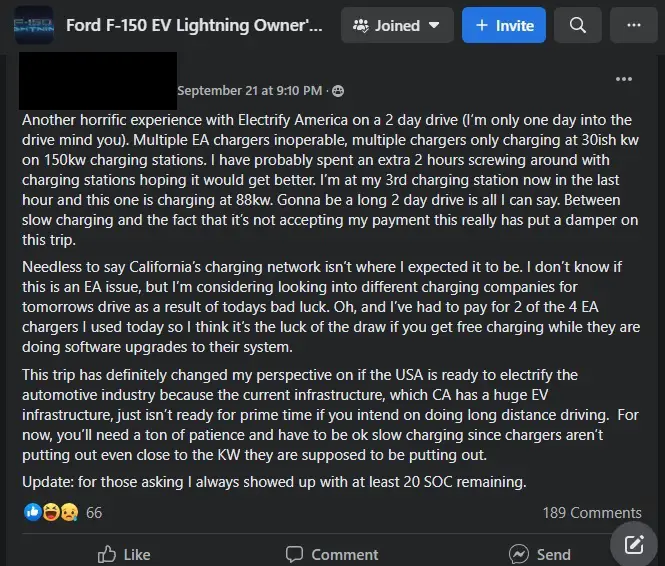 "Multiple EA chargers inoperable, multiple chargers only charging at 30ish kw on 150kw charging stations," Joe's caption reads. "I have probably spent an extra 2 hours screwing around with charging stations hoping it would get better. I'm at my 3rd charging station now in the last hour and this one is charging at 88kw."
To add insult to injury, supposedly free charging from Ford wasn't free at all.
"Oh, and I've had to pay for 2 of the 4 EA chargers I used today so I think it's the luck of the draw if you get free charging while they are doing software upgrades to their system."
A 30 KW charging rate means a supposed 41-minute charge would now take multiple hours.
When you've planned to drive 8-10 hours a day, time spent hunting for chargers and sitting there really throws off your schedule.
According to Joe's Day 2 recap his road trip got a little better.
Joe highlights several tips that, if you're a new Lightning (or even a regular EV owner) it would behoove you to note.
First, Joe recommends using your regular navigation as using a dedicated charging network road trip planning app will, "derail your trip, get you lost or send you way off course."
Joe notes that you should only use apps like "A Better Route Planner" and "Plug Share" when range is below 30 percent as both apps' user experience can, in and of itself, be frustrating.
On advice of others, Ford Pass seems to be useless and not worth using.
Joe notes that fast charging at a so-called fast charger is an exception and not the rule. You're more likely to slow charge, instead.
"Be prepared to slow charge at chargers rated to fast charge. Of the 8-10 chargers I stopped at, more than 50% or them failed to charge even remotely close to the specified charge speed."
Joe's conclusion sums up his experience.
"Lastly, and most importantly, expect your trip to take 30-40% longer than you anticipate or an ev app tells you it will take. My apps suggested I'd add 3-3.5 hours to my 2-day trip. I ended up adding 10 hours to my trip. Had I known I would have experienced these problems I would have drove my gas F-150 instead."
Conclusion
If you ever plan on going on a long trip in your Ford Lightning, you'd be wise to take Joe's experience to heart, that while there are many charging stations out there, you won't charge fast, and you'll run into your fair share of broken chargers.
For some, slow or fast, charging is part of the journey and is expected as an early adopter of relatively new tech.
But, for others, if you plan to get somewhere at a specific time, it takes more than your Lightning's rated range to get there, and you're forced to charge several times, you'd better leave a wide margin of error (buffer time) to hunt for a good charger.