Both Adam and girlfriend Collette updated fans that they're mostly OK.
Formula Drift Pro-driver and Youtuber Adam LZ shared on social media earlier yesterday (Sept 25,2022) that he and his girlfriend Collette Davis were involved in a near head-on collision on the Tail of the Dragon, of no fault of their own, after a driver in a Chevrolet Silverado veered into their lane attempting what Adam calls a, "left side pull-off."
Check out his Adam and Collette's post below.
"(The) truck was coming head-on in our lane going for a left side pull-off on the Dragon, Adam's caption says. "We nearly came to a complete stop, but it wasn't enough. Collete and I are ok – car not so much."
"Truck was driving fully in our lane around a blind corner on the dragon, Collette writes. "It didn't seem real. nothing we could do and just glad this wasn't so much worse."
Presumably, Youtuber and motorcyclist Mad Maxy was in the area at the time and posted this video from the scene of the crash below.
Shortly after the crash, Adam LZ posted Instagram Stories sharing that his hand might be broken.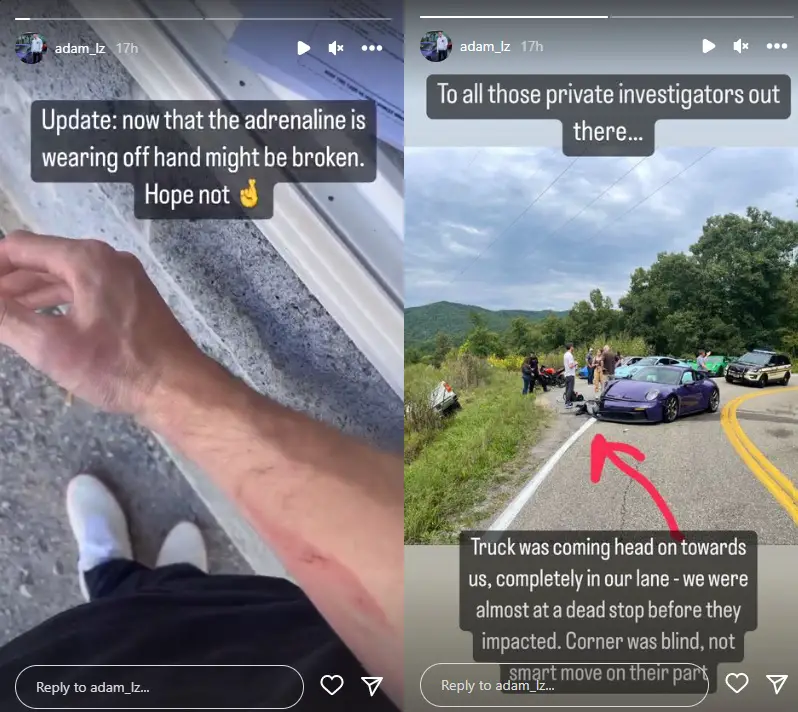 Adam also corroborates what Collette says, that it was a blind corner.
Well wishes poured into both Adam and Collette's posts with the likes of Larry Chen, The Smoking Tire's Matt Farah, Chris Fix It, TJ Hunt, and former Formula D champ Vaughn Gitten Jr. all sympathizing with their situation.
If you're wondering, Adam's featured this Porsche, a PTS (Paint to sample) Ultraviolet 992 GT3, on his Youtube a handful of times.
It's worth noting that the last round of this season's Formula Drift is Irwindale on Oct 14, less than three weeks away.
Hopefully he can recover quickly and, even if injured, adapt to drifting to finish out the season (or not as LZ is currently 30th in points and not in contention for an overall season podium.)