An all-around and solid all-season tire at a competitive price that's hard to ignore.
Website: www.coopertire.com
Browsing WalMart's value tire section and I noticed they've rolled back the price of Cooper Endeavors so much so that they're several dollars cheaper than the same size Goodyear Reliants (Goodyear tires you won't find anywhere else but WalMart.
Endeavors in 215/60/16 are $86.08 whereas Goodyear Reliants in the same size are $95, a $36 difference across four tires.
Naturally, I wondered if Endeavors are actually any good despite being so affordable.
Here's everything you need to know about Cooper Endeavors and if you should spend your hard earned cash on them.
About Cooper Endeavors
Cooper Endeavors are a fairly new All-Season. Endeavors were first trademarked by Cooper in 2019 and, according to Business Wire, available for purchase to wholesale suppliers like tire shop warehouses and big box stores in 2021.
While Cooper Tires were originally an all-American tire company, their acquisition by Goodyear opened them up to global manufacturing (most notably in Mexico.)
You'll be glad to know the Cooper Endeavor and Endeavor Plus tires I've seen online all say Made in the USA.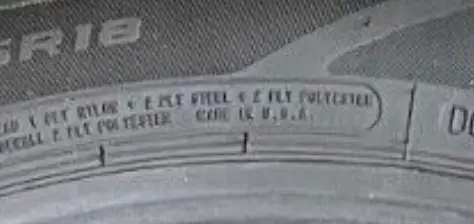 Cooper Endeavor and Endeavor Plus specs
Reading through the aforementioned press release from Cooper in 2021 and it reads like Cooper went back to the drawing board introducing Endeavor and Endeavor Plus, refining on what customers want the most, mainly long lasting tires and decent wet weather performance (two hallmarks of any decent value tire.)
And, reading the Endeavors descriptions and tale of the tape, on paper, it seems like Cooper's done just that.
First, here's what Cooper expects you to get out of Endeavor and Endeavor Pluses.
Even treadwear for tire longevity
Balanced performance for greater grip in wet and snowy conditions
Designed for a quiet ride
And, here's the tread pattern of Endeavor and Endeavor Plus, both share the same all-season style of pattern with three, adequately sized tread blocks for grip and four dedicated channels for water evacuation.
In those aforementioned tread blocks for grip, Cooper's added plenty of siping which bodes well for a quite ride and adequate performance in light snow and slush.
Endeavors feature a 680 UTQG rating with an A for traction and A for temperature rating (what that means info linked here.)
Goodyear Reliants have a 600 treadwear rating so, UTQG to UTQG, Endeavors should theoretically last longer.
Like Reliants, Cooper Endeavor and Endeavor Plus offer a 65,000 mile treadwear warranty.
While Endeavors and Endeavor Pluses offer a supposed 45-day test drive, note, you don't get a money back refund, only a replacement set of Cooper tires (I'm not sure if they give you the same model or a slightly more premium model so, is it really a 45-day test drive if you still leave with Cooper tires?)
Difference between Endeavor and Endeavor Plus
Quite honestly, the biggest difference between the two is sizing and tread pattern.
Endeavors are made for Cars and Minivans and come in 15″-19″ in widths you'll commonly find in said cars and vans.
Endeavor Pluses are made for SUVs and Trucks, come in 16″-22″ in larger widths, in tire sidewall ratios not found in Endeavor, and have what looks like extra sound deadening and wet weather siping on the outer most tread blocks.
Are Endeavors and Endeavor Plus tires actually any good?
Reading through more than a dozen reviews of Endeavor and Endeavor Plus (reviews found on Walmart here and here) several themes stood out.
First, there are many reviewers that are repeat Cooper Tire purchasers. I think Cooper knows they have repeat purchasers and, even though a few value tires out there skimp out on a few basics like a quiet ride and longevity, that's not the case here. Cooper's done their homework and delivered on the basics.
"I just replaced the original tires on my wife's Kia Sportage, with Cooper Endeavor Plus tires (all 4)," a reviewer named Stan writes. "It has really transformed the vehicle. It is so quiet and smooth, and makes me wonder why manufacturers put such inferior tires on their vehicles."
The best review I found about Endeavor came from a reviewer named JoMaMa who gave the Endeavor Plus three stars, it really sums up the Endeavor quite nicely.
I've copied and pasted her review with the relevant bit ctrl-c'd & ctrl-v'd below.

"Endeavors have been what Cooper does well – its an all around decent tire, adequate grip for a general performance tire, moderate noise, delivered at a moderate price for what you get. High performance – no, but made in America by a (formerly) independent tire manufacturer which should meet the expectations of the average consumer."
If that isn't a ringing, non-butt kissing endorsement for the Cooper Endeavor and Endeavor Plus, I don't know what is.
And if you've made it this far, do yourself a favor and watch Tire Rack's review of the Endeavor Plus below, TR was more than impressed by the amount of performance and quality they perceived compared to comparable makes and models.
Relevant Videos
Conclusion
Sure, you'll be able to find cheaper, value tires in the same size as Endeavor and Endeavor Plus but they're often made in Asia/South East Asia, have a slightly less competitive treadwear warranty, or in some cases, no warranty whatsoever.
Then, there's the customer service. You know Cooper is HQ'd in the United States if and when you need technical assistance.
Those other value tire brands are often under an umbrella wholesaler in a coastal town in California or Florida and you can guess if their customer service will be up comparable to a dedicated tire company like Cooper when they service more than one brand.
It's quite clear, when it comes to Cooper Endeavor and Endeavor Plus, yes, I'd recommend these tires without reservation to anyone who comes across them when tire shopping.