Apparently, Cambodia likes to put vehicles on its 500 Riel notes.
Scrolling through Super AutoQuirk Dougposting and I came across an amazing bit of foreign banknote pub trivia, that the 500 Cambodian Riel (worth 12 cents USD) has a Nissan Juke and Toyota Camry on it.
After a quick Google, it's 100 percent true!
Check out a copy of the back of the latest 500 Cambodian Riel bill below.
The Cambodian Rial comes in banknotes ranging from 50 riels – 100,000 riels (about .012 – $24.15)
Clicking through the current design features of all Cambodian Riel Banknotes, while almost all the notes feature historical buildings, infrastructure, and historical figures, the 500 Riel note is the only one depicting vehicles.
According to Bank Note World, the front features the current King Norodom Sihamoni and the back features a sketch of two bridges, both of which crosses the famed Mekong River.
While I couldn't find an official explanation why a Juke and Camry feature prominently, looking through older versions of the 500 Riel, and it seems to be a tradition to include some sort of vehicle.
An early issue of the 500 Riel Bank note published between 1953-1975 shows a pastoral scene, in the background a tractor.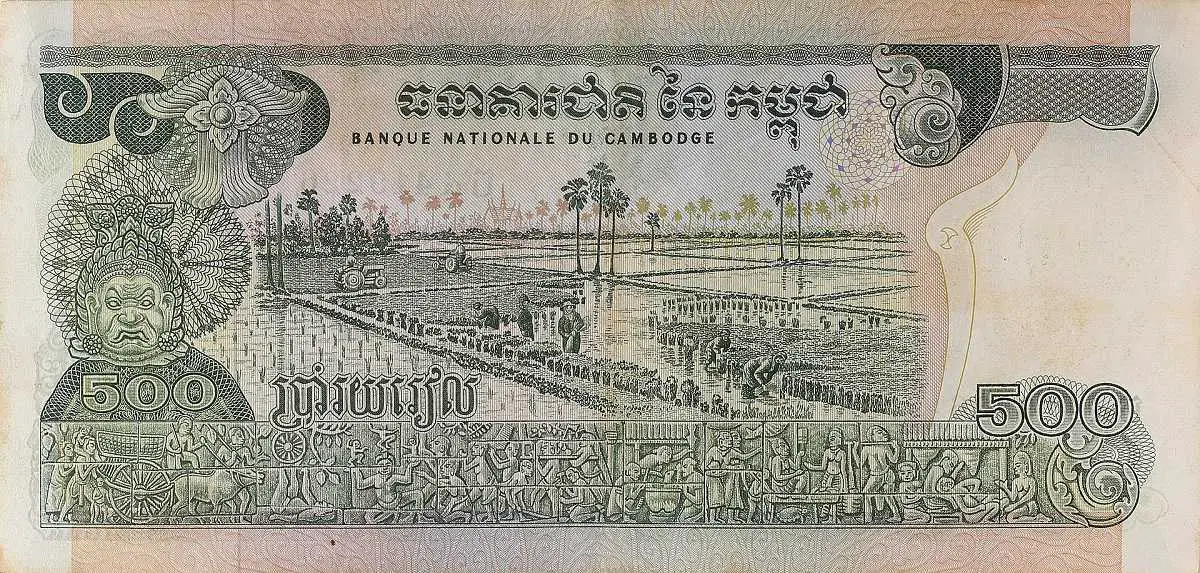 A newer version of the 500 Riel also from that same time period features a pair of water buffalo (or cattle), important for farming.
It's a stretch to call them vehicles, but, yeah, it's technically a "thing used for transporting goods or vehicles."
I'm calling cattle a vehicle.
An even newer 500 Riel Banknote is still pastoral but, instead of a pair of cattle, mechanization's taken over, and the tractor is prominently featured.
The mid-2000s sees the back of the 500 Riel Banknote showing off the Mekong River with two identical cars, make and model undetermined. Jalopnik posit's that it's a Porsche while those on Reddit think it's a mix between a Mitsubishi 3000 GT and the aforementioned Porsche.
Which brings us today's current 500 Riel banknote issued in 2003, the two cars are unmistakably a Nissan Juke and Toyota Camry.
"Fellow Cambodian here, "SAQD member Ito comments "I don't know why we picked the Juke, it's quite rare here in the country, but the Camry on the other hand is everywhere. Also, I never really noticed the cars on the note that's crazy."
"They took a random picture that day and happened to get those two cars," Brian Cizek humorously comments.
For whatever reason, car enthusiasts the world over are both intrigued and left with more questions than answers.
Seeing how Cambodia, like most countries, revamps its currency every few years, I'm keen to see if they still have cars on the 500 Riel the next time around and if so, what makes and models?
Cambodia is not the only country with cool cars on their money. Malaysia's old RM100 note had a Proton Saga with engine on it.
And Malawi has an old Land Rover Defender on the back of its 50 Kwacha Banknote.
Do you know why there's a Nissan Juke and Toyota Camry on the 500 Riel Banknote?
Let me know in the comments below.