Add disabling your rental's keyless entry feature to the list of things you need to do renting a car in the Bay Area.
Rental car user Tyson Wrench shared his unbelievable story with KTVU's Henry Lee earlier this week of how his rented Buick Envision, parked in Oakland next to a busy 98th Ave, was broken into while Wrench was inside, seated in the driver's seat.
Security cam footage obtained by Lee shows the burglars pull up behind the Envision in a Cadillac XT6 and begin to leave after seeing Wrench inside.
Then, just a few seconds later, the XT6 backs up, triggers the Envision's keyless entry system to pop open the rear hatch, and steal's Wrench's backpack with his laptop and passport inside.
Check out the security footage of it happening in real time below along with the whole news segment, too.
1/2: "I'm in my car. I should be safe." Guy gets out of Cadillac XT6, sneaks up to rental Buick Envision & steals backpack containing laptop & passport – with victim sitting inside – off 98th Avenue near I-880 in East Oakland. @oaklandpoliceca on case. 5,6,7 p.m. @KTVU pic.twitter.com/9QkzcW1oJN

— Henry K. Lee (@henrykleeKTVU) January 30, 2023
Burglars broke into @TysonWrensch's rental Buick twice in the same parking lot off 98th Avenue in East Oakland. The 1st time, he was actually INSIDE his SUV. The 2nd time, @KTVU cameras were rolling nearby. pic.twitter.com/iYoh49s3B8

— Henry K. Lee (@henrykleeKTVU) January 31, 2023
In KTVU's report, Wrench did everything the signs around him and best practices told him to do, when he left his rental he took his valuables with him.
Ironically, it was the fact Wrench was inside his car, key fob close by, that emboldened the burglars to go to Plan B.
"I'm in my car. I should be safe," Wrench says.
It's called keyless entry, and most new cars sold in recent years have this convenience feature enabled by default.
As long as the key fob is close to the car, anyone (yes, even thieves) can open the car doors or rear hatch/trunk.
On most GM vehicles, you can open a door even if the key fob is three feet away.
According to the newest Buick Envision owner's manual, enabling and disabling Keyless Unlocking involves holding the lock and unlock buttons on your key fob for three seconds.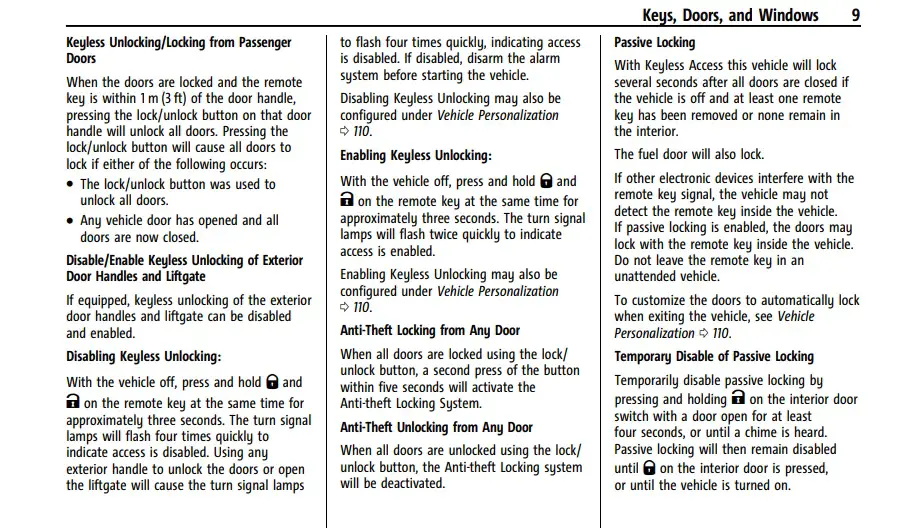 Wrench's story doesn't end there, while KTVU was obtaining security footage a few days later they noticed another burglar in a different vehicle scoop out his rental before being shooed away by a witness.
2/2: But that wasn't all. As we were recording surveillance video of the brazen crime, this Ford Edge pulls up to the SAME Buick, and thief once again breaks into the SUV. Witness confronts suspects. Victim not in Buick this time (and visible at very end). 5,6,7 p.m. @KTVU pic.twitter.com/BmCHdbjNNh

— Henry K. Lee (@henrykleeKTVU) January 30, 2023
Even after that, Wrench called KTVU hours later to say he was targeted one more time, the thieves punching out a rear window before leaving empty-handed.
I searched advice blogs how to protect yourself renting a car and few, if any, mention disabling Keyless Entry/Unlocking once you get your rental.
If you sit in your rental a lot, consider disabling keyless entry while you're inside, then re-enabling it when you leave (or, leaving it off for the duration of your rental.)
There is some potential safety benefits of having keyless entry enabled if, say, you're trying to get away from someone and need to get into your rental ASAP without fumbling with the lock/unlock button.
Just keep in mind that, if the feature is enabled, anytime you're within 1 meter of the rental, inside or out, someone can potentially pop open a door/hatch/trunk, for example, as you walk away, without you knowing.