Posts with and without Kayley are getting exponentially more social media engagement than before.
Moto Boutique's Facebook page
Kayley's Instagram
Kayley's TikTok
Columbus, OH based motorcycle shop Moto Boutique is enjoying increased traffic to their Facebook page and looks to be converting that traffic to sales, all thanks to their newest salesperson Kayley and one viral photo that took off earlier this May.
If you're any type of automotive or car adjacent fan of anything on Facebook, you've likely come across Moto Boutique's post below congratulating Trevor on the purchase of his 2009 Suzuki GSXR and Kayley for making her first sale.
The photo seems innocent enough, like so many dealerships congratulating and welcoming buyers to their family, but Facebook commenters made up their own narrative, ran with it, and made this photo take on a life of its own.
The photo went viral.
So far, Kayley and Trevor's post has been shared over 4,000 times, with 7,300 likes and 10,000 comments and counting.
The story these Facebook commenters invented is that Trevor only bought the bike because he was enchanted by Kayley's good looks and natural charm.
In other words, Trevor got duped!
Some of the funniest stories I've seen are that Trevor only went in to use the bathroom but left with a new bike or that Trevor went back to buy another bike just to see Kayley.
Her newfound fame and sales prowess seem to be paying off as, since Trevor's post 11 days ago, she's sold five more bikes.
In kind, Moto Boutique is capitalizing on their newest salesperson, letting her shine in the limelight in even more posts.
What I really enjoyed is that, instead of keeping Kayley and Trevor's story stagnant, Moto Boutique is really leaning into it, posting their first of hopefully many other posts featuring the two.
In this one also featured on their Facebook page, Kayley "got" Trevor to sign on the dotted line for a McLaren.
Kayley's impact on their business has not gone unnoticed, the page admin thanking everyone yesterday for the newfound engagement.
As for how Kayley feels about all this attention, her posts from her own page suggest that she's loving it.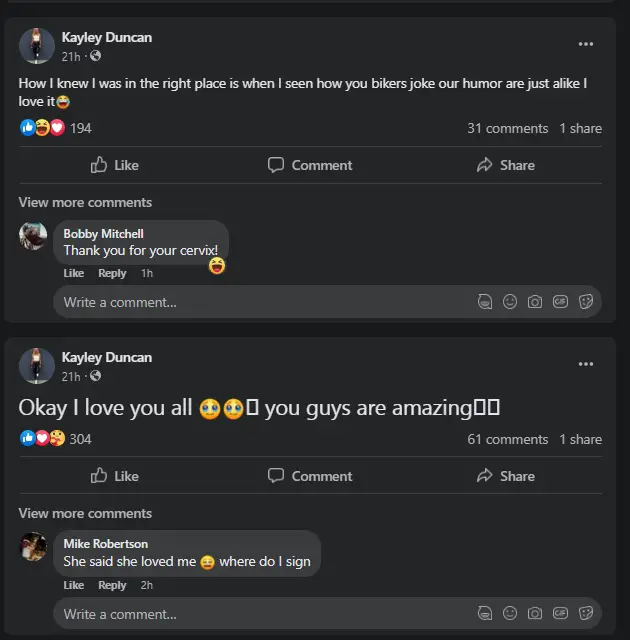 She's even funneling her new fans to her once dormant TikTok page.
"Best decision of my life," this one's captioned.
It looks like Kayley's sales career is off to a great start which might lead to one of Moto Boutique's best summer sales seasons, yet.
If you're a fan of Moto Boutique and Kayley, give them a follow on their socials linked above.
And if you're hankering for a set of wheels in the Columbus area, you know who to see.