If it wasn't for Piana's own giant 5% window decal out back, he would've never known.
If you're wondering whatever happened to the late American Body Builder Rich Piana's Corvette, now we know.
Georgia based long haul trucker and Redditor /u/R3DF41c0n recently posted on the /r/Corvette subreddit asking advice on how to remove adhesive residue from a long gone window decal from his new-to-him 2016 Chevrolet Corvette.
Other Corvette owners pointed out that the decal read "Rich Piana 5%" put two and two together, and informed OP that his Corvette's previous owner was probably Piana himself.
Apparently, OP didn't even bother to Google who Rich Piana is or what exactly 5% meant, and found out about his car's famous previous owner after his post.
OP's thread is linked here with a screenshot of his post below.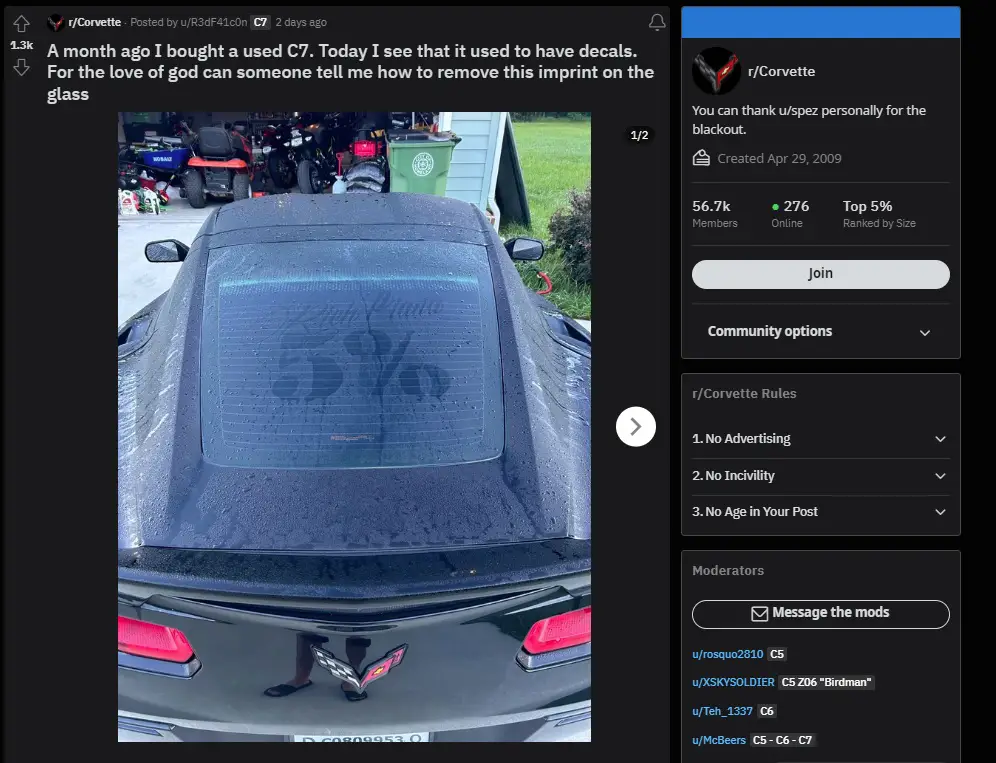 If you're like me and don't know who Piana was, Rich Piana, or Richard Eugene Piana, was a successful body builder turned motivational influencer in the body building industry in the later years of his life.
Piana competed and won major body building competitions, including winning National Physique Committee's Mr. California title in 1998.
Here's one of Piana's more popular Youtube videos below.
Although Piana openly and admittedly used steroids, he educated his followers about the truth behind the body building industry and competitions re steroid use and even advocated going all natural for anyone contemplating the choice between the two.
In 2014, Piana started 5% Nutrition, the 5% referring to,
"…the percentage of people that are out there actually doing whatever it takes to fulfill their dreams, to accomplish their goals, and to live the type of life they want to live".
This being a Model Year 2016 Corvette means Piana likely only enjoyed this particular car for less than two years, seeing how he passed in 2017.
"(It) Definitely makes the cars history a little more interesting," OP says about his famous Corvette.
"I noticed this car was sourced where a bodybuilder of the same name died."
Piana died in Clearwater, FL.
This Corvette isn't the only of Piana's rides still around as, according to a Twitter user in Florida in a thread where I found out this news, his Maserati's still parked outside a condo presumably near the Clearwater area.
July 7, 2023
As for the decal residue itself, other Redditors suggested several solutions including Rain-X, straight denatured alcohol, and goo-gone.
Although, now knowing who the previous owner was and if I unknowingly bought Piana's Corvette, I'd leave it the way it is, let mother nature do the work.