In seconds, GSP's dashcam footage shows the driver in the F-150 driving into three people before he's pitted twice and stopped.
Earlier last weekend, footage went viral on social media showing a Georgia State Police officer performing a pit maneuver and detaining a driver of a Ford F-150 who was flouting the law, doing donuts at an intersection just moments before.
Here's what that footage looked like.
The incident took place at the intersection of Northside Drive and 17th Street (exact location on Google Maps linked here.)
Now, a clip of dashcam footage from the arresting officer's vehicle has found its way on TikTok showing a near POV angle of the moments leading to and during the arrest.
Check out that footage via TikTok below.
In this new, up close look, we can see that Georgia State Police officer's dashcam capture the moment that that Ford F-150 driver inadvertently hits up to three sideshow spectators.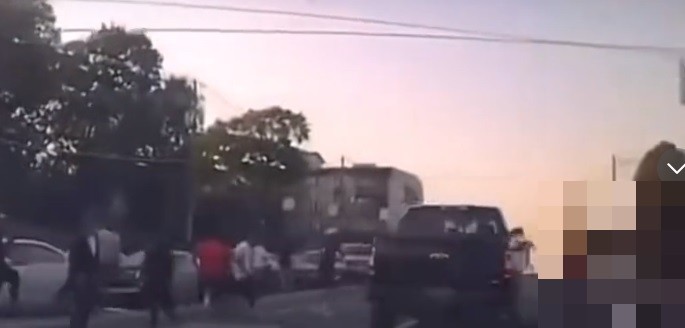 We can also see a closer look at when he does a pit maneuver twice as the driver in the F-150 is forced to come to a stop.
In addition to that dashcam footage, photos were sent to a Facebook personality by the name Officer Daniels, presumably from an Atlanta-area impound yard, showing the extent of the damage to that Ford F-150.
Check out those photos below.
The driver's side damage is consistent with the footage, most notably that of a police car's push bar going bar first into the side door.
We can also see how the first pit maneuver damaged this truck's rear suspension.
Looking over a handful of the major outlets reporting on this story and, as of this blog post, the identity of the driver, the arresting officer, nor the charges levied against the responsibly party have been revealed yet.