Bugatti has partnered with PG Bikes of Germany to bring you a $39,000 bike meant to evoke the spirit of the Bugatti Chiron.
If you've bought yourself a Bugatti Chiron and fancied a bicycle to go with it (like you do) until now there really wasn't a two wheeled pedal machine that fit the bill.  According to our good friends over at Paul Tan earlier today (Mar. 27,2016) Bugatti has partnered with German bike builder PG to bring you a bike of truly Chiron proportions. Priced at a mere $39,000, this fully customizable and more than 95 percent carbon fiber speed machine has becomes one of the hottest urban bikes that money can buy. Check out PG's special intro video on these two-wheeled speed demon below.
So what exactly do you for that $39 thousand price tag? Not a whole lot really. After all, when it comes to bikes, less is more. First there's the weight. Coming in at less than 12 pounds, this is one seriously light machine. Thanks to it's reinforced carbon fiber frame and CF components, not only is this machine light it's plenty strong. Then there's the technology of it all. Blending carbon fiber methods only found in Motorsports and the aeronautics industry, every carbon fiber component is bespoke to the mission of making this bike go fast. That means every cross section has been aerodynamically optimized for high speed going.  And when we say carbon fiber, we mean literally everything is made out of the stuff. That means the , "Frame, fork, rims, handlebar, seat, seat post, crank and brake are made of the highest quality carbon fibre available in today's market." Finally, there's the customization. If you can think it, you can customize it as such (as long as it doesn't mean adding unnecessary weight.) Check out a couple of builds they've already authorized below.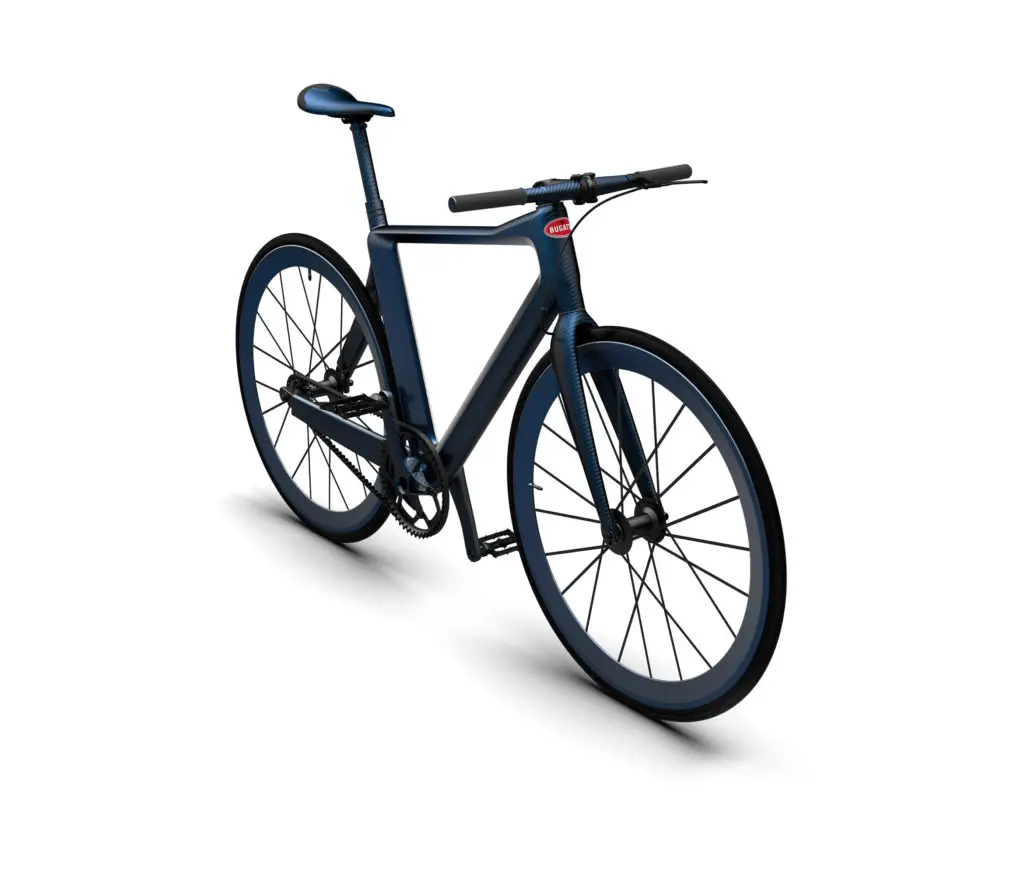 Surprisingly enough Bugatti says this bike isn't meant for public roads as it's a piece of athletic equipment. If you're a person in the financial bracket who can afford such an absurd piece of athletic equipment we don't imagine they'll take that caveat to heart.
Overall the design of the bike and quality of materials does justify such a price. Exclusivity at 667 units guarantees that. But like all things expensive in the world of cycling, you can buy the most expensive equipment in the world and still manage a measly 21 MPH at best if you're an average Joe whose huffing it. Put any competent cyclist on a $200 chromoly fixed gear, let him barely put out his maximum wattage and he'll "blow the seat" off this $39,000 machine.