At unfortunate photographer learned a valuable lesson not to stand too close to a clipping point at a drift event.
Photo Credits and permission compliments of: Yvonne Vazquez
Plenty of motorsports photographers know that one of the best positions to shoot a drift car is at a clipping point. Unfortunately, this spot also increases the likelihood of possible injury as some cars like to "go balls to the walls" and get their rear bumper as close to the barrier as possible. According to Yvonne Vazquez and her photos shot at Import Face Off Kansas, her camera skills earned her the proverbial "money shot" by not only capturing this Nissan 350Z touching the k-rails but getting a priceless shot of a photographer meeting his first spoiler. According to a couple of commenters and witnesses at the event the photog is 'A OK' after an icepack, an immediate trip to the E.R., and a couple of stiches.
Check out a couple of photos going viral below and watch the video we've posted right after.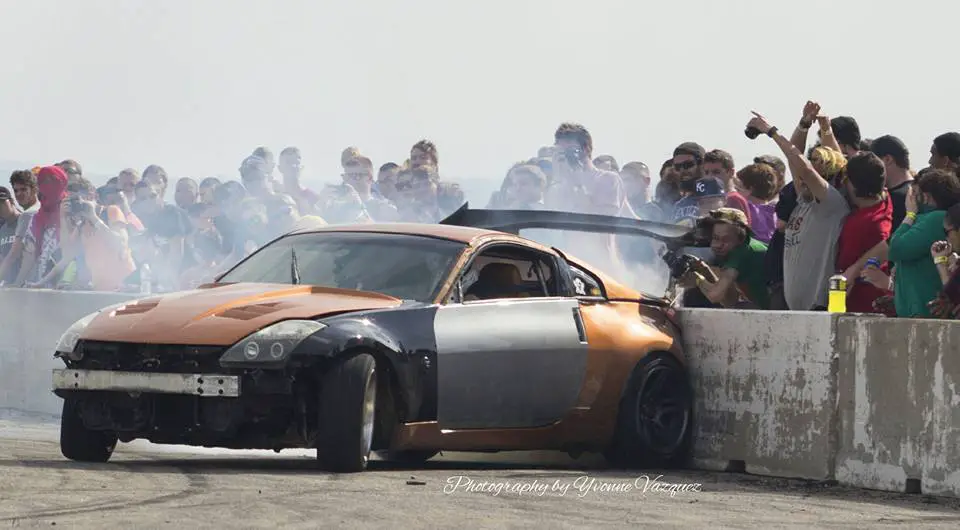 As far as trends go, the latest one seems to be planting the largest spoiler that's physically possible on the back of your drift missile. We're not entirely sure what kind of Big Country Labs spoiler is on this particular Z but we're assuming it's the complete kit for the Z33 chassis. At over 67 inches in length, this spoiler isn't for the faint of heart. Included in the kit are endplates, that when moving at "initiating drift" speeds, become weaponized face slappers.
The situation could've turned out very differently if the spoiler endplate had hit him on the wrong spot or the tip of the endplate caught on his face at the wrong angle but fortunately it didn't. From now on we're sure IFO Kansas (and other drift events) will implement a buffer zone that accounts for how far some of these spoilers stick out.