Honda, Olsbergs MSE and Redbull unveiled their new livery for the 2017 Global RallyCross Season.
After a successful debut season in Global Rallycross, Honda is back for the 2017 season, this time sporting a new look. Honda, Redbull, and Olsburgs MSE took some time before the first round of GRC to officially unveil their new and improved livery at the Memphis International Speedway earlier yesterday (Apr. 28,2017.) Last year we saw the Redbull Honda Civic sporting a mostly body-on-white paint scheme accented with blue along with the Redbull Logo around the entire car. This year the liveries look much more complete with a special anodized and matte red finish on the Red Bull Logo itself. Check out a couple of the photos Honda provided for us below.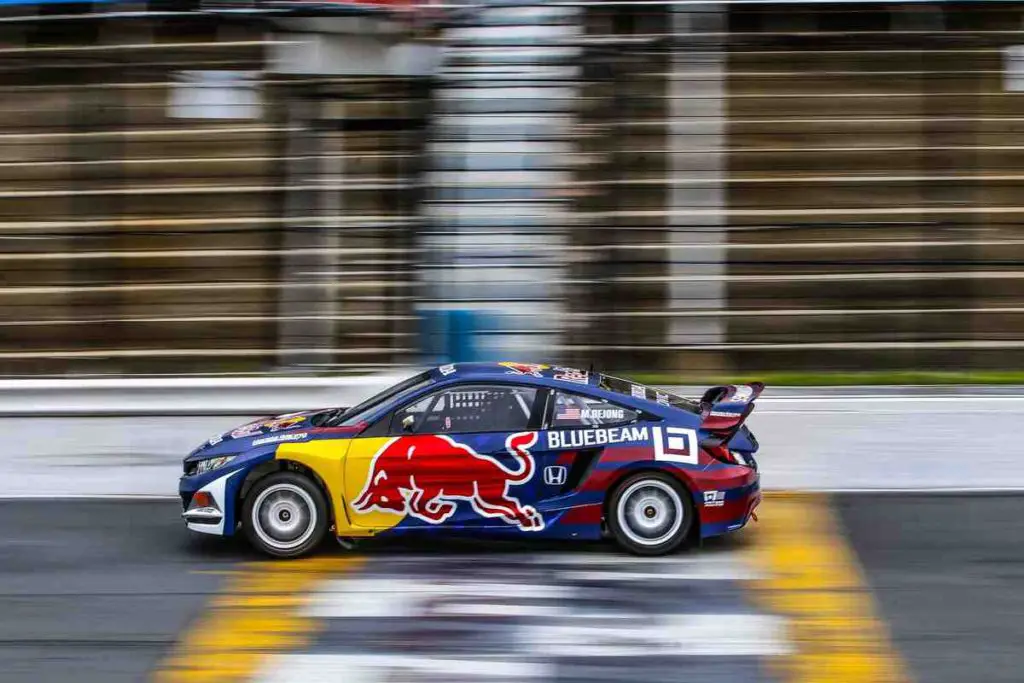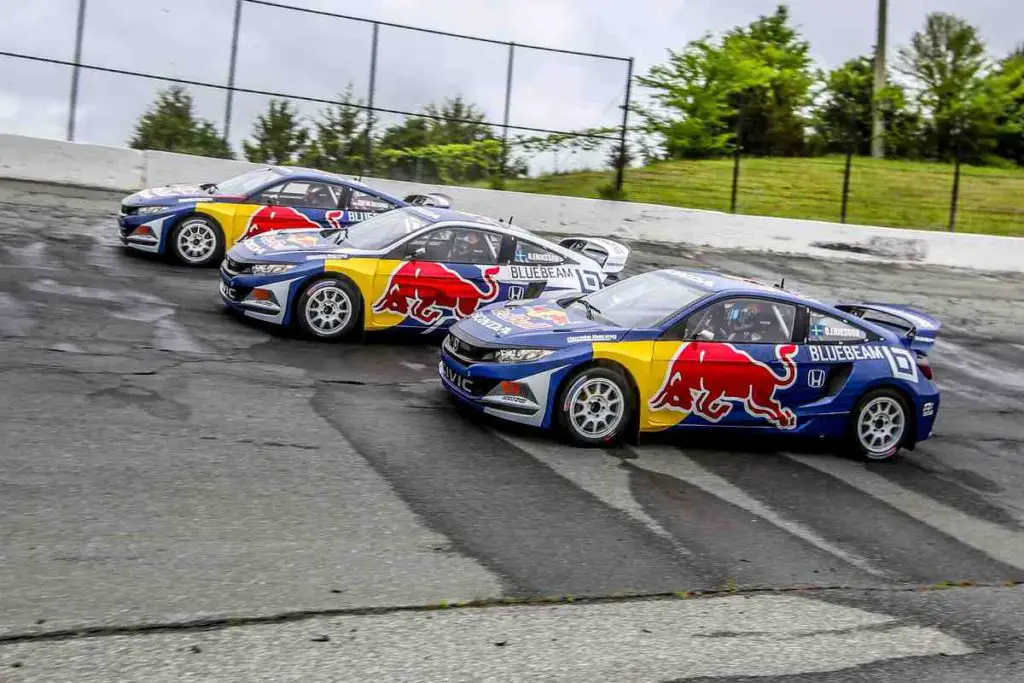 Since its main sponsor is Red Bull, much like all Redbull sponsored cars, the charging bull takes center stage on the side profile of the car. Keen eyes will notice that this year the bull catches the eye. According to Honda,
…touches of anodized red and matte finishes within the energy drink's logo accentuate what will be known as one of the most creative liveries in auto racing.
Moreso, individual Red Bull cars have been given a couple of personalized touches to match the driver. Sebastian Eriksson in #93 pays homage to OMSE with his navy-blue and ghost-white livery. Oliver Eriksson in #16 has, what Red Bull calls attacking stripes featured prominently around the body. And Mitchell DeJong pays tribute to USA's stars and bars with his Stars and Stripes on the side profile of his Civic.
When we said in the title that these liveries were lit, not our words. According to Oliver Eriksson.
"These liveries are lit"
2016 saw Honda's Redbull team capture ten top-five finishes, five podium finishes and finished third in the manufacturer's points. This year Olsbergs MSE obviously hopes to improve on that momentum.
Powering these Honda Civic's will be a custom 2.0L turbocharged inline-four cylinder that has its roots on with the base model Honda Civic K20C2 engine. On Oldsergs MSE's press release, they cite the 2017 Honda Civic Coupe LX being the base engine, which at the very least, the block of their GRC engine is based off of.  In stock form, the 2017 Honda Civic LX engine makes 158 HP and 138 lb-ft. After Olsbergs MSE thoroughly works its magic on the entire motor throwing on a turbocharger and all the internal supporting mods, final power numbers are 600+hp and 630 lb-ft, enough for a blast to 60 MPH in 1.9 seconds. We're pretty certain that the stock Civic engine bears little resemblance to the GRC engine.
Since this isn't your regular Civic, the GRC Honda Civic's engine is turned 90 degrees, as it's all-wheel drive. Olsbergs MSE is hush-hush with what their engine looks like, but you can sneak a peak at what it looks like in some of their photos on social media.
The 2017 GRC season kicks off this weekend, Apr 28 and 29 with qualifying on Friday and the race on Saturday. All in all, there are 12 rounds with the next round in Kentucky.