Alonso qualified for fifth in today's fast nine shootout, but not before enduring those mysterious gremlins that have plagued the McLaren-Honda racing teams.
All eyes were on the 35-year-old Spaniard and F1 ace Fernando Alonso as McLaren-Honda opted to run in the first session of today's fast nine shootout. According to Indycar's official results and the BBC earlier yesterday (May 22, 2017) Fernando Alonso secured a middle of the second-row spot for the Indianapolis 500 on Sunday with an average qualifying speed of 231.300 MPH. Top honors and that $100 thousand prize went to Scott Dixon who bested the field with an average qualifying speed of 232.164 MPH. Check out Alonso's run below and wait for his interview that followed shortly after.
Fernando Alonso has gotten quite used to engine changes so when Andretti Autosport didn't feel comfortable with some of the vitals coming from Alonso's engine straight after practice, they opted to switch in a new unit before qualifying. But when you have five other teams at the track (Full-time drivers Marco Andretti, Ryan Hunter-Reay, Alexander Rossi and Takuma Sato. Along with additions Jack Harvey and Fernando Alonso) you've got the resources and the manpower to make an engine change in record time. And that's exactly what they did. For Alonso, his first revolutions on that new engine where during qualifying, and his problems didn't stop there.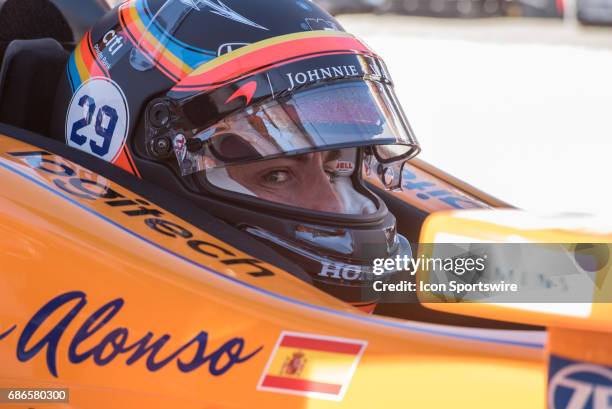 According to Alonso,
"We had an over-boost problem (with the turbocharger) in the final corner, so the engine was like hitting the brakes and I lost a bit."
We have to assume that modern Indycar engines have some fail-safes in place in order to ensure that an engine won't completely self-destruct if to much air is being pumped into the engine. With to much boost detected due to a myriad of issues (probably a faulty wastegate) Alonso's engine temporarily cut boost to safe levels, which is saying a lot. Boost is already turned up a bit during qualifying with Indycar engines generating close to 700 HP at their limits. But when you're traveling at 230+ MPH with no one to draft behind and your engine at its ragged edge, any loss of power is immediately felt and a shot at pole is pretty much out of the question.
Not being first might not be as cracked up as it sounds. In order to be the leader of the peloton, your car must expend more energy as you can't draft off someone. And that $100 thousand pole prize is a drop in the bucket compared to Alonso's $40 million a year salary.
Race day is May 28, next Sunday with a scheduled 8 A.M. PST start time. Hopefully, Andretti Autosport will have all the gremlins worked out by then to give Alonso a shot at victory.