With these Mugen Aero S2000 SS spoilers in stock, no longer do you have to plumb the depths of classifieds and forums to find an authentic Mugen spoiler.
Production of the Honda S2000 ended in 2009, but with more than 67,000 of these Honda roadsters running around and with Honda not having a true successor to this Boxster beater, you'd better believe that the aftermarket is alive and well. And according to King Motorsports on their facebook post earlier this week ( May 23, 2017) it looks like at least one bespoke JDM piece from Mugen, their S2000 SS adjustable rear wing, is now in stock for you to purchase. Priced at $1,541, this rear spoiler isn't only rare, it's an authentic aftermarket piece you can be sure is the real deal because it's brand spanking new! Check out a couple of photos of what that aero piece looks like below.
Mugen released their full aero kit for the Honda S2000 dubbed the SS Kit. Nicknamed the smiley face, the full kit included a front bumper that had an iconic smile look, a front spoiler that cleaned up the incoming air underneath, and a rear adjustable spoiler. With more popular front bumpers available, the Mugen SS front end seemed always available to purchase but the rear spoilers were always difficult to find.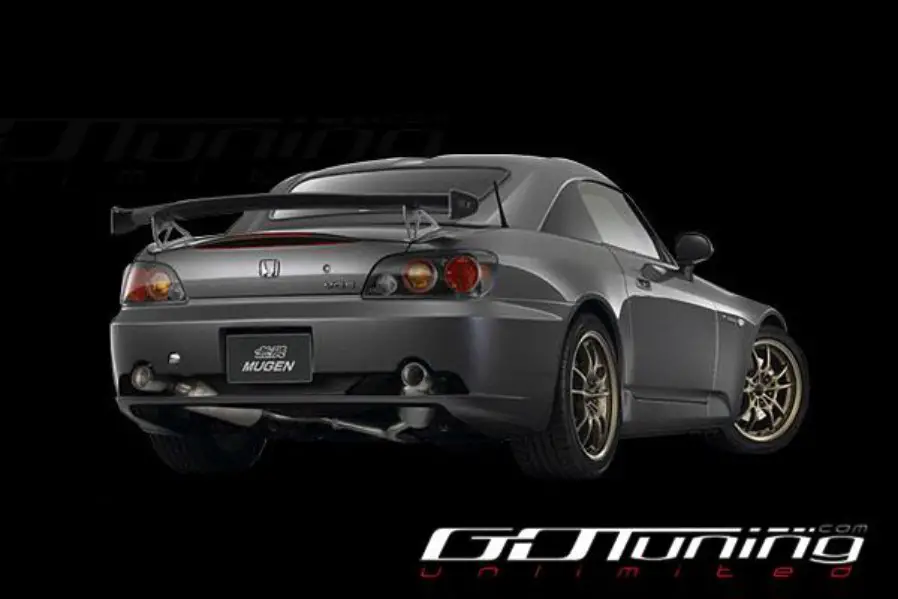 Not only did they add functionality at high speeds, the Mugen logo on the endplates made these spoilers highly desirable.
The majority and center of the Mugen SS spoiler are made from Fiber reinforced plastic with the endplates made from carbon fiber. Because most S2000 owners end up paint matching their Mugen SS Spoilers, there was no easy way to tell fakes from authentic pieces.
At least if you shell out the cash for a new one, you'll at least know it's the real deal. If you're a die-hard S2000 owner whose got that itch to modify the looks with legit parts, this deal is for you. And with the ability to adjust the angle of your spoiler, this piece isn't just for looks.