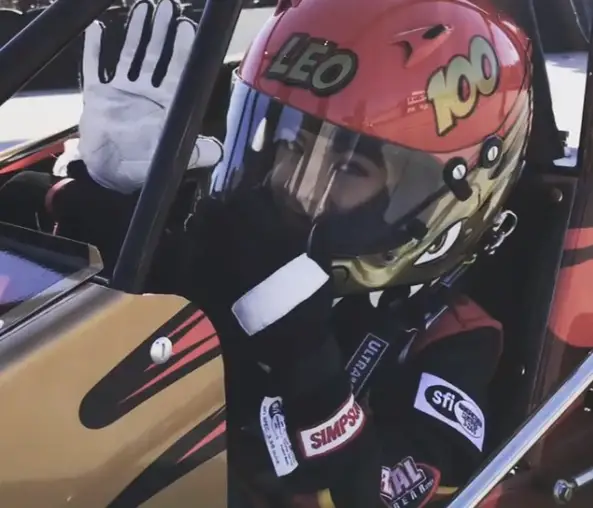 Jeff Gordon took to Instagram to share video of his son Leo turning and burning in his first laps in a quarter midget race car.
Jeff Gordon's retired from NASCAR but that doesn't mean his legacy ends with him if his son Leo has anything to say on the matter. According to Jeff Gordon on Instagram earlier today (Dec. 3, 2017) his seven-year-old son Leo officially took his first couple of laps in a quarter midget race car. Not only that, he understood any and all racing flags his Dad threw at him and was grinning from ear-to-ear the entire time. Check out these heartwarming videos below!
In the first video, it looks like Jeff Gordon started recording after his son had already turned a couple of laps on the 1/20th-mile sized track. Even though Jeff wanted him to run 10 laps, they compromised on five.
I think I heard him yelling inside!
From Jeff's perspective, his son was having a blast and was actually following what looks to be the racing line if the black tire residue on the track is correct. And like any good track racer, Leo knows what a yellow, green, and chequered flag means giving slow down, full, and keep going as his answers respectively.
According to the Kansas City Star, Jeff Gordon was only four years old when he first got behind the seat of a quarter-midget race car. Apparently, Jeff is still searching for his first quarter midget racer affectionately named "Hot Fuzz."
Leo isn't the only of Jeff Gordon's kids to be racing as according to Nascar's official site, their daughter Ella tried her hand at quarter midget racing two years ago. I couldn't find any stats to see if she actively pursued racing since.
As for Leo, it looks like he has a strong start after his first time out. And the way Jeff's laughing, I'm sure he'll be a great coach, mentor, and Dad to whatever young Leo decides to do whether it's sticking behind the wheel or doing something completely different.
By the time Leo progresses through motorsport, who knows where NASCAR will be when he gets his shot at a full-sized race car.