The depth of history that this Dodge Viper has, particularly in setting the foundation for drifting in the United States, can't be stressed enough.
Earlier this week I wrote that BH Auction's is organizing a special auction just for Team Taisan, a prominent race team in Japan notable for their success in the late 90's in Japan's JGTC racing series. Out of the 10 cars that caught my eye headed for auction, this 2003 Dodge Viper Competition Coupe still set up for drifting might have the most appeal to anyone in the United States beyond that Group A Nissan R32. Info left by BH Auction was sparse but the names on the doorsill, Tarzan Yamada and "Rocky and Ricky" were more than enough to dig up a bit of information on this American in Japan.
Thanks to some of the best minds in Formula Drift on Facebook on the Maximum Driftcast Facebook Group, I was able to find out a lot more information on this particular Dodge Viper.
The only information that BH gives us, besides the great photos is that this Viper was…
Used for demonstration run of Formula Drift
In the early days of US Formula Drift, running tandem with Japanese D1GP, organizers with connections in Japan brought over Japanese judges to score runs. Who better to scrutinize technicalities like proximity, style, and angle better than real drifters. Judges at the time included the DK Drift King himself Keiichi Tsuchiya who mainly judged D1GP but there were also seasoned drifters and racers like Eiji Tarzan Yamada who judged. At this point in  Yamada's career, was also racing for Team Taisan in this Chrysler Viper GTS-R (which it's known as when it's not in the United States) in its competition coupe form.
Although the decals on this particular Viper are already removed, smack dab in the middle of that red trim on the door read "Benihana." Yup, the Japanese steakhouse that's part show and part dinner started by Hiroaki "Rocky" Aoki actually sponsored this particular Dodge Viper at one point.
Here's a photo with the full Benihana decal taken in 2004 at California Speedway during a non-competition JGTC exhibition round.
The internet is full of stories of just how badass Rocky Aoki is, but it's generally known that he was also a car enthusiast. Rocky Aoki sponsored a lot of race teams like this guy's Camaro Pro Stocker back in 1989.
In 2003 he teamed up with two others to take part in One Lap of America in a 1971 stretched VW Beetle.
You also probably know the Aoki name from his famous DJ of a son Steve Aoki and his daughter Devon Aoki of who drove a pink S2000 in The Fast and the Furious series.
As mentioned, although Tarzan Yamada couldn't compete with this particular Dodge Viper as it didn't fit nascent Formula Drift's rules to the T since it was a tube chassis car, Tarzan Yamada did do many demo runs, both for Formula Drift and D1GP. I think any OG Formula D drifters who remember his demo runs would agree when I say that his drifting was key to setting up what Formula Drift as we know it today.
Tarzan normally runs the Viper in the GT300 class of the JGTC, but with some minor modifications to the steering rack, he was able to drift the V-10 beast."
Here's a video from 2006 with Tarzan Yamada drifting at Road Atlanta.
Here's a rare video of Tarzan Yamada tandeming with another Viper drifter, Sam Hubinette.
And here's another demo run video from New Jersey in 2007.
I'm going to assume this particular Dodge Viper Comp Coupe isn't all that different from when it rolled off the factory line. Compared to a regular Dodge Viper, this one's stripped of any creature comforts, which, in a Viper, isn't much. Weighing much lighter than a regular Viper and with a slightly more powerful engine under the hood with final power numbers around 520 HP and 540 lb-ft, this Viper Comp Coupe is a drift machine waiting to happen.
As you can see in this engine shot provided by BH Auction, I can't see any major modifications with my naked eye. Today, 520 HP probably wouldn't cut it.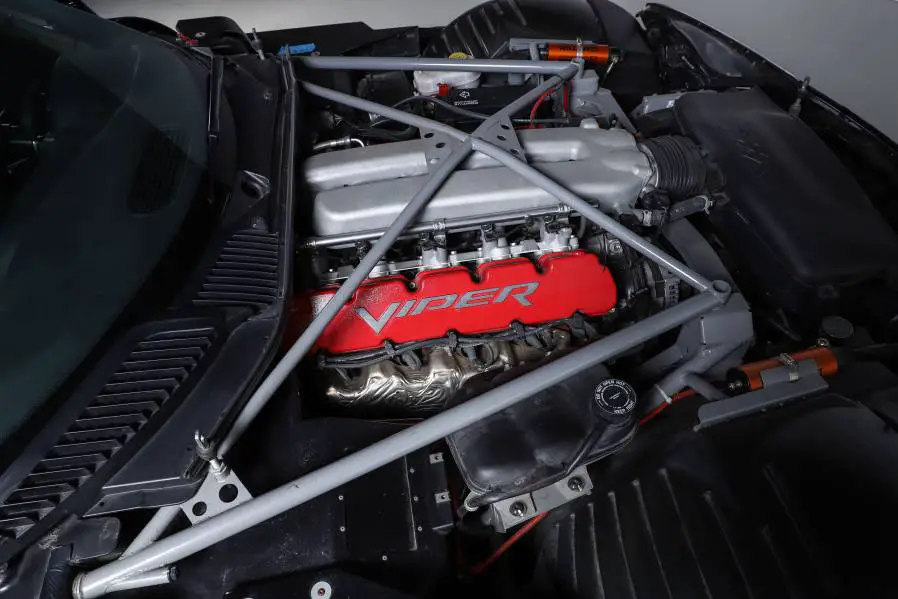 Hopefully, this car goes to someone who recognizes and respects the prominence of this particular car, perhaps someone in the United States can buy it.
As it sits, it's a piece of racing history that straddled two countries, truly something special.
The auction is scheduled for Nov 17, 2018.