If that wasn't bad enough, this hotshot in a souped up Camry did that in a construction zone.
California Highway Patrol Capistrano station shared an unbelievable speeding ticket earlier yesterday (Apr. 16,2020) a Toyota Camry TRD was caught going a mind-blowing 106 MPH in a 55 MPH zone somewhere in Laguna Niguel, just about twice the legal limit. And if that wasn't bad enough this souped up sedan pulled this off in a construction zone which means whatever CHP fined him is doubled.
Check out their post along with proof of the ticket below.
Not only did this Camry driver get caught for speeding in a construction zone, CHP also popped him for tinted windows, way darker than they come from the factory.
According to CHP in the comments, this heinous violation typically means a 30-day suspension and fines upwards of $2,000, not to mention two points on your record and increased insurance rates.
Under the hood of this super sedan is the same V6 engine you'll find in the Lexus IS350, GS350, Tacoma, and Sienna, the 2GR-FKS. 301 HP and 267 lb-ft at a low 4,700 RPM is routed through an 8-speed automatic, a combo good enough for a blast to 60 MPH in 5.8 seconds and, if this Camry TRD driver put his foot down just a hair longer, he would've hit 135 MPH.
Normally, I wouldn't blog about some Camry driver speeding but this is no ordinary Camry. With unmistakable black wheels, the most unusual spoiler to grace this family sedan, and aero parts straight from a SEMA booth, this was the infamous $32,000 TRD Camry, the athletic running shoe of the trim levels. Although there's no extra power at the crank, Toyota threw on a sick TRD aero kit and a significantly stiffer suspension.
Just look at how Toyota advertised this blown up Hot Wheels car, even though this car once had the reputation as the most bland car in America, they've gone off the deep end with this one.
The driver claims, "I thought I was only going 80 MPH" and to that I say, "yah right!" Take a look at the gauge cluster of a 2020 Toyota Camry, it's one of the most no-frills clusters out there with MPH call outs clearly visible in large 20 MPH increments.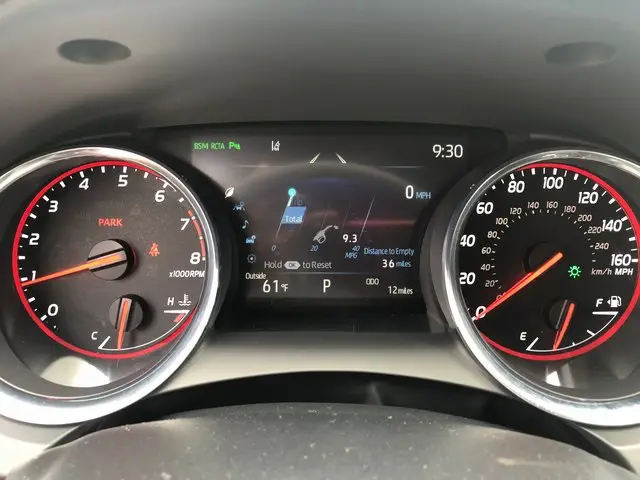 With less people on the road and on nice smooth Southern California roads, I get why someone would want to speed. But over 100 MPH in a 55? You're just asking for it, Martin Truex Jr.